BrooklynVegan SXSW Wednesday day party in pics (Savages, Robyn Hitchcock, Delorean, Camper Van Beethoven & more)
Sarah Frankie Linder
Delorean / Savages

We kicked off our free BrooklynVegan SXSW day parties yesterday (3/13) in Austin at the Main & The Jr (aka the old Emo's location, aka 603 Red River St) with sets from Delorean, Robyn Hitchock, Savages, Camper Van Beethoven, Caveman, Braids, Maserati, Caitlin Rose, Anamanaguchi, Indians, Marnie Stern, Team Spirit, Torres, and Deep Sea Diver. Pictures from the party are in this post, and more are on the way soon.
The biggest surprise for me personally was Torres (aka Mackenzie Scott), whose self titled debut is great, but she really takes it to another level live. Her band is super tight, loud, and confident (her guitarist has some rock star moves) and Mackenzie has some serious pipes that she doesn't even fully reveal on the album. It was a much heavier show than I expected, and if you can catch her at one of her other upcoming SXSW shows, highly recommended.
Torres was followed by other great sets on the outdoor stage (Glasslands Stage), like the noisy math rock of Marnie Stern (who played a lot of her great new album), the danceable video game punk of Anamanaguchi, and a set from post-rockers Maserati, who along with Caveman, cooled things down for a bit. But that cooling down didn't last long, because once Savages took the stage, they were possibly even more intense than CMJ. They played some new stuff that they didn't have back then, and once that album finally drops, I've got pretty high hopes for it. Finally, Delorean wrapped up the outdoor stage with a dancey set. It was nice to end the day with some familiar tunes like "Real Love." Then Maserati came out and joined Delorean for a cover over Gary Numan's "Cars." Not really.
Meanwhile, indoors Deep Sea Diver kicked things off around the same time as Torres outside and they were followed by the fun-rock of Team Spirit, Copenhagen's Indians (who were a 3-piece and were better that way than when I saw him solo), a rousing country set from Caitlin Rose, the new electronic sound of Braids (which we also heard at CMJ), and the show ended with sets from two musical veterans: Camper Van Beethoven and Robyn Hitchcock. Robyn was great and he is especially funny on stage with his in-between song banter. He referred to the overheard sounds of Delorean from the other room as the sounds of devils, and "if they had been heard 200 years earlier, marches of men would have been sent to destroy these fiends," (or something like that).
In addition to the music, Onkyo was there, sampling their new headphones which hit stores next month. mophie, maker of invaluable iPhone chargers, were giving away discount cards good at their pop-up shop which was set up right across the street on Red River. We were also serving complimentary Jameson, and Zico coconut water, and free vegan queso and chips from Food For Lovers. We also had BrooklynVegan t-shirts for the first 50 people in the door, thanks to American Apparel. Also thanks to our other sponsors, Korg, Vox, Blackstar, Creative Recreation, Signazon, WILLCALL, Mirrored Media, and Redigi.
Our day parties continue today (3/14) with sets from Cloud Nothings, Parenthetical Girls, Death, METZ, Milk Music, Beach Fossils, Widowspeak, and more.
More pictures from yesterday's party below...

---
Gorburger (via BV Austin Instagram)

(via BrooklynVegan Instagram)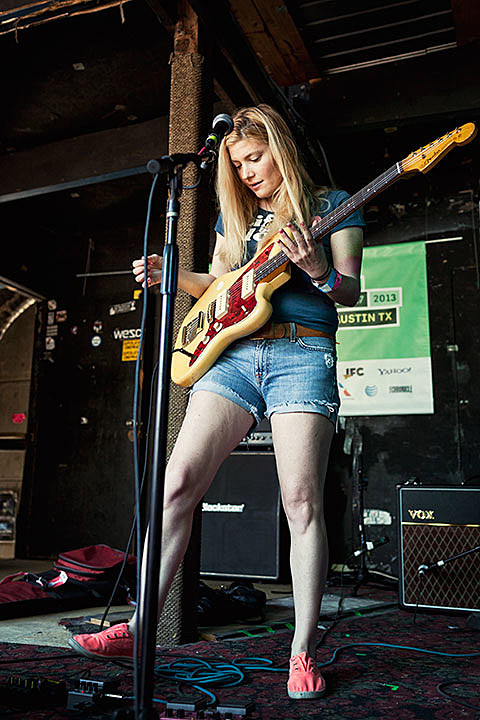 (via BrooklynVegan Instagram)