BrooklynVegan Thurs Austin day party pics (Mellowhype, Yuck, Menomena, Obits, Beans, Rural Alberta Advantage & more)
Timothy S. Griffin
Menomena (by Tim)

The day couldn't have started better, as we had one of the artists I was most excited to see playing live on the Swan Dive stage right at noon, and that was the tall, well-dressed and significantly bearded Josh T Pearson. I only wish I wasn't still hecticly dealing with issues after the doors opened so I could have been one of the people sitting down and enjoying his solo set of songs taken from his new album Last of the Country Gentlemen which is out on Mute on March 29. What I did hear sounded great.
Meanwhile, Savoir Adore kicked things off on the outside stage while Shannon & the Clams got things going inside Barbarella. Navigating the three stages and not getting lost was definitely one of the challenges we gave attendees at the venues we camped out at for day shows all week.
After Shannon came Hunx & His Punx who Shannon also plays with. As Andrew pointed out, "Hunx seemed pretty annoyed about the five-show day ahead of him. "Come see the last one," suggested Hunx, saving the goods for that final push. The Punx band showed off admirable chops though, with the drummer pounding away and girl-group-style backups by the bassist." Andrew continues:
"Out at the venue's back stage, Dominique Unique Young had a two-man band providing soulful hooks for her club bangers, which were just fine in the brutal sunlight. And then at Swan Dive, Rural Alberta Advantage made a push for anyone, like me, who hasn't checked out their new disc, Departing, yet to do so soon (live, drummer Paul Banwat easily does the work of two guys)."
Before Dominique came Alex Winston, complete with full band three backing singers. Dominique ended her set early, giving Brody lots of time to talk before late-addition Beans went on. Beans was great and is the coolest guy I met in Austin. That's around when Bill got there:
"...arriving just in time to catch the end of Fergus & Geronimo and Beans' sets. Trying to navigate between the two connected clubs -- blazing sunshine at the patio stage, pitch black for the Barbarella inside stage -- was a bit tough.

I watched most of Yuck's set and thought they sounded great. Not the most exciting band to watch, but that's okay, not everyone can bounce around the stage like Superchunk to whom they owe more than a little sonic dept. Speaking of, Mac McCaughan was their for their whole set which I thought was kind of awesome. I asked him if he was there to collect royalties from Yuck. He laughed and said, "No way, I love these guys!"

From there it was out to the Patio for Obits' set. There's something about their pedal-to-the-metal rock that sounds a little better in Texas. Plus they played the two songs I really wanted to hear: "You Gotta Lose" from the new album Moody, Standard and Poor, and their first-ever single "One Cross Apiece."

After scarfing down some tacos (courtesy of the El Diablo truck in Barbarella's backyard, yes a sister truck to the one here at Union Pool), I caught a little of Screaming Females, rip-roaring as usual, and Menomena."
Menomena went on to a packed Swan Dive after Damien Jurado and one of Sub Pop's newest signings Memoryhouse played (both of whom I pretty much missed while dealing with technical difficulties on other stages). Gentleman Jesse & His Men and Pete & The Pirates (a UK band who many I know consider one of their favorites, and their set this day definitely didn't disappoint) also played the inside stage.
Mellowhype (by Tim)

But the main attraction of the day goes to... Mellowhype who were playing their second-ever show as Mellowhype (their first was a day earlier at their new label Fat Possum's party at Club DeVille), and who brought the whole Odd Future crew with them (anyone who was in Austin anyway), Tyler included. It was a beyond-packed house full of excitement...
"The assembled crowd of hipsters, blipsters, and media types went nuts when the beats dropped, as this still-teenaged hip-hop collective has been drawing favorable comparisons to early Wu-Tang, especially in terms of production aesthetic and overall energy." [Houston Calling]
You can watch some of the action in videos below.
Thanks to Izzoz, Line 6 (the mics), Korg (keyboard), Vox (amps), Blackstar (and amps), Sensible Portions, Honest Tea, ASCAP, NadaMoo, Raw Revolution, Sailor Jerry, SPARKS, all the bands, Zach, Nevona, our bartenders, sound guys, Ramone, everyone who stopped by and anyone else I'm forgetting.
Lots more pictures and videos from the whole day, below...


The Rural Alberta Advantage
The Rural Alberta Advantage (Tim)
STAGE 3 (Barbarella Inside)
Gentleman Jesse & His Men
STAGE 2 (Barbarella Patio)
Dominique Young Unique (Tim)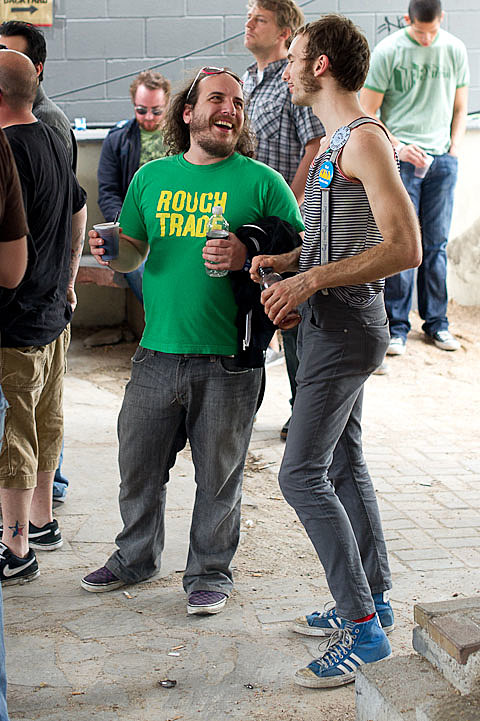 Har Mar Superstar

this pic of Mellowhype by Patrice Jackson

Mellowhype (Odd Future) (Tim)