BV-SXSW Thursday @ Red 7 in pics — METZ, Speedy Ortiz, Octopus Project, Broncho, Mitski, Girlpool, Girl Band & more
photos by Amanda Hatfield
METZ / Octopus Project

The first of three free BrooklynVegan SXSW day parties at Red 7, and the only one that had no rain, happened Thursday (3/19) from noon to 6pm with 15 bands across the venue's two stages.
The inside show began with recent Run for Cover signees Elvis Depressedly who played a set of scrappy indie rock with singer Matthew Lee Cothran's animated stage moves intact. Then Emmy the Great brought things down with a set she played mostly as a duo but with a few solo songs too. Next up was the alt-R&B of three-piece Basecamp, followed by the danceable, super fun pop of New Zealand's Yumi Zouma. Veteran Canadian band Frog Eyes came next with Carey Mercer & co's eccentric indie rock in excellent form (story about being accused of doing meth in the BrooklynVegan comments included), and then it was their neighbors from up north, Cancer Bats, whose blend of hardcore and stoner rock riffage was the heaviest set of the day. Oklahoma rockers Broncho followed, playing to one of the most packed in crowds of the day and totally sounding built to do so. Finally it was one more Canadian band to wrap up the day, METZ, who were as loud, fast and full of energy as ever.
Broncho / Speedy Ortiz

Outside the show began with the UK's Ultimate Painting, the band with members of Veronica Falls and Mazes whose Dead-like guitar jams and close harmonies were super tight and pretty perfect outdoors on a sunny afternoon. They were followed by Girlpool, who previewed some material from their upcoming debut LP and included some favorites from last year's EP that had a chunk of the crowd singing along. Then came the shouty noise rock of Ireland's Girl Band (who unlike Girlpool who played before them, don't have girls in the band), and then the smart/sarcastic indie rock of Chastity Belt ("this next song is about mansplaining"). After them it was Mitski who was more impressive than before at this show and had a lot of the crowd screaming in approval. She was followed by Speedy Ortiz, who seem to get tighter each time and whose new songs came off great live ("Raising the Skate" was especially a highlight of the set). And to end the day it was hometown heroes The Octopus Project with a highly enjoyable set of their experimental rock to a full backyard of people.
Thanks to our sponsors Dropkloud, Esurance (who let 30 people skip the line each day) and MailChimp for helping make the party possible. If you unlocked our party playlists on your phone with the DropKloud app, you can go listen to them now. If you're still in Austin, you can still unlock them when at Red 7 with the app installed on your phone. Thanks also to Sailor Jerry for helping keep our artists relaxed.
More pictures from the whole day at BV Austin, and below...

Girlpool --- By Tim Griffin

Elvis Depressedly
Ultimate Painting
Emmy the Great
Girlpool
Basecamp
Girl Band
Yumi Zouma
Chastity Belt
Frog Eyes
Mitski
Cancer Bats
Speedy Ortiz
Broncho
Octopus Project
METZ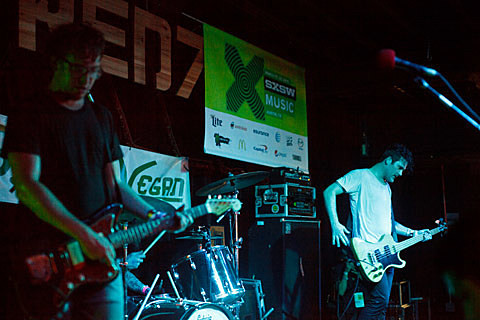 Emmy the Great by Tim Griffin