BrooklynVegan/Feed the Beat Emo's Day Party in pics & video (Surfer Blood, Kylesa, Mister Heavenly, Trash Talk & more)
Timothy S. Griffin
Surfer Blood (by Tim Griffin)

On the big stage Anamanaguchi kicked things off right at noon with a high energy, 8-bit pop rock set to a dedicated crowd who showed up early to catch them. Fresh off the Bruise Cruise, the garage rockin' Turbo Fruits kept the party going. By 1:30, with a buzz already kicking in thanks to the free Sailor Jerry and Sparks we were serving, a Place To Bury Strangers brought it with their intense, high volume noise, and then Darwin Deez followed, replacing armed-cross spectators with pockets of dancers and coordinated dance routines on stage. By the time Chiddy Bang (who arrived a bit late and therefore also had to play a shorter set) took the stage, the large room was filled in and people were ready to sing along to the rappers whose setup includes a mic and drumset, and backing tracks courtesy of bands like MGMT and Passion Pit (members of whom were in the audience). The Vaccines, all the way from the UK, kept the momentum going with their brit rock, though they also played a short set reportedly due to worries over the singer's voice.
By the time Mister Heavenly took the stage, you were lucky to find a place to stand, due in part to the many wanting to check out Michael Cera's bass skills. Many were also multitasking, aka watching music and eating the massive amounts of free burritos that Taco Bell delivered through the back door and were handing out all over the place. As Andrew pointed out, "Mr. Heavenly perfored an appropriately lovely set, its two frontmen trading verses in their own styles." The two frontmen are of course Nick Diamonds from Islands and Honus Honus from Man Man. The group is rounded out by Modest Mouse drummer Joe Plummer.
And finally, as Bill pointed out, Surfer Blood "gave us an enjoyable hits-packed [headlining] set from their first album." That of course was going down on the bigger outside stage while Kylesa was completely destroying on the inside stage - I actually watched more of Kylesa than Surfer Blood, but BBG can tell you more about that...
Deafheaven (by Sam Marble)

Despite traffic issues that made The Roller open the inside stage on the late side, the Austin band's bulldozing doom thunder opened the BV festivities at SXSW with a roar. The Roller is one of my favorite heavy bands in Austin, so it was great to see this powerful foursome in action on a BV stage (until I can convince 'em to come up north!).
When the Deafheaven guys arrived, their tees were a dead giveaway. Sporting merch from Hate Forest, Hellfish (records), and Slowdive, it was obvious to see the band's influences, but their live show was definitely born of hardcore. Wide-eyed cocalist George Clarke was in the audience's face, or thrashing maniacally as the band tore through tracks like "Violet" from their forthcoming Roads To Judah and "Libertine Dissolves" from their demo.
The Secret followed Deafheaven, and their blistering blast-y down-tuned hardcore reminded me of breathren Trap Them, Rotten Sound, or Converge in the live setting. Furious blackened hardcore that was technical and powerful.
KEN Mode was next, delivering the hardcore-infused noise rock jams that shine on their new LP Venerable. KEN Mode would leave shortly after their set to headline Scoot Inn as part of a Thrasher show with Dark Castle, The Body and others.
Blackened electric swamp-blues from Dax Riggs kept energy levels on high before Trash Talk brought the crowd to a circle pitting/crowd-surfing frenzy. The band was short their usual bassist though, as Spencer was in the hospital after being stabbed by some "nazi motherfuckers" at a hardcore show in their native California. Despite the replacement, Trash Talk was undeterred and as incendiary as ever.
Kylesa closed the day out with faves like set-opener "Hollow Severer", "Tired Climb", "Running Red", and "Scapegoat", before calling it a day before a sold-out crowd. Excellent set from these Savannah greats, who seem to get better (and bigger) with each show.
Thanks to Feed the Beat, Orange (who provided the thunder behind Kylesa), Line 6 (the mics), Korg (keyboard), Vox (amps), Blackstar (and amps), Sensible Portions, Honest Tea, Raw Revolution, Sailor Jerry, SPARKS, everyone at Emo's, The Syndicate, Andy, Erik, Katie, Zach, Nevonah, The Roller, Anamanaguchi & Surfer Blood for being so amenable, as well as all of the bands for being incredible! Mostly, we'd like to thank anyone/everyone who made it out on a Wednesday afternoon... your support is appreciated.
Lots more pictures and videos from the whole day, below...

---

Anamanaguchi by Tim Griffin
The Roller by Tim Griffin
The Roller by Samantha Marble
Turbo Fruits by Tim Griffin
Deafheaven by Samantha Marble
Deafheaven - "Violet" @ Emo's Austin | 03.16.11 SXSW

A Place to Bury Strangers by Tim Griffin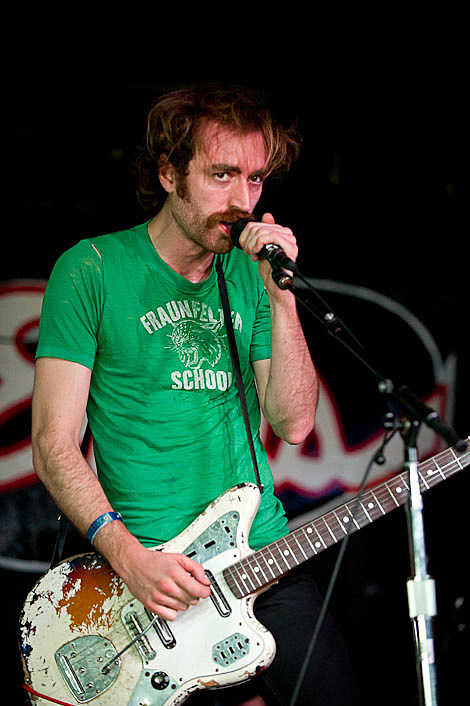 The Secret by Samantha Marble
Darwin Deez by Tim Griffin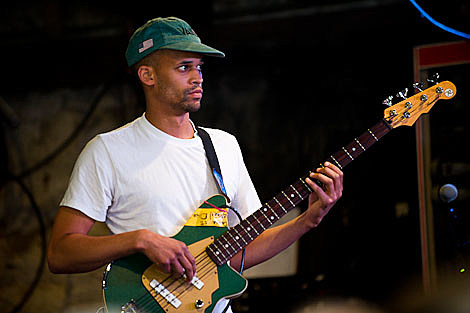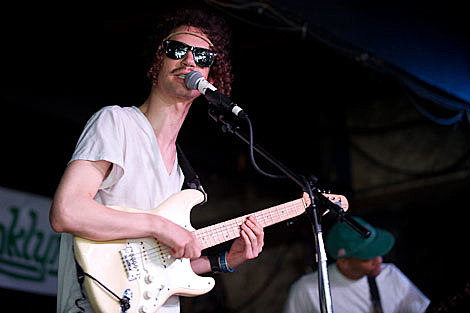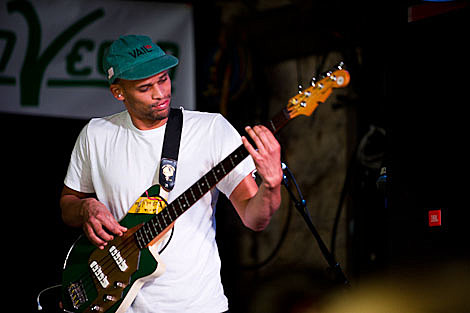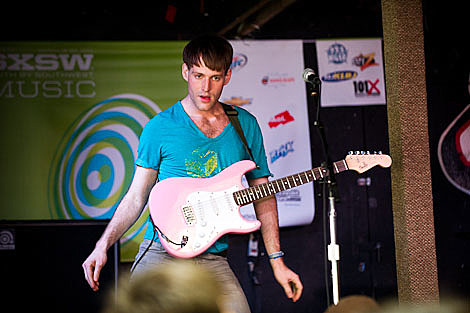 KEN Mode by Samantha Marble
Chiddy Bang by Tim Griffin
Dax Riggs by Samantha Marble
The Vaccines by Tim Griffin
Trash Talk by Samantha Marble
Mister Heavenly by Tim Griffin
Kylesa by Samantha Marble
Surfer Blood by Tim Griffin