Bruce Springsteen played 'The River' & more at Madison Square Garden (pics & setlist)
photos by P Squared
"Independence Day" was wonderfully visceral as Springsteen sang from a new perspective -- no longer as the 30-year-old who had barely considered his father's mortality, let alone his own. Saxophonist Jake Clemons commanded conquered his solo, and while he tends not to be as emotive as his late uncle Clarence, he was just as smooth in the later revisit of "Drive All Night," which enjoyed a crescendo of full-band power near its finish.
But the best by far of Bruce's low-tempo tunes Wednesday was unlikely candidate "Point Blank," which after a somewhat clunky finish to "The River" (the song), opened with a tremendous, orchestral sequence from drummer Max Weinberg and pianist Roy Bittan. The rest of "Point Blank" was tightly wound, and understated -- especially compared to twangy set successor "Cadillac Ranch." [NJ.com]
Bruce Springsteen brought his The River tour to Madison Square Garden last night (1/27) for his first NYC-area stop of the tour. The first stop would have been this past Sunday (1/24) but Winter Storm Jonas got in the way. The Boss opened with The River outtake "Meet Me in the City" and then proceeded to perform the massive double album in full. Once the album was done, the rest of his set (encore included) was made up of favorites and covers, including "Candy's Room," "Thunder Road," "Dancing in the Dark," "Rosalita," "Because the Night" (the song he wrote for Patti Smith) and a cover of The Isley Brothers' "Shout" to end the night.
He next plays Prudential Center on Sunday (1/31) and MSG on March 28 (both sold out), and then returns for shows at Barclays Center on April 23 and 25. Tickets for those two go on sale Friday (1/29) at 11 AM.
More pictures and the setlist from last night, below...

---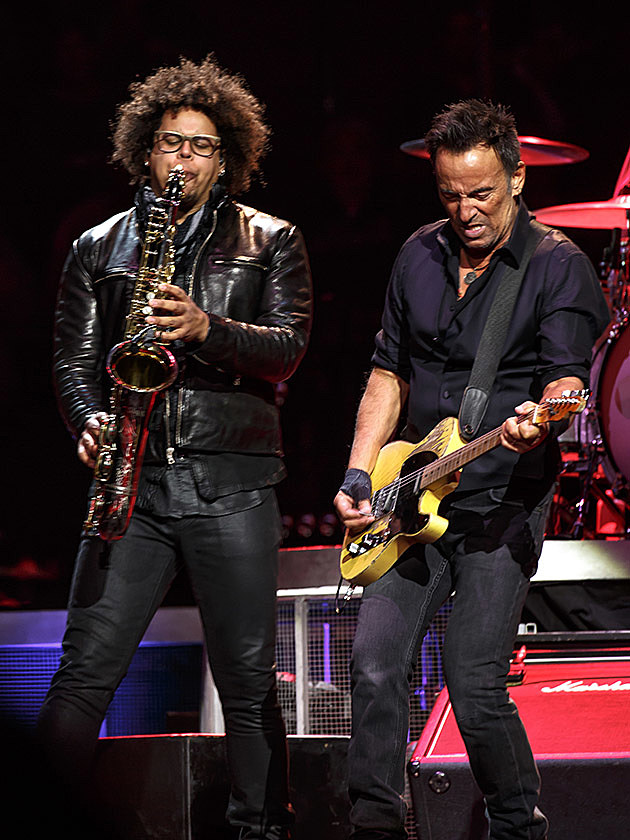 Setlist (via)
Meet Me in the City
The River
The Ties That Bind
Sherry Darling
Jackson Cage
Two Hearts
Independence Day
Hungry Heart
Out in the Street
Crush on You
You Can Look (But You Better Not Touch)
I Wanna Marry You
The River
Point Blank
Cadillac Ranch
I'm a Rocker
Fade Away
Stolen Car
Ramrod
The Price You Pay
Drive All Night
Wreck on the Highway
She's the One
Candy's Room
Because the Night
Brilliant Disguise
Wrecking Ball
The Rising
Thunder Road
Encore:
Born to Run
Dancing in the Dark
Rosalita (Come Out Tonight)
Shout (The Isley Brothers cover)