Bruce Springsteen & E Street Band @ Giants Stadium – pics
photos by Eric M. Townsend
It was E Street Family Night at Giants Stadium on Monday.
Drummer Max Weinberg's 18-year-old son Jay substituted for his father on "Born to Run," pounding the skins with authority as the elder Weinberg watched from the side of the stage. Bruce Springsteen's 16-year-old daughter, Jessica, danced onstage during the show-closing "Twist and Shout," and even took a little rock-star leap at the end. Also, Springsteen led the crowd in singing "Happy Birthday To You" to his wife, E Street Band member Patti Scialfa. She turned 55 yesterday.
This was the second of three shows that Springsteen and the band will be presenting at Giants Stadium this week, and though it was slightly longer than Sunday's show, it still lasted more than three hours and featured 28 songs. [The Star Ledger]
The setlist, and more pics, from last night's show below...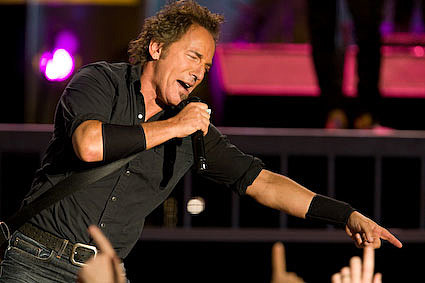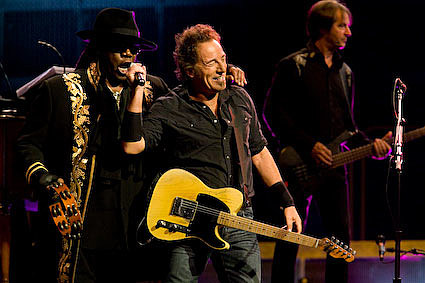 July 28, 2008
East Rutherford, New Jersey
Giants Stadium
Out In The Street
Radio Nowhere
No Surrender
Two Hearts
The Promised Land
Hungry Heart
Summertime Blues
Tunnel Of Love
Held Up Without A Gun
It's Hard To Be A Saint In The City
Sherry Darling
Waitin' On A Sunny Day
Because The Night
She's The One
Livin' In The Future
Mary's Place
Drive All Night
The Rising
Last To Die
Long Walk Home
Badlands
Girls In Their Summer Clothes
Thunder Road
Detroit Medley
Born To Run
Glory Days
American Land
Twist And Shout
PREVIOUSLY: ALEJANDRO ESCOVEDO - 2008 Tour Dates, AA Bondy tonight, BRUCE SPRINGSTEEN, Conan, Today Show, and other stuff