Built to Spill played Irving Plaza w/ Slam Dunk & the Warm Hair (review, pics, setlist)
Built to Spill @ Irving Plaza

Indie rock stalwarts Built to Spill played a sold out show at Irving Plaza on Thursday night with openers the Warm Hair and Slam Dunk.
Anyone who's been to a lot of concerts has had to sit through at least one unforgettably bad opener. For me, the Warm Hair has officially usurped the title of worst of the worst all the bad openers I've ever sat through. I was honestly left wondering if Built to Spill had lost a bet and had to include them on their national tour, or if I'd just witnessed an Andy Kaufman-esque performance art piece about a washed up J. Geils wannabe and I hadn't been let in on the joke. It even got so bad that the crowd started chanting for Built to Spill before the Warm Hair had finished playing.
Built to Spill took the stage shortly before 10 and tore through two solid hours. They played a fair number of 90s and early aughts material, including fan favorites "Carry the Zero," "I Would Hurt a Fly," "Center of the Universe," and "Fly Around My Pretty Little Miss." About halfway through their set they busted out a raucous rendition of Captain Beefheart's "Abba Zabba" with guitarist Brett Netson on lead vox -- and on top of the stacks at Irving. (Full set list below)
They led off their encore with two covers -- Blue Oyster Cult's "(Don't Fear) the Reaper" and the Smiths' "How Soon Is Now?" For me, Martsch has always been one of those guitarists whose style has been immediately recognizable, like a sonic fingerprint. So, it was fascinating to see how, despite straight renditions of the covers, Martsch's unique sound still shone through.
Pictures of the show are in this post. More of them along with the full setlist and all tour dates, below...

--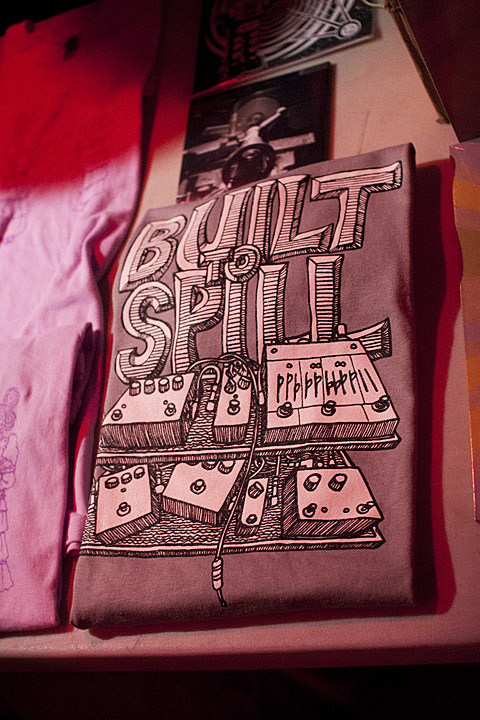 Built To Spill -- 11/07/13 Setlist
Goin' Against Your Mind
In The Morning
Center of the Universe
Get a Life
Planting Seeds
Reasons
Strange
Living Zoo
I Would Hurt a Fly
Else
Abba Zaba (Captain Beefheart & His Magic Band cover)
Velvet Waltz
Fly Around My Pretty Little Miss
Carry the Zero
Encore:
(Don't Fear) The Reaper (Blue Öyster Cult cover)
How Soon Is Now? (The Smiths cover)
Car
---
Built To Spill -- 2013 Tour Dates
11/12 Cleveland Heights, OH Grog Shop***
11/13 Detroit, MI St. Andrews Hall***
11/14 Chicago, IL Metro***
11/15 Milwaukee, WI Turner Hall Ballroom***
11/16 Madison, WI Barrymore Theatre***
11/17 Minneapolis, MN First Avenue***
11/18 Iowa City, IA Blue Moose Tap House*
11/20 Little Rock, AR The Rev Room*
11/21 Dallas, TX Granada Theater*
11/22 Houston, TX Fitzgerald's*
11/23 Austin, TX Stubb's Waller Creek Amphitheatre*
11/24 El Paso, TX Tricky Falls*
11/25 Tucson, AZ Club Congress+++
11/26 Las Vegas, NV Vinyl*
11/27 Salt Lake City, UT Urban Lounge*
*with Slam Dunk and Genders
***Slam Dunk and The Warm Hair
+++with Slam Dunk, Genders, and Lenguas Largas
--