Bumbershoot 2008 – more pix, less Monotonix & republicans
unknown
Bumbershoot has evolved over the years, and no one knows that better than Norm Langill, president and CEO of One Reel, the not-for-profit company that produces the event. He's been involved with Bumbershoot since its beginning in the 1970s and is the one who ultimately takes the bouquets and brickbats, the praise and complaints.

As the 2008 festival drew to a close last Monday night, he looked out a picture window in the press room at the still-bustling crowd below and said, "I see people really engaged out there. A mixed crowd."

He turned to me, smiling.

"It was smooth. It was really smooth this year. I feel comfortable enough to not even ask about attendance." [The Seattle Times]
Bumbershoot 2008 coverage comes to an end with the rest of the pictures and reports from day three below..


It's not like the GOP has been absent from the news lately, with the RNC in full swing and the swirls of controversy surrounding Gov. GrandMama Palin. Still, we're surprised the blogosphere hasn't gone crazy over the vandalism of the Republican Party's booth at Bumbershoot this weekend. According to a vaguely-worded press release from the King County Republican Party, their booth was closed on Sunday when "unidentified individuals" broke in, upset the pamphlet table, and lit on fire parts of the display. [Seattlest]
Feral Children "Spy/Glass House"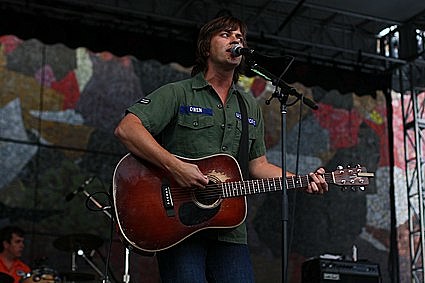 Del The Funky Homosapien...
Bumbershoot was a sunny success last weekend, but The Seattle Times' BumberBlog team noticed there seemed to be fewer people attending. Not that we were complaining -- the Capitol Hill Block Party filled our "overcrowded festival" quota this summer -- but were we right?

"The numbers are slightly down from last year," said Michele Scoleri, executive and artistic director of the festivals division at One Reel, the local nonprofit behind Bumbershoot. She said attendance this year was about 142,000, and last year's was close to 150,000. "But it looks like alcohol sales were actually up." [The Seattle Times]
"I dunno," muses a wide-eyed Ami Shalev, methodically twirling his long, tightly curled hair. "I think maybe it was good publicity?" The Monotonix front man is sitting in my living room assessing the aftermath of his band's aborted set at Bumbershoot on Labor Day. After just four songs, the fire marshal deemed the Tel Aviv-based band too dangerous, and had Exhibition Hall staff cut their power. To be fair, authorities had been clear with the performers that crowd-surfing would be grounds for a sonic blackout. But once the audience dove in, so did the irrepressible Shalev. "There were a lot of kids there who had never gotten to see us, so that's good, even if it was just four songs," adds guitarist Yonatan Gat diplomatically. [Seattle Weekly]
All of our Bumbershoot coverage (days 1, 2 and 3) can be viewed HERE.