Burning Love cancels dates, Damnation AD replace them on Unbroken show, All Pigs Must Die sign to Southern Lord
All Pigs Must Die at Full Metal Texas (more by Samantha Marble)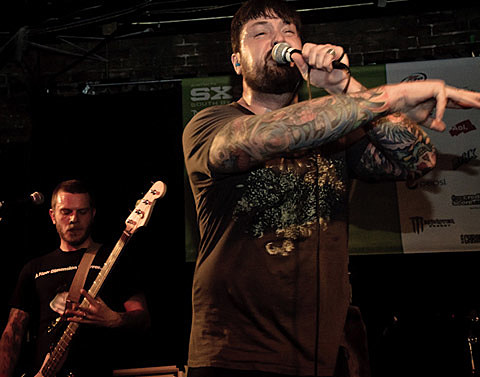 A bit of bad news... Burning Love has cancelled their scheduled appearance at Union Pool Friday with Nails, All Pigs Must Die & New Lows, and their show with Unbroken at Santos Party House on 4/9. Fortunately for both shows though, excellent bands have stepped in to fill their shoes. The slot at Union Pool will be filled by Psychic Limb and the Santos show will be replaced by special guests... Damnation AD! Santos will be Damnation AD's first NYC appearance since their reunion dates in 2007. Tickets are available at the door for Nails, but unfortunately Santos is sold out.
In related news, All Pigs Must Die have signed to Southern Lord for their new/forthcoming LP and recently dropped some details on that forthcoming LP:
The final master is approved for the GOD IS WAR lp and the artwork is currently being drawn by FLORIAN BERTMER. Just a matter of time before everything is ready to go to the pressing plant. More to come.
Can't wait. All dates, flyers, and some video is below.

--

Nails (Full Set), August 15, 2010 at Starlight Ballroom, Philadelphia, PA

Damnation AD (Full Set), July 10, 2010 at St Stephens Church, Washington, DC

New Lows (Full Set), February 20, 2010 at The Barbary, Philadelphia, PA

Psychic Limb | NYC @ Cake Shop | 12 Mar 2011

NAILS, NEW LOWS, APMD - 2011 TOUR DATES
03/31 Boston (Great Scott)
04/01 Brooklyn (Union Pool)
04/02 Philly (Barbary)