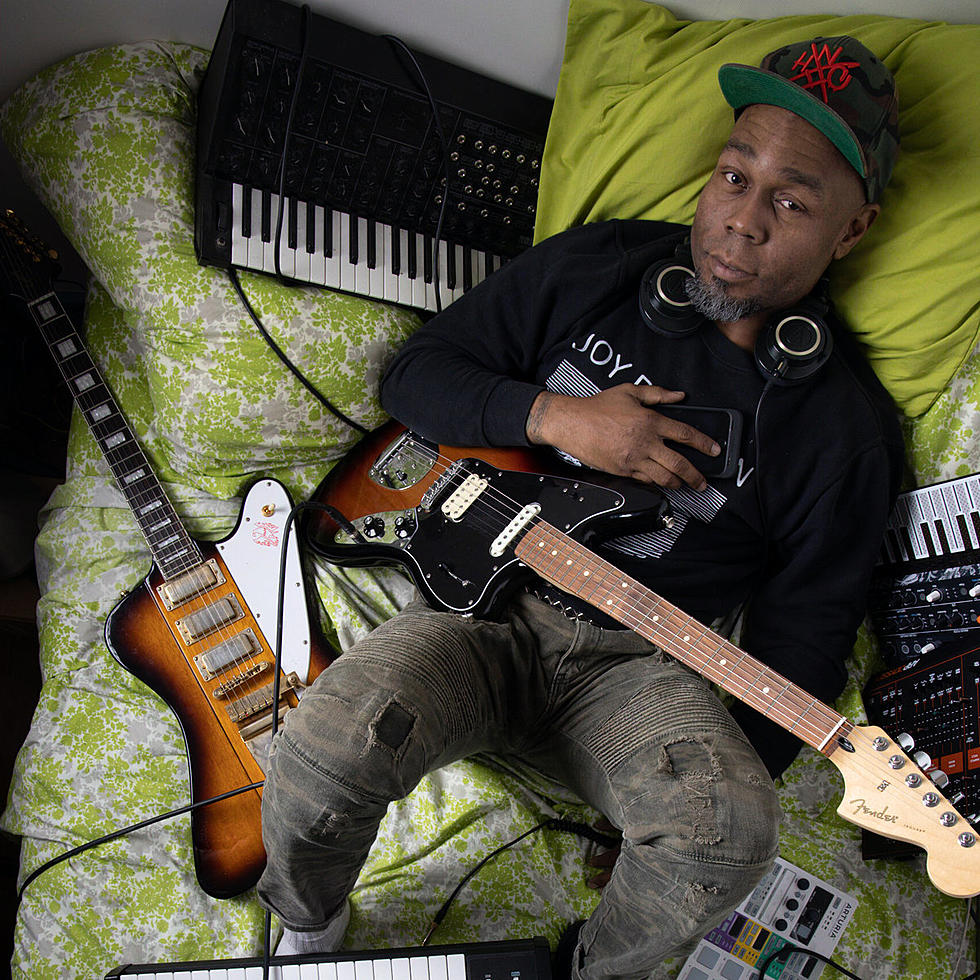 Burn's Chaka Malik releases new Ghost Decibels EP, discusses the music he's listening to
photo by Joel Dowling
Chaka Malik has been up to a lot lately. His classic, hugely influential post-hardcore band Burn continue to be active (and they're on the Black N'Blue Bowl lineup, which is currently scheduled for September, and working on new music); his also-classic, post-Burn band Orange 9mm recently reissued their 1994 debut EP on Revelation Records (order yours) and they're working on new material for the first time in over 20 years; and he's been releasing new music with his solo project Ghost Decibels.
Though he's best known for hardcore/post-hardcore, Ghost Decibels finds Chaka exploring a a more electronic/synthy side, as heard on his recent Songs Of Love & Death EP, for which he cited such influences as Yaz, Pet Shop Boys, Human League, and Joy Division. He's pretty great at this kind of thing too, and he manages to channel those influences without it sounding like blatant revivalism. He just followed that EP this week with a new two-song single, "ENEMY" / "My Rose Bed," which sounds even more modern. There's almost a little Yeezus-style industrial hip hop on this one, and Chaka pulls it off well. Listen to both releases:
We also spoke to Chaka about what music he's been listening to (and music documentaries he's been watching) in quarantine, and he made a list that includes some stuff you can very much hear in the new Ghost Decibels (the aforementioned Pet Shop Boys and Yaz as well as New Order, Visage, The Smiths, Depeche Mode, and Kanye producer Mike Dean), some classic hardcore, and more. It's a very cool, eclectic list, and Chaka's commentary on each pick is well worth reading. "I listen to music for the vibe these days, for the resonance," he says. "I also listen to myself for my own resonance and treat myself as needed with a musical cure." Here's his list:
Pet Shop Boys - "West End Girls" (music video version)
The sound of the sound of this song, this mix is awesome. You can blast this song and still sounds hard, and warm, not shrill like many other songs from this era. Including songs by my heroes from that time.
Yazoo - "Don't Go" (live video performance)
This song was a big song in the breakdance community which I was a part of in Queens. I wasn't the best but we battled people from all over Queens and did reasonably well. Mostly battled other crews from my projects on large found pieces of cardboard, or found rolled up vinyl flooring. Fun times. One day in a double head spin demonstration by our crew, one our friends fell out of his spin, kicking the younger and much smaller but incredibly skilled dancer in the eye. An emergency room visit followed but all was fine just a concussion and swollen eye that healed fine.
Visage - "Fade to Grey" (Extended Version)
GLAMOUR bitches... Dance with me... I love this song for resetting and just letting go while feeling beautiful. May sounds silly but allow yourself to let go and fall into the hypnotic groove and let all your catharsis come out as dance. It reminds me of NYC in the 2000s with new wave parties at dive bars playing this as lights were low.
New Order - "Blue Monday" (TOTP March 1983)
The best sounding version of this song that I've heard so far. Crisp, fun, exciting, but they're confident within their youth, they put on a performance for the ages. The crowd is wonderful to view. The clothes, the women, the lights... Would have been so amazing to breathe in that air in 1983 as their music and this genre was just being introduced to the world.
Pet Shop Boys - "Heart" (official video version)
Though this song sounds a little harsh in the high midrange part of the sound spectrum to me, unlike West End Girls which sounds incredible, I like the humor and bounce of the song with the video. I often find myself singing along and laughing when Dracula reveals his softer side as the video progresses.
Mike Dean's live synthesizer jams
Mike has produced for Kanye West, Madonna, Travis Scott etc. He also was the musical director for Latin music legend Selena. He is responsible for the Dirty South sound to a large degree. Incredible talent who is a hall of fame level producer, musician, and engineer.
Blitz - Voice of a Generation
A record that has grown with me. Street rock or Oi made a lot of sense to me growing up in the projects. I grew up on classic rock, soul, and jazz. My own young teenage tastes pointed me towards hip hop and break beats. Eventually I ended up finding punk. The brazen attitude and melody of Oi was epitomized for me in Blitz. It was very raw, very punk, but still had enough melody for me.
Depeche Mode - "Strangelove" (official video version)
The sexuality. The acceptance of self. The beat. It's a hard song, that's obviously very catchy. Depeche Mode I love because of the textures and moods they create.
The Smiths - "Half a Person" (BBC Radio Session version)
This particular version I love because it's self absorbed the way The Smiths always are, but it's also very musical and comforting sounding in its moan.
Sick of It All - Sick of It All
Queens kings who I love. I was a huge fan as an early hardcore kid. Eventually met the band in the city and again in Queens with my mom and my little brother. Sick of It All gave my first band Burn our first show at CBGB's. This was an amazing experience and really helped set the stage for Burn. Thank you Sick of It All!!!
History of the Prophet Synthesizer Documentary by Alex Ball
I've become infatuated with synthesizers and good documentaries are always a great way to kill time.
New Breed Tape Compilation - Documentary
This is the documentary that Freddy Alva spearheaded to give some background/revisit the bands and people that were involved. Freddy just posted it to his Vimeo page. There was incredible feedback when he made it available a month or so ago for free online. Definitely worth watching!
Burn - Do Or Die and Burn - Mountain
Burn was scheduled to play Black and Blue Bowl in New York City in May, but... So Gavin and I had agreed that we should release a song in time for the new September date of the Black and Blue Bowl. That said I've been going back to revisit the thread of where we were last so I can step into the new song with connective tissue to what we've done in the past. Super stoked for the Black and Blue Bowl in September!!!
Mark Thousands - "A Love Talismanic"
Mark is a fellow hard core kid who was in NYHC classic band Leeway. He's now on some other shit, kind of acoustic r and b-ish with elegant chords, really dope! I've had the pleasure of getting to know him a little bit over the last few years and it's exciting to have someone so talented, and passionate about music to vibe with.
Max Roach featuring Abbey Lincoln, Coleman Hawkins, Babatunde Olatunji, etc - We Insist!
Classic protest record. Mark Ryan, Alan Cage and I used to listen to this record all the time when we worked at Prana Foods. I recall the sun bursting through the windows and the smell of whole grain breads and delicious fermented staples like miso wafting through the air. It made a great backdrop for this intense, cathartic, and rewarding listening experience.
I've known Greg Bennick for years since the days of his old band Trial and I'm thankful to finally collab with him and some of his bandmates. That said I've been listening to his awesome newest artistic release with his new band Bystander to get a glimpse of where he is as an artist right now.
Bush - "Flowers On a Grave"
Chris Traynor, the original guitar player from Orange 9mm, joined Bush a while back. We [recently re-released] the first Orange 9mm EP, as well as planning for a brand new Orange 9mm song for later in the year. Been listening to get a vibe on where Chris is with his songwriting, etc.
Check out photos of Burn at Brooklyn Bazaar in 2017 and Wrecking Ball 2016: