BV-BBG/POTR/Thrasher SXSW showcase in pics & review (Black Breath, Ringworm, All Pigs Must Die, KEN Mode, more)
Gregory R. Cristman
Directly after the mayhem that was our Deathmatch event at Scoot Inn on 3/16 (first set of pictures HERE; more on the way) BrooklynVegan & Power of The Riff/Thrasher took over the Austin venue for an official SXSW showcase. The night portion was headlined by Black Breath (an exclusive SXSW appearance) and featured appearances from Ringworm, All Pigs Must Die, Narrows (who also played the bridge show), KEN Mode, Enabler and Young and In The Way. The overall brutal vibe of the day continued into the night with ripping performances from top to bottom, circle-pitting, and hardcore scream-a-longs.
Young and In The Way's "American Blackened Crust" opened the showcase a bit past 8PM, drawing from black metal in both tendency to blast as well as in symbolism, ferocity and costuming (see the inverted cross of bones). Young and In The Way may be a relatively young band, but they are wise beyond their years in creating dark atmosphere to accompany their taut and razor sharp odes to negativity.
Following YAITW was Enabler, a Milwaukee band that contains members of Harlots and Fall Out Boy (no shit). They draw from the melodic d-beat of bands like Tragedy in their take on crusty hardcore. The band are preparing a new LP All Hail the Void for release in May, so look out for that and make sure to catch them on the road soon.
KEN Mode played only two shows in Austin this year, and thankfully our showcase was one of those. The band's noise-rock meets hardcore aesthetic has always been great, but now with a more stable bass player (Andrew LaCour) it seems that the band has hit its stride on the live stage. LaCour's animated stage antics work well for the band too, adding to the wide-eyed maniacal glances that guitarist/vocalist Jesse Matthewson throws to the audience over his microphone.
On paper, Narrows is a fantastic sounding band; members of Botch, Unbroken, and more collide to form a hardcore supergroup. Thankfully, the reality is as indelible as the concept.... in fact better. Since I saw them kill it at Cake Shop close to two years ago, Narrows have gelled into an entity all its own, a thought cemented with their latest and highly-reccomended release on Deathwish, Painted (out now). As a live band they are similarly amazing; is there anything as pleasing to a hardcore kid as screaming into a microphone along with Dave Verellen?
All Pigs Must Die is similar in concept to Narrows, a "supergroup" comprised of the jaw-dropping sticksman Ben Koller (Converge), the raspy throat of the energetic Kevin Baker (The Hope Conspiracy), guitarist Adam Wentworth (The Red Chord, Bloodhorse) and bassist Matt Woods (American Nightmare, Bloodhorse). While any band with Ben Koller is worth a look just for his jaw-dropping skills behind the kit, APMD rise above that with songwriting and a live show that is similarly impressive in its intensity. Scoot Inn was no exception; these guys rule.
Ringworm has been around almost as long as their fellow Clevo-core natives Integrity (21 vs 24 years!), and its clear that their live show has been honed over time to a fine point. The band's thrash-y hardcore crossover incited circle pits and mosh mayhem during their set, reminding us why the band are veterans of their scene. Amazing live band, and now with Aaron of Keelhaul back in their ranks, they've never sounded better.
Batting clean-up was Black Breath, the Seattle band that fused groovy Swedish death metal with hardcore vocals and aesthetic. They opened their set with personal favorite "Black Sin", and the band's live show is as potent as their LPs. If you've never seen Black Breath then please do so right away.... word is they may be on the road in the near future. One of my major highlights of the weekend.
I'd like to thank all of the bands that killed it at Scoot Inn on 3/16, the staff at Scoot Inn for being so helpful/accomodating, my partners for this show in Power of The Riff and Thrasher, and most importantly everyone who showed up to support the show and the bands and to have a good time.
More pictures from the Friday night show at Scoot Inn is below.

--
Young and In The Way by Greg Cristman
KEN Mode by Greg Cristman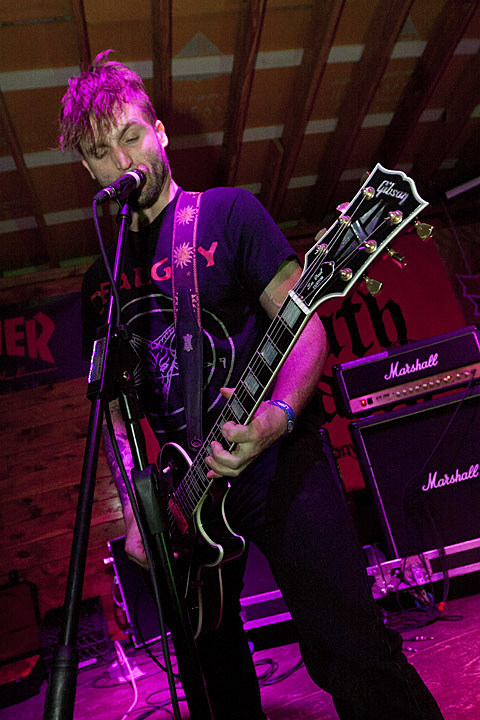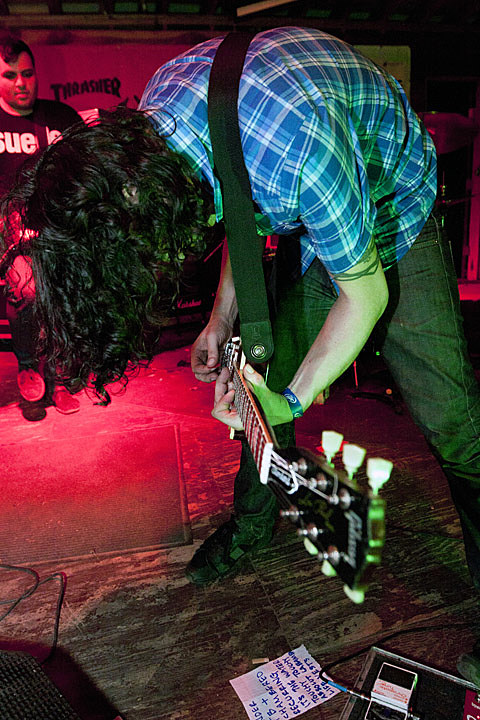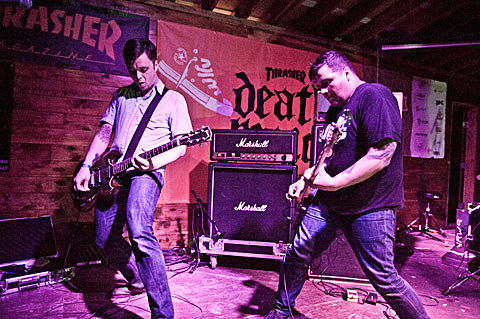 All Pigs Must Die by Greg Cristman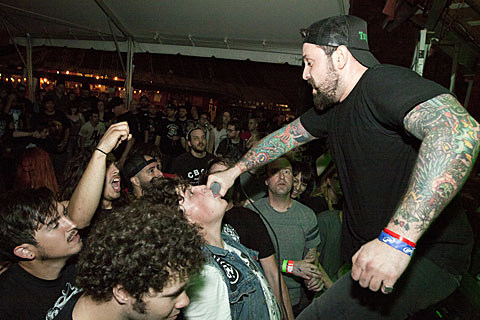 Ringworm by Greg Cristman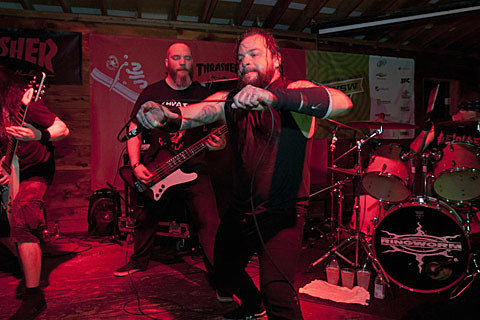 Black Breath by Greg Cristman