BV day party @ Radio Room in Austin – pics by Leia
photos by Leia Jospe

These Arms Are Snakes / Thao / Daniel Johnston & Hymns

Thirteen bands were scheduled to play the BrooklynVegan / Agency Group day party in Austin on Thursday, March 19, 2009. Twelve ended up playing - one of them twice. I think the story is that The Pains of Being Pure at Heart, who had a zillion other shows also scheduled during the SXSW week, got confused about what their set time was. For that reason (and traffic), they showed up too late to go on in their slot. Instead, The Wheel, who was our last-minute addition as opener on the inside stage, immediately went outside and played a second set on the larger outdoor stage in the late band's place. We got at least one "boo" when the "scheduling mixup" was announced, but what could we do? (sorry!) It was awesome of the Wheel to fill on a moment's notice. Hopefully the people outside enjoyed him after they got over the awkwardness. I didn't watch his second set, but he sounded amazing inside.
Due to overlap on the two stages, it was hard to see everyone that played the party. The most painful two decisions were Cursive or the Wrens, and These Arms or Snakes or Daniel Johnston. I think we originally had it worked out a little better in terms of that, but the main stage started to run late. I went back and forth and caught pieces of as much as I could (and all of Daniel).
Thanks to everyone who came!
Leia managed to catch 8 of the 12 bands (she missed The Wheel, Avett Brothers, New Villager and Au Revoir Simone). Her pictures are below...

The Donkeys (inside stage)...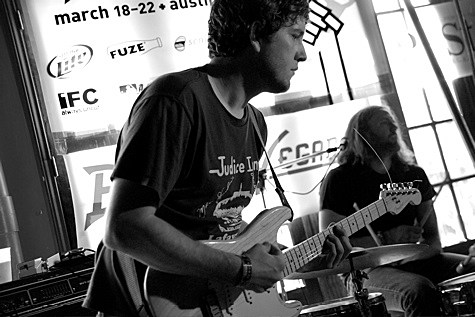 Bishop Allen (outside stage)...
These Arms are Snakes (inside stage)...
Cursive (inside stage)...
Thao with the Get Down Stay Down (inside stage)...
Daniel Johnston and Hymns (outside stage)...
"Radio Room was a madhouse to see Daniel Johnston earlier today. He
opened with the Brooklyn band Hymns backing him on "Love Wheel" before
going it solo with the guitar. "Living Life" was pretty good, though
"Life in Vain" was a bit too shaky. The band came back though for
"Rock This Town" and blew it out of the water though." [Austin Sound]
The Wrens (outside stage)...
This was an afternoon showcase in an outdoor tent behind Radio Room, where Johnston was followed by New Jersey's own Wrens. Having seen them live a few times, the band's performances have always been predictably unpredictable. Some of their sets' surprises have grown familiar, including Kevin Whelan passing his bass into the crowd to play for a few bars, or the maximum-suspense version of "This Boy is Exhausted" that goes on for two verses between guitarists Charles Bissel and Greg Whelan before the band kicks in. Some were more spontaneous, as when Whelan hung his bass from the tent's suspension cables to sit down for a piano jam, or the version of solo piano yelper "This is What You Had Planned" that somehow needed three members of the band and as many microphones, all being passed back and forth at random. Another surprise? New songs. Two of 'em, from indie rock's greatest procrastinators: Both were piano ballads with a tense edge led by Whelan, with the guitarists playing incidental noise for atmosphere in both, promising an impending cacophony but holding back throughout. [Indy Week]
Passion Pit (outside stage)...