BV Presents a FREE not-CMJ day party @ Public Assembly Saturday (lineup) ——– free music, free drinks & more (Miguel, Caveman, Hundred Waters, eXquire, more)
We're at Public Assembly in Brooklyn all day Friday (10/19) and Saturday (10/20). Here's what Saturday looks like...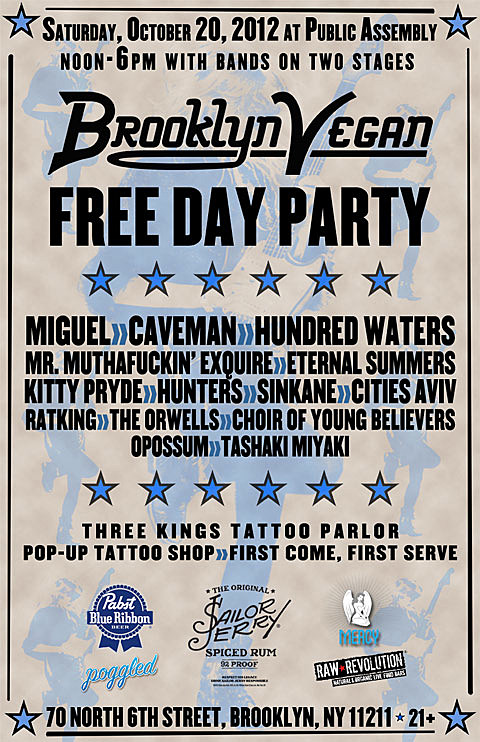 BrooklynVegan SATURDAY DAY PARTY - 10/20/2012

STAGE 1 (front room)
12:00 The Orwells
01:00 Hunters
01:45 Sinkane (DFA)
02:30 Eternal Summers
03:15 Hundred Waters
04:15 Miguel
05:00 Caveman
STAGE 2 (back room)
12:15 Opossum
01:15 Tashaki Miyaki
02:00 Choir of Young Believers
02:45 Kitty Pryde
03:45 Ratking (XL)
04:30 Cities Aviv
05:15 Mr. Muthafuckin' eXquire
Like Friday, there is about 15 artists in 6 hours and all 100% FREE. Unlike Friday, we will also be giving out FREE TATTOOS on Saturday.
Like Friday, show up early for complimentary drinks courtesy of Sailor Jerry Rum and complimentary beer courtesy of PBR. you can also grab a free hangover prevention beverage courtesy of Mercy, and stay energized with free Raw Revolution organic live food bars.
Pop up tattoo shop flyer and some videos below...

--