BV/Profound Lore Day Party @ Lovejoys – pics & video (Tombs, Bruce Lamont, Mike Williams, Batillus, Dark Castle & more)
Tombs @ Lovejoys

more below....


Altaar (who played NYC a week prior) opened the day at Lovejoys, and the Norwegian band played an early set of ambient leaning doom that opened with a largely improv ambient track. Killer set from the four piece, who were followed by Brooklyn favorites Castevet, whose blackened hardcore hybrid gets more impressive with every live outing.
Wolvhammer were up next, and the (largely) Minneapolis band was sporting a completely different lineup including a new (and dedicated) vocalist and second guitarist Jeff Wilson (ex-Nachtmystium) on second axe. Their blackened-Motorhead charge is a completely different look than when I saw them at Red 7 in November, but was excellent nonetheless.
Batillus followed, and my Brooklyn pride welled as the quartet's searing industrial-tinged doom destroyed the crowd at Lovejoys. A good amount of Batillus tees were sold that day and the band quickly sold out of its forthcoming Furnace LP due on Seventh Rule (great record). Grayceon and Deafheaven followed, as the former brought impressive Neurosis-y thunder and finesse via amplified cello while the latter teamed endless energy with black metal, shoegaze, and elements of screamo to great effect.
In between sets from Grayceon, Deafheaven, The Body, and Dark Castle, Bruce Lamont played mini-sets between sets of noise and ambient destruction, featuring a surprise appearance from the one and only Mike "IX" Williams of Eyehategod. The pair collaborated on pained screams, looped effects, and twiddled knobs to add another dimension to an already fun show.
The Body and Dark Castle followed Deafheaven, each bringing their own stamp on dire doom and gloom to the sunny beautiful Austin day. The Body/Dead Times collabo's (aka three-piece version of The Body) ten-megaton doom was punctuated with noise/samples and always brings the low-end power. They did not disappoint and neither did Dark Castle, though their vocal PA did. Unfortunately when you are dealing with a band as voluminous as Dark Castle, conventional vocal PAs just can't cut through the thunder (and that's what we had). Vocals were buried and static-y, but riffs were just as monsterous as ever.
After a day of slaying, Tombs headlined the show to prove again why they are not only one of the most hard-working, but most impressive bands in metal today. Energetic, ravenous and exacting, Tombs performed a set that leaned heavily on on material from their forthcoming LP Path to Totality. Brutal, but with subtle melody, I have a feeling that Path to Totality will best Winter Hours and will be a record that we talk about for years to come. I made sure to catch them a second time at Emo's the following night (3/19).
In all, I'd like to thank my partner in crime Chris Bruni at Profound Lore Records for releasing such inspiring material, Lovejoys for the fantastic hospitality, Victory for the free (and tasty!) suds, the Farinelli's for capturing the awesome EHG/Lamont collabo, and all of the bands who made a saturday in Austin one of my best memories of the year. And most of all, thanks to everyone who came out... I couldn't have done it without you.
More pictures and video from the sunny day dedicated to overcast music, below....
Altaar by Samantha Marble
Castevet by Samantha Marble
Wolvhammer by Samantha Marble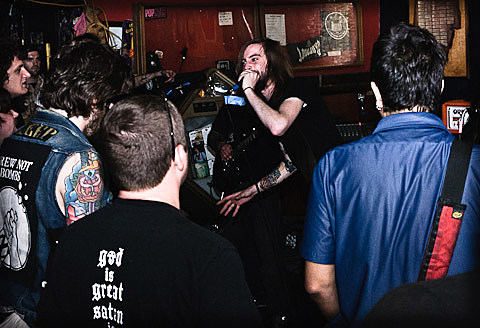 Batillus by Samantha Marble
Grayceon by Samantha Marble
Bruce Lamont @ Lovejoys | 03.19.11 SXSW Austin, TX

Deafheaven by Samantha Marble
Deafheaven - live at SXSW 2011 - Lovejoys - Violet

Deafheaven - live at SXSW 2011 - Lovejoys - Unrequited

Bruce Lamont and Mike Williams @ Lovejoys | 03.19.11 SXSW Austin, TX

The Body by Samantha Marble