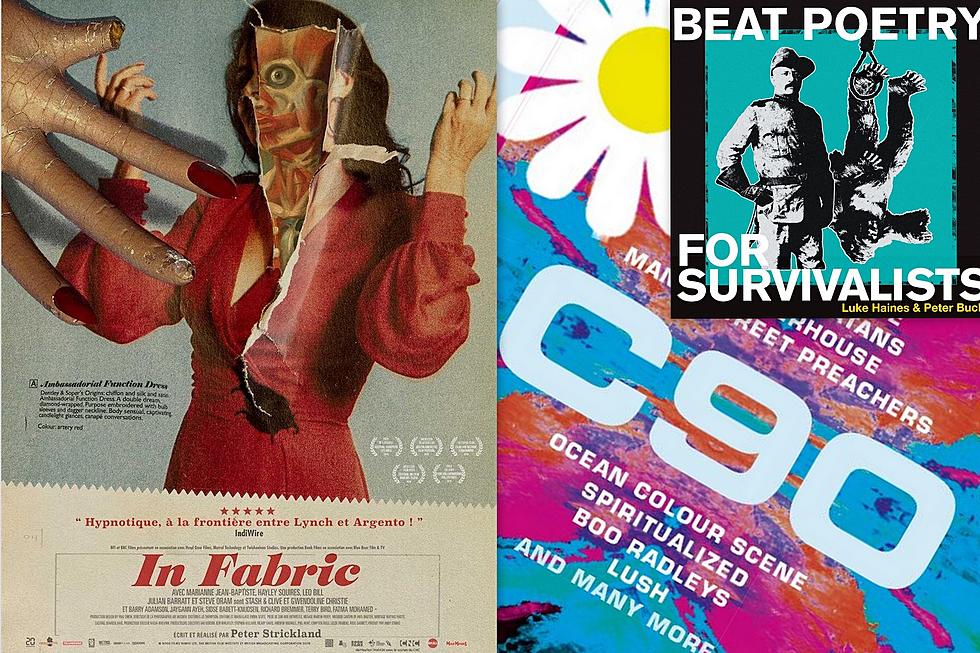 Bill's Indie Basement (1/3): the week in classic indie, college rock, and more
Happy New Year everybody. With 2020 only three days old, the music industry isn't quite in full gear yet -- there's not much in the way of new releases this week -- so this is a somewhat short edition of Indie Basement. We've got C90, the latest (greatest?) sequel to C86, and a new collaborations between The Auteurs' Luke Haines & R.E.M.'s Peter Buck. Plus... In Fabric, the wonderfully weird new film from Peter Strickland (Berberian Sound Studio, The Duke of Burgundy), which features supporting performance by onetime Magazine/Bad Seeds member Barry Adamson, a score by Cavern of Anti-Matter and a killer dress.
1

Various Artists - C-90

Cherry Red continues its sequels to indie comp C86, here entering a new decade and explosion of shoegaze and indie dance

Back in 2014, Cherry Red released an expanded edition of NME's iconic C86 compilation, taking its original 22 tracks (including The Wedding Present, The Pastels, Primal Scream, Mighty Lemon Drops, Shop Assistants, Close Lobsters and more) and adding another 50 songs. Since then, they've kept the idea going with C87, C88 and C89 comps, and now they've just announced the three-disc C90 which is out February 21.

1990 was a pretty great year for "indie" with scene explosions caused by My Bloody Valentine / Ride (shoegaze), Stone Roses (jangly but muscular '60s pop) and Happy Mondays / Primal Scream (rave/baggy), with labels like Creation, Factory, 4AD and Rough Trade scoring chart hits, and more niche labels like Too Pure, Heavenly, Communion, Dedicated, Sarah, doing well too. Part of was due to music weeklies NME and Melody Maker embracing both shoegaze and the baggy rave scene while trying to outdo each other by hyping the next big thing. Perhaps that's why C90 has a higher hit-rate than any of the previous editions they've done, including tracks from Charlatans, Boo Radleys, Saint Etienne, Spiritualized, Spacemen 3, Slowdive, Chapterhouse, Lush, Swervedriver, Pale Saints, The Sundays, New Fast Automatic Daffodils, Heavenly, The La's, Ned's Atomic Dustbin, Th' Faith Healers, Manic Street Preachers, and more.

Even the deep cuts are great with quality songs from Madchester also-rans (Paris Angels, Flowered Up, The Moonflowers, World of Twist), Stone Roses wannabes (Northside, Milltown Brothers, Thousand Yard Stare), drugged-out psych (The Darkside, The Seers, Bark Psychosis), fey janglepop (The Popinjays, See See Rider, Something Pretty Beautiful) and lots more. There are a few notable omissions (My Bloody Valentine, Ride, Cocteau Twins, Mega City Four), but C90 is a pretty solid representation of a time when worlds were colliding and possibilities seemed endless.

Check out the full tracklist here.

2

In Fabric

A killer dress is the star of Peter Strickland's scary, hilarious, kinky and totally weird fourth film (with a soundtrack by Cavern of Anti-Matter)

In Fabric, the fourth film from Peter Strickland (Berberian Sound Studio, The Duke of Burgundy), was snuck into theaters in mid-December with little or no fanfare, despite being released via the very hip indie studio A24. Strickland's films have always been a tough sell, but few filmmakers are as delightfully weird, hilariously perverse, and capable of unsettling imagery, all while leaving the viewer saying "Well, I've never seen anything like that before." He also is a giant music nerd who gets bands like Broadcast, Cats Eyes and, here, Tim Gane's Cavern of Anti-Matter, to score his baroque, kinky, phantasmagoric vision. In Fabric is as Peter Strickland-y as it gets.

The plot is pretty simple. Set in 1993 against the January Sales season in Britain (which is like Black Friday but a month long), it stars Marianne Jean-Baptiste as a recently divorced bank clerk who goes to department store Dentley & Soper's to buy a new dress for an upcoming date. The number she picks out, whose color is listed as "artery red" in the store catalog, unfortunately turns out to be cursed. Or haunted. Or possessed. I'm not exactly sure, but it's definitely bad news for whoever wears it. The whole store is bad news, run by a coven of witches who do a bunch of weird stuff in the stockroom during after-hours. The main witch/clerk, Ms Luckmore, is played by Hungarian actress Fatma Mohamed who has been in all of Strickland's films and here has sales patter like "Dimensions and proportions transcend the prisms of our measurements" and "The hesitation in your voice, soon to be an echo in the recess in the spheres of retail." You'll wanna turn on the closed captions for her scenes to catch all the crazy, very funny double-talk dialogue.

In Fabric is not perfect; Strickland has admitted the film's tight budget and shooting schedule made for a very tough production, and the film feels way too overstuffed with characters and ideas for it to be truly satisfying. (It is not as perfectly realized as The Duke of Burgundy, Strickland's best film.) But it is an extremely fun movie, tactile and sensuous, that will appeal to anyone with a dark sense of humor and love of '60s / '70s Italian giallo films by Bava and Argento. (If Suspiria and Garth Marenghi's Darkplace were one film, it might be a bit like this.) You may never look at a mannequin or a washing machine the same way again. The performances are terrific across the board, including Gwendoline Christie (Brienne in Game of Thrones), The Mighty Boosh's Julian Barratt, and onetime Magazine/Bad Seeds bassist Barry Adamson who plays one of Jean-Baptiste's suitors (and should be in more films!).

All of Strickland's films seem to be built from the soundtrack up and In Fabric's score by Cavern of Anti-Matter (Time Gane and Joe Dilworth of Stereolab) couldn't be a better fit, mixing harpsichord with unsettling waves of synthesizers and psych-out sound effects. Unlike Broadcast's Berberian Sound Studio and Cat's Eyes' The Duke of Burgundy scores, so far In Fabric's soundtrack has not been released, apart from a two-track 7" that came out in a limited edition of 287. Hopefully, soon. Meanwhile, In Fabric is available to rent from the streaming service of your choice. Watch the trailer below.

3

Luke Haines & Peter Buck - "Jack Parsons"

First single from this unlikely pairing of former members of R.E.M. and The Auteurs

One of the more unlikely* but cool pairings I've come across in a long time, onetime Auteurs/Black Box Recorder founder Luke Haines (whose '80s band The Servants were on the original C86 tape) has made a record with R.E.M.'s Peter Buck which is titled Beat Poetry for Survivalists and will be out March 6 via Omnivore Recordings in the U.S. and Cherry Red in the UK. How did this happen? From the PR: "One day, Peter Buck bought one of Luke Haines' Lou Reed paintings (for £99.00). They had never met before but decided that the fates had brought them together and they should write some songs and make an album." The first single from the record is "Jack Parsons" which is about the real life rocket scientist and occultist of the title. This is as Auteurs-y as Luke Haines has sounded in a while, very much in that glam/kinks mode, and the subject matter fits in nicely with Haines' love of twisted eccentrics. As to Buck's presence here, the guitars sound great -- he is probably playing those!

* It's not as unlikely as say, Luke Haines and Lil Yachty, but I did a double take when I saw it announced.