Califone playing Brooklyn & the BrooklynVegan showcase @ SXSW — movie screened at Sundance, DVD out in April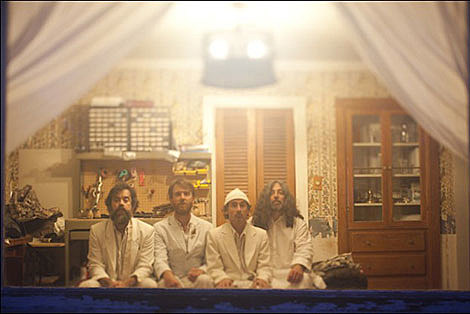 Califone are currently on tour with Wilco. On Wednesday, March 17th, you can catch them at SXSW where they'll be playing the official BrooklynVegan showcase at Club DeVille along with Serena Maneesh and four more artists TBA.
After SXSW, Califone will head to NYC for a Tuesday, March 30th show at the Bell House with Sonoi. Tickets are on sale.
Though they won't at the Brooklyn show, or at the official SXSW show, Califone will be (and has been) playing along with their superb All My Friends Are Funeral Singers film on other dates (as they did at 92YTribeca when they were last in NYC during CMJ). The accompanying CD came out last year on Dead Oceans. The film just screened at Sundance in January and was picked up for release on DVD...
IndiePix Films announced today the acquisition of distribution rights to "All My Friends Are Funeral Singers", the film directed by Tim Rutili and executive produced by Glen Sherman. DVD release is scheduled for April 13. Zel is a fortune teller, sharing her home with a group of ghosts who help her remove clients' aches and pains, advise gamblers, and channel cranky spirits to check on their loved ones. When a mysterious light appears in the woods and the ghosts realize they are trapped, Zel is forced to come to terms with the origins of these spirits and let go of the only family she has ever known. Superstition, sound and the confines of Zel's claustrophobic house feed the film's construction, allowing the story to unfold like the music of Califone, who provide the lush original soundtrack. IndiePix will manage the distribution of this film in theatrical, DVD, digital and new media markets worldwide.
You can get "Funeral Singers" (the almost-title track) from that record above. Clips from All My Friends and all tour dates are below...


Califone - 2010 Tour Dates
Feb 09 arlene schnitzer concert hall portland, Oregon #
Feb 10 the paramount theater seattle, Washington #
Feb 12 the royal theater victoria, British Columbia #
Feb 13 david lam park vancouver, British Columbia #
Feb 15 northern alberta jubilee edmonton, Alberta #
Feb 16 southern alberta jubilee calgary, Alberta #
Feb 17 tcu place saskatoon, Saskatchewan #
Feb 19 DECC auditorium duluth, Minnesota #
Feb 20 overture center for the arts madison, Wisconsin #
Feb 21 wharton center for the arts east lansing, Michigan #
Feb 23 hamilton place theater hamilton, Ontario #
Feb 24 centennial hall london, Ontario #
Mar 09 lincoln hall chicago, Illinois $
Mar 10 lincoln hall chicago, Illinois
Mar 11 The Luminary Center for the Arts St Louis, Missouri $
Mar 17 SXSW BV showcase @ Club DeVille Austin, TX
Mar 30 the bell house brooklyn, New York
# w/ wilco
$ with film