Calvin Johnson touring, playing Montauk w/ Astronautalis & Brooklyn w/ Chain & The Gang (whose new album is out now)
Calvin Johnson (photo by Sarah Lee)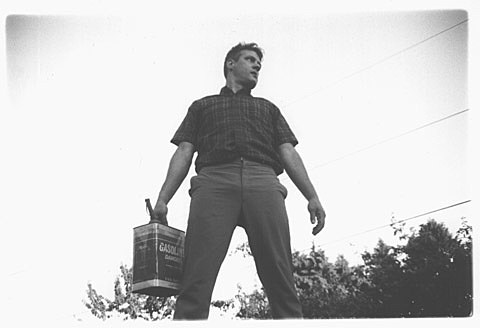 For those of you looking for a little adventure on a Thursday night, you're in luck:
K Records founder Calvin Johnson and indie rapper Astronautalis will join in baritone-voiced harmony in Montauk on February 10. This is a once-ever opportunity to watch Calvin and Astronautalis perform individually and collaboratively against the backdrop of sunset in Montauk.

Tickets for a round-trip bus ride from Brooklyn to Montauk are only $30, only 40 are available.
The Montauk date kicks off a round of Calvin Johnson tour dates that continue with a Brooklyn show at Dead Herring the next day (141 S 5th St #1E between Bedford Ave & Driggs Ave) with Chain & the Gang (with Ian Svenonius), Girls in Trouble, and E-Prhyme. His full slate of Northeast/Midwest dates are below.
Calvin Johnson doesn't currently have any new musical wares (outside of K releases in general), but his K Records brethren Chain & The Gang do, as they just released their new LP, Music's Not For Everyone. The LP features the new track "Why Not" available for download above/stream below. Order a copy at K Records, and check out the song stream, art/tracklisting, and all Calvin Johnson dates below.

--
Chain & The Gang- "Why Not"

Chain & The Gang - Music's Not For Everyone


1. Why Not?
2. Not Good Enough
3. For Practical Purposes (I Love You)
4. Livin' Rough
5. It's A Hard, Hard Job (Keeping Everybody High)
6. Detroit Music
7. Detroit Music Pt II
8. Music's Not For Everyone
9. Can't Get Away
10. (I've Got) Privilege
11. Youth Is Wasted On The Young
12. Not Good Enough (Dub)
13. Bill For The Use Of A Body
14. Why Not? Pt III
--
CALVIN JOHNSON - 2011 TOUR DATES
Feb 10, 2011 - Montauk, New York Montauket Bar/Restaurant - W/Astronautalis
Feb 11, 2011 - Brooklyn, New York Dead Herring - w/ Chain & the Gang, Girls in Trouble, E-Prhyme
Feb 12, 2011 - Providence, Rhode Island Soft Approach - w/ Chain & The Gang
Feb 14, 2011 - Oberlin, Ohio Oberlin College -
Feb 15, 2011 - Columbus, Ohio Skylab Arts Space -
Feb 16, 2011 - Cincinnati, Ohio Hoffner Masonic Lodge - w/ Josiah Wolf, Lisa Walker
Feb 17, 2011 - Gambier, Ohio Kenyon College -
Feb 18, 2011 - Youngstown, Ohio Calvin Center - w/ Third Class, Joe Shelby
Feb 19, 2011 - Ypsilant, Michigan Dreamland Theater - w/ Swimsuit, Dead Machines
Feb 21, 2011 - Chicago, Illinois Roxaboxen Exhibitions - w/ Cains & Abels