Cannibal Corpse and Misery Index touring together with Hour of Penance, playing on a boat in NYC (dates)
Cannibal Corpse at Fun Fun Fun Fest 2011 (more by Fred Pessaro // BBG)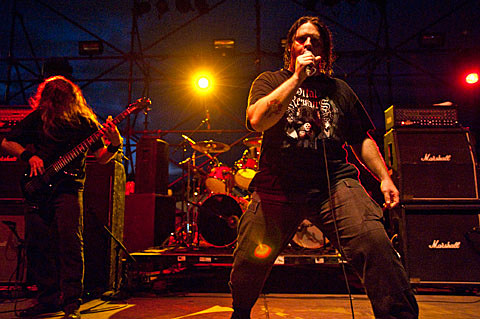 Gluttons for punishment, take note. Cannibal Corpse will hit the road for a string of dates with Baltimore deathgrind fiends Misery Index and Italy's Hour of Penance, logging a mostly East Coast trek in middle-late November. The dates kick off on November 16 in the South and crawl northward, looping to the Northeast and eventually NYC for a Rocks Off Boat Cruise on 11/28 (no Hour of Penance). Tickets go on sale Friday (9/14) at noon. Full tour schedule is below.
All tour dates are listed below, along with related videos -- including ex-Cannibal Corpse vocalist Chris Barnes shilling used cars.

---
Park Auto Mall Commercial with Chris Barnes Lead Singer Of Six Feet Under

Cannibal Corpse - Hammer Smashed Face

MISERY INDEX - "Traitors"

CANNIBAL CORPSE, MISERY INDEX, HOUR OF PENANCE - 2012 TOUR DATES
11/16/2012 Crossroads Music Hall - Huntsville, AL
11/17/2012 Juanitas - Little Rock, AR
11/18/2012 Outland Ballroom - Springfield, MO
11/19/2012 The Castle Theater - Bloomington, IL
11/20/2012 House Of Rock - Eau Claire, WI
11/21/2012 High Noon Saloon - Madison, WI
11/23/2012 The Machine Shop - Flint, MI
11/24/2012 Mr. Smalls - Pittsburgh, PA
11/25/2012 The Chance - Poughkeepsie, NY
11/27/2012 The Met - Providence, RI
11/28/2012 Boat Show *no Hour of Penance - New York, NY
11/29/2012 Crocodile Rock - Allentown, PA
11/30/2012 Stone Pony - Asbury Park, NJ
12/01/2012 Rock N Roll Hotel - Washington DC
12/03/2012 Headliners - Louisville, KY
12/04/2012 Ground Zero - Spartanburg, SC
12/06/2012 Grand Central - Miami, FL
12/07/2012 Brass Mug - Tampa, FL