Caribou played Webster Hall (pics), didn't win the Polaris, and is now on tour (dates)
"floor at webster hall about to collapse for caribou" - t m
Montreal indie rock act Karkwa took home the Polaris Music Prize for its fourth album, "Les Chemins de Verre" or "The Glass Paths" (Audiogram)...The band received $20,000 Canadian ($19,415).

"Les Chemins de Verre" was recorded in part at La Frette studios in Paris during breaks on their French tour. "It's an unbelievable thing to win this prize," said the band in a statement. "We have a lot of respect for this contest and we think they do it for the right reason (music)."
Caribou is currently on the road and will stay there until the middle of December. Daniel and and his live band played Webster Hall in NYC on Wednesday (9/22) with help from Emeralds and Arp. No Emeralds/Arp pictures, but a few more Caribou ones, with a video, and the band's exhausting-looking tour schedule, below...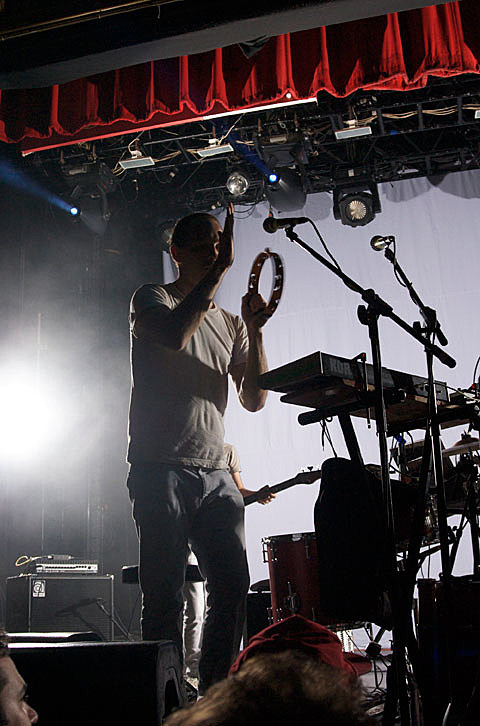 CARIBOU - 2010 TOUR DATES
9-24 Cincinnati, OH - Midpoint Music Festival
9-25 Urbana, IL - Pygmalion Music Festival (Canopy Club) &
9-26 Chicago, IL - Metro &
9-27 Minneapolis, MN - First Avenue &
9-28 Winnipeg, MB - West End Cultural Center &
9-29 Saskatoon, SK - Amigos &
9-30 Edmonton, AB - Starlite &
10-1 Calgary, AB - Republik &
10-3 Vancouver, BV - Vogue &
10-4 Seattle, WA - Chop Suey &
10-5 Portland, OR - Wonder Ballroom &
10-6 San Francisco, CA - Regency &
10-7 Los Angeles, CA - La Cita [DJ SET]
10-8 Los Angeles, CA - Music Box & %
10-9 Tempe, AZ - The Clubhouse &
10-11 Salt Lake City, UT - Urban Lounge &
10-12 Boulder, CO - Fox Theatre &
10-14 Austin, TX - La Zona Rosa !
10-15 Baton Rouge, LA - Spanish Moon !
10-16 Tallahassee, FL - Engine Room !
10-17 Tampa, FL - Crowbar !
10-18 Orlando, FL - Backbooth !
10-19 Miami, FL - Grand Central !
10-20 Mexico City, Mexico - Lunario [LIVE & DJ SET]
10-21 Guanajuanto, Mexico - Mutek/Cervantino Festival
10-23 Santiago, Chile - Festival Fauna Primavera
10-27 Sao Paulo, Brazil - Fourfest
10-28 Bogota, Colombia - Downtown
10-30 Asheville, NC - Moog Festival
10-31 Chapel Hill, NC - Cat's Cradle
11-03 Geneva, Switzerland - L'Usine
11-04 Montpellier, France - 34 Tours Festival
11-05 Torino, Italy - Club to Club *
11-06 Bologna, Italy - Locomotiv *
11-07 Lubiana, Slovenia - Kino Siska
11-08 Munich, Germany - Feierwerk +
11-09 Zurich, Switzerland - Abart
11-11 Lorient, France - Les Indisciplines
11-12 Amiens, France - La Lune Des Pirates
11-13 Luxemborg, Luxemborg - Exit 07
11-14 Leipzig, Germany - Central Theater +
11-15 Hamburg, Germany - Ubel & Gefaehrlich + #
11-16 Heidelberg, - Enjoy Jazz Festival + #
11-17 Strasbourg, France - La Laiterie #
11-18 Reims, France - La Cartonnerie #
11-19 London, England - Coronet @
11-20 Manchester, England - Warehouse Project @
11-21 Glasgow, Scotland - ABC @
11-22 Leeds, England - Social Brudenell
11-23 Bristol, England - Thekla
11-24 Brighton, England - Coalition
11-25 Bucharest, Romania - MNAC
11-26 Utrecht, Netherlands - Le Guess Who Festival ~
11-26 Amsterdam, Netherlands - Trouw [DJ SET]
11-27 Brussels, Belgium - Autumn Falls Festival AB ~ =
11-28 Paris, France - Cabaret Sauvage =
11-29 Cologne, Germany - Gloria + #
12-02 Budapest, Hungary - Godor +
12-03 Zagreb, Croatia - Teater ITD +
12-04 Vienna, Austria - Fluc
12-05 Frankfurt, Germany - Mouseoturm +
12-07 Minehead, England - ATP In Between Days
12-08 Liverpool, England - Kazimier
12-09 Dublin, Ireland - Crawdaddy
12-10 Bilbao, Spain - Santana 27
12-11 Madrid, Spain - Costello Club
12-12 Barcelona, Spain - Sala Razzmatazz 2
& with Emeralds
% with Nite Jewel
* with Four Tet
@ with Four Tet, James Holden, Nathan Fake, Rocketnumernine
! with Arp
# with Mount Kimbie
+ with Barbara Panther
~ with Beach House
= with Junip