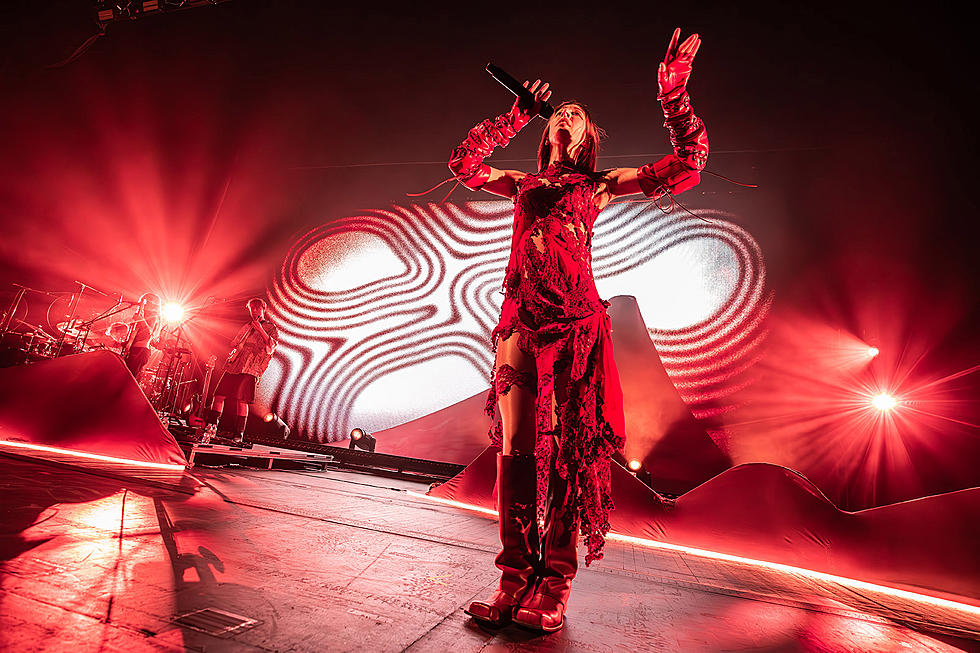 Caroline Polachek played Radio City with Ethel Cain and True Blue (pics, review)
photo by P Squared
Having released one of the best albums of the year so far with Desire, I Want To Turn Into You, Caroline Polachek kicked off her headlining "Spiraling Tour" in Philly in April, and graced her NYC birthplace with a sold-out show at the iconic Radio City Music Hall on Saturday night (5/20)--a place she mentioned she never thought she'd play while growing up here. Before she went on, the screens at Radio City displayed lines from the poem in the "Billions" video, and then finally the curtain dropped, displaying a minute-long countdown clock on the stage's backdrop. When it hit zero, her band immediately went into the new album's opening track "Welcome To My Island," and then Caroline ran out from side stage, launched into the spoken word first verse, and had the entire place screaming for her.
The show just got better and better from there. She played a 19-song set (two-song encore included), with all of Desire, I Want To Turn Into You and half of her 2019 debut album Pang, and the set just felt like one hit after another. The crowd screamed and sang along just as loudly to her biggest singles as they did for her deepest cuts. Caroline had a cool but simple backdrop set up on stage, and some pre-recorded instrumentation played over the PA, but for the most part her great three-piece band tastefully recreated the album's deft instrumentals--from the breakbeats of "Fly To You" to the Spanish guitar of "Sunset"--and Caroline won the room over with the power of her great voice (haters will say it's auto-tune).
The crowd was just as enthusiastic for opener Ethel Cain, who had Radio City full of people cheering their heads off for her and singing every word. She was backed by a guitarist, a drummer, and a screen playing grainy, nostalgia-inducing imagery of the American South to match her overall aesthetic, and her powerhouse pipes had no trouble filling the cavernous theater. She seemed like she could've been headlining the place herself.
The show also had support from True Blue. Pictures of all three artists by P Squared continue below...
Caroline Polachek @ Radio City - 5/20/23 Setlist (via)
Welcome to My Island
Hit Me Where It Hurts
Pretty in Possible
Bunny Is a Rider
Sunset
Crude Drawing of an Angel
Ocean of Tears
I Believe
Fly to You (with elements of Look at Me Now)
Pang
Blood and Butter
Parachute
Butterfly Net
Billions
Caroline Shut Up
Smoke
So Hot You're Hurting My Feelings
Encore:
Hopedrunk Everasking
Door