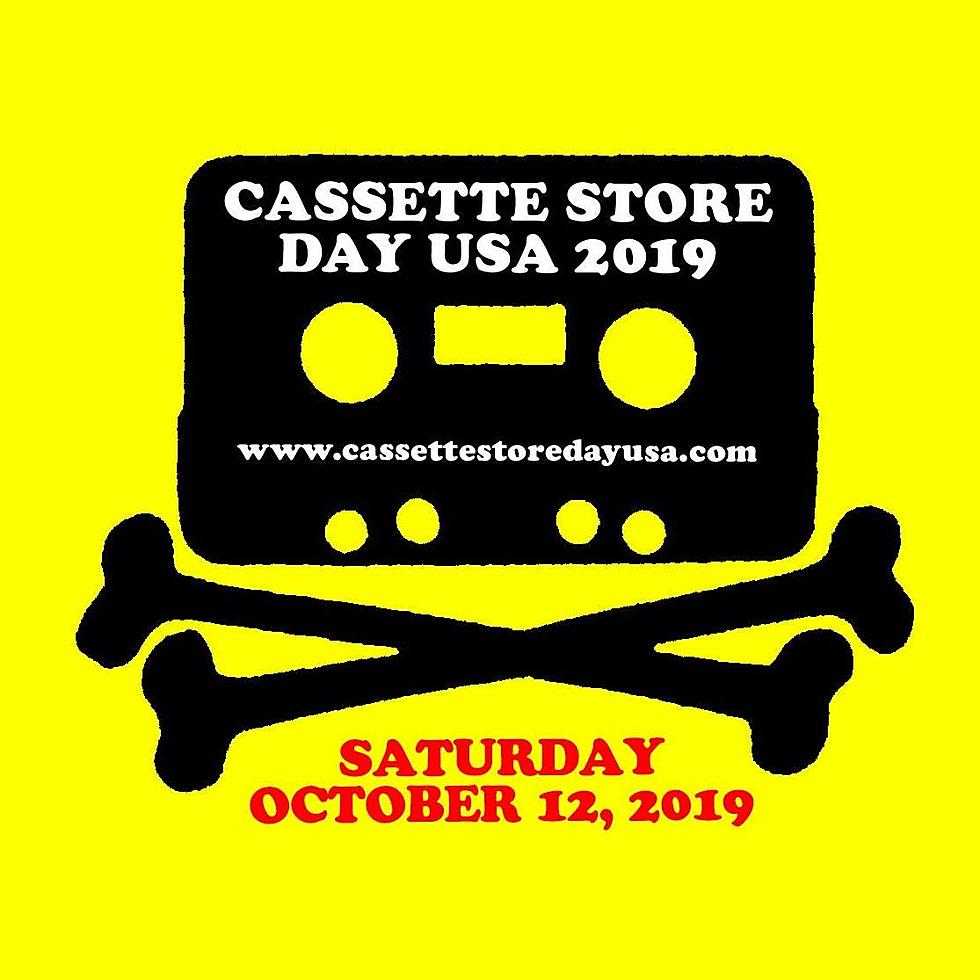 Cassette Store Day 2019: full list of exclusive titles
Cassette Store Day, the annual celebration of tapes and tape culture, holds its 2019 edition on October 12. Like Record Store Day, a number of cassette titles are made just for CSD, and 2019 exclusives include Jay Reatard's Blood Visions, that dog.'s upcoming album, OLD, The Pauses' Unbuilding, The Slackers' The Radio, Dr Dog's Midi Swamp, Warm Drag's self-titled debut, Marco Benevento's Let It Slide, and lots more. Check out the full list of 2019 titles below.
There are over 100 stores that will be part of Cassette Store Day 2019 in North America, including Rough Trade in Brooklyn. Check out the full list of participating stores, below, and learn more about Cassette Store Day here.
CASSETTE STORE DAY - 2019 EXCLUSIVE TITLES
Dallas Acid - The Spiral Arm
Various Artists - Transistor 2
Aw, Would You Look At The Time - Sounds from Aw, Would You Look At The Time Vol. 1
Flesh Eater - extinguisher / tinnitus
Various Artists - BT Mixtape Vol. 2
Local Cult - Collection of Tape Loops
Telefones - Hang Up
Scott Free - Whats This World Coming To?
THE BRAT - Straight Outta East L.A. (2019 Cassette Edition)
That Dog - OLD
Hirie - Dreamer
Ingrid Michaelson - Stranger Songs
Philiac - Oil Wars
Chronophasia - Chronophasia
L.I.F.E. Pupil - Lessons
Adam Void - Freight Noise
Film Skool Rejekts - Midnight Movie (Theatrical Cut)
Various Artists - Dala Records Mixtape
Black Adidas - Black Adidas
Ciénaga - Isla Eterna
Recluso - El Beat Tape
Odd Nosdam - Plan 9... Meat Your Hypnotis (20yr anniversary reissue)
Various Artists - "Group Therapy" vol. 5
Various - Ambient For A Greener Planet
Various - Human Beat, Seriously, Man or Astro-Man?, R. Stevie Moore, and more - The Earth Libraries Story Vol. 1
the jack moves - Free Money
Grant Earl LaValley - A Brighter Day
Jay Reatard - Blood Visions
ΔKTR - Push
Hookuo & WDRW - Magnetic
Dyelo Think - Water Vibes
SOИIC - Bulletproof
pax - cherry[b]
Various Artists - Godless America Mixtape Vol. 6
Hayley and the Crushers - COOL/LAME
The Radio Buzzkills - Get Lost
Promweather - Wandering The Media Dimension
Subversive Intentions - Feathered Cephlapod Journal: The First Decade of Subversive Intentions
Mefisto - Tales From the Ark
Campos de Luz - Campos de Luz
Iguana Death Cult - Nude Casino
Loving Paupers - Lines + Dubs
The Skalars - Skoolin' With The Skalars
Various Artists - We Do The Ska!
Various Artists - Music Box Christmas Skanker
The Skatalites - Platinum Ska + Bonus Dubs
Mephiskapheles - Might-Ay White-Ay
Mustard Plug - Big Daddy Multitude
Andy Bassford - The Harder They Strum
Andy Bassford - The Harder They Strum (8 track tape)
The Pietasters - Strapped Live!
Bandulus - Love A Woman
The Slackers - The Radio
The Slackers - Only The Best For Our Friends Vol 1
Giant Swan - Giant Swan
Various Artists - Gone Home Soundtrack
Broken Alias - Travelchip
The Pauses - Unbuilding
Lisa Coleman - COLLAGE
LIZARDWAVE - THE NEW NEW WAVE
Santa Cruz - Katharsis
Various Artists - Punk Rocket - post/pop/garage/punk from southern Ontario
Atlantis Aquarius - Leo's Rising
Paul Jacobs - EASY
The Blank Tapes - Mix Tape
Savants - New Junk City
Atlantis Aquarius - Leo's Rising
The Blank Tapes - Look Into The Light
Dream Phases - So Long, Yesterday
Paul Jacobs - Easy
Timothy Eerie - RITUAL
Dream Phases - So Long, Yesterday
Timothy Eerie - RITUAL
Various Artists - And In My Mind I Still Need A Place To Go
Quad Super Six - Quad Super Six
Chris Hound - Spaghetti Italians
GARY AND LINDA - Optical Illusions
SCOTTMAN - It
SCOTTMAN - In Your Dreams
DR. DOG - Midi Swamp
FLOATING ACTION - Old World Camels
Value Added (v++) - Optimize All Available
David Bavas - Megan Palmer and John Calvin Abney - Willow & Wood - The Bird and The Bear - Split Single
Marco Benevento - Let It Slide
Evolfo - Last Of The Acid Cowboys
DEAN PARADISE - VOLUME 2
Sean Price - 4 Album Cassette Box Set
JADE PALACE, LORD BEATJITZU - JADE PALACE VAULT Vol 1, BEE POLLEN FIST
Backstage Pass - 77
Adam Lipman - The Slouch
Post Life - Nothing/All Is Said
The Regrets - New Directions: Results Beat Boasts
Amerigo Gazaway - UGK vs B.B. King: The Trill Is Gone
Amerigo Gazaway - Endless Summer / No Free Beats OST
Amerigo Gazaway - Biggie vs James Brown: The B.I.G. Payback
Steel Panther - Heavy Metal Rules
Jacquelin - Alice's Adventures in Wonderland The Mixtape
The Bobby Lees - Guttermilk [Maxi-single]
Warm Drag - Warm Drag
Various Artists - Just Like Heaven: A Tribute to the Cure
Various Artists - Tapes Not Dead - Vol.2
Thelma and the Sleaze - Heart Like a Fist
The Advertisers - The Advertisers
David R. Cornejo - URANIA
ILL BILL - Black Metal
Upnorfphonk - The Instrumental Compilation
All Your Sisters - Trust Ruins
CASSETTE STORE DAY - 2019 PARTICIPATING STORES
Obsession Records Anchorage AK
Seasick Records Birmingham AL
Vertical House Records Huntsville AL
10,000 Hz Records Opelika AL
Stinkweeds phoenix AZ
Weird Kid Records Casa Grande AZ
Uncle Aldo's Attic Mesa AZ
Amoeba Music Berkeley CA
Port of Sound Record Shoppe Costa Mesa CA
Serious Cartoons Records & Tapes San Bernardino CA
Streetlight Records San Jose CA
Streetlight Records Santa Cruz CA
Up The Creek Records Walnut Creek CA
Watts Music Novato CA
Discordia Records El Centro CA
RPM Records Brentwood CA
Factory Records Costa Mesa CA
Re-Animated Records La Mesa CA
Fat Beats Los Angeles CA
Yuris Records South Gate CA
The Music Store San Francisco CA
Burger Records Fullerton CA
Programme Skate & Sound Fullerton CA
Permanent Records Los Angeles CA
Permanent Records Los Angeles CA
Counterpoint Records & Books Los Angeles CA
Gallery 30 South Pasadena CA
Counterpoint Records & Books Hollywood CA
Phono Select Records Sacramento CA
Twist & Shout Denver CO
Triple Play Records Grand Junction CO
Redscroll Records Wallingford CT
The Telegraph New London CT
Willimantic Records Willimantic CT
Daddy Kool Records Saint Petersburg FL
Jesse Carl Vinyl Lakeland FL
Park Ave CDs Orlando FL
Radio-Active Records Fort Lauderdale FL
Sound Exchange Tampa FL
Sound Exchange Pinellas Park FL
Tonevendor St. Augustine FL
Jerk Dog Records bradenton FL
Technique Records Miami FL
The Record Exchange Boise ID
Bucket O'Blood Books & Records Chicago IL
Landlocked Music Bloomington IN
Karma Records Of Warsaw Warsaw IN
Spektrum Muzik Wichita KS
Mountain Music Exchange Pikeville KT
Mellow Matt's Muaic & More Bowling Green KY
Residency Records Salem MA
KA-CHUNK!! Records Annapolis MD
Purple Narwhal Music & Manga Rockville MD
4A Song Vinyl and Jukeboxes St. Joseph MI
Found Sound Ferndale MI
Street Corner Music Oak Park MI
The Record Lounge Lansing MI
Down In The Valley Golden Valley MN
White BEAR Lake Records White Bear Lake MN
Dead Media Records Minneapolis MN
Josey Records KC Kansas City MO
Mills Record Company Kansas City MO
TBONES Records and Cafe Hattiesburg MS
Meridian Underground Music Meridian MS
T-Bones Records & Cafe Hattiesburg MS
Cameron Records Billings MT
Ear Candy Music Missoula MT
All Day Records Carrboro NC
Lunchbox Records Charlotte NC
Record Krate Raleigh NC
Record Krate Wake Forest NC
Recyclable Records Kannapolis NC
Freedom Rock Records Lincoln NE
Loser World Lincoln NE
Lefty's Records Lincoln NE
Heads Up Music Taos NM
Darkside Records Poughkeepsie NY
Tapehead City Atlantic Beach NY
Black Dots Buffalo NY
Rough Trade NYC Brooklyn NY
Cinderblock People New York NY
Omega Music Dayton OH
Pork Records of N.E. Ohio Kent OH
Tunes & T's Massillon OH
Toxic Beauty Records Yellow Springs OH
JB's Analog Oklahoma City OK
Spinster Records Tulsa Tulsa OK
2nd Avenue Records Portland OR
Jackpot Records Portland OR
Epic Seconds Eugene OR
My Vinyl Underground Portland OR
Main Street Jukebox Stroudsburg PA
MaTones Music Collegeville PA
Grimey's Nashville TN
The Groove Nashville TN
AndVinyl Clarksville TN
End of an Ear Austin TX
Good Records Dallas TX
Tape Cassettes Round Rock TX
Top Ten Records Dallas TX
Vinal Edge Records houston TX
Waterloo Records & Video Austin TX
Piranha Records Round Rock TX
Breakaway Records Austin TX
CD Warehouse Records & Tapes Arlington TX
Spin Connection Waco TX
Spinster Records Dallas Dallas TX
Dreamy Life Records & Music Fort Worth TX
Sidetracks Music Charlottesville VA
Crossroads Records Richmond VA
Rainy Day Records Olympia WA
Silver Platters Seattle WA
Sonic Boom Records Seattle WA
The Business Anacortes WA
Resurrection records Spokane WA
Quimper Sound Records Port Townsend WA
Recorded Memories Spokane WA
ABCDs All The BEST CDs Music & Memorabilia Spokane WA
Sonic Boom Records Seattle WA
38th Street Music (inside All Star Vintage) Tacoma WA
MadCity Music Madison WI
Admiral Analog's Shepherdstown WV
Nail City Record Wheeling WV
Sonic Rainbow Casper WY
Blackbyrd Myoozik Edmonton AB
2ndthoughts buy & sell Prince George BC
Odyssey Recods London ON