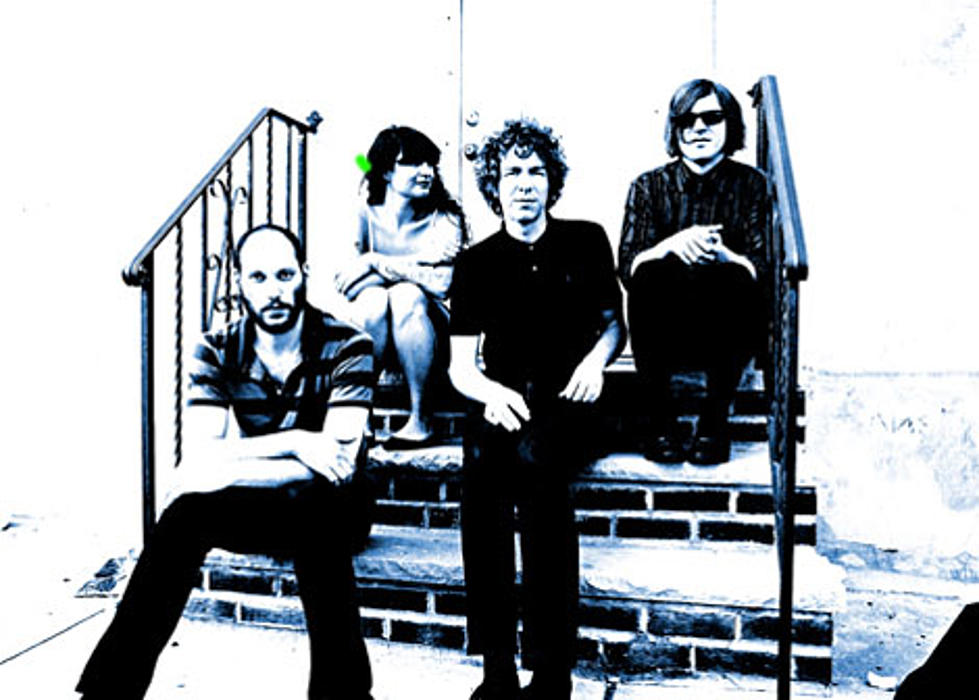 caUSE co-MOTION, Crystal Stilts, Bearsuit, Peter Saville, Boy Genius and more in this Week in Indie
Crystal Stilts

Both bands have their Slumberland debuts coming out on October 28: Crystal Stilts' much-anticipated full-length debut, Alight of Night, which I think is one of the year's best albums, reminiscent of The Chills and Felt, but also late '50s twangy rock and, yes, Joy Division; and caUSE co-MOTION, who don't have a song yet over to hit the two-minute mark, compile their five, brittle Glasgow-influenced pop 7" singles for a 14-song, 20-minute blast.
caUSE co-MOTION (yes, the capitalization is annoying to type) will also be opening for Franz Ferdinand on Wednesday (10/8) at the Music Hall of Williamsburg show, which seems a good match. Both bands (CS and CC) are playing a load of shows at CMJ, including what is maybe the show on Thursday, Oct. 23, the Force Field PR showcase at Pianos that also includes Au, Duchess Says, Fight Bite, Physics of Meaning, Donovan Quinn & the 13th Month, and Stars Like Fleas.
caUSE co-MOTION

If you want to make an entire day of it in Williamsburg on Saturday (10/4), come in the afternoon to bookstore Spoonbill and Sugartown where Peter Saville will be signing stuff and talking to people from 1 - 3PM. If you're a Factory Records aficionado or just saw 24 Party People, you probably know Saville is the man who designed all of Joy Division and New Order's album covers, as well as Section 23, A Certain Ratio, Happy Mondays and also records for Pulp, Suede, and, uh, Gay Dad.
Saville deserves a place in history if for nothing else than the famed floppy disc replica that was New Order's "Blue Monday" 12" single. He's got a couple recent coffee table books, including Art, Fashion and Work for Hire: Thomas Demand, Peter Saville, Hedi Slimane, Hans Ulrich Obrist and Cristina Bechtler in Conversation, and last year's Peter Saville: Estate 1-127, though if you brought a copy of Unknown Pleasures he'd probably sign that too.
If you have interest in Saville's work, which includes typography, you might also want to swing by his website which includes free downloads of most of the fonts he created for New Order and Joy Division over the years. Pretty cool.
Bearsuit

Lastly, UK band Bearsuit are coming over later this month for their first-ever American tour, including NYC stops before and during CMJ. The six-piece, who hail from Norwich, are not unlike Los Campesinos! with their shouty, girl-boy vocals, manic pace, and catchy songs. They also have adorable, cutesy-poo graphics, tend to dress in matching costumes (though not in bear suits), and often have giant inflatable BEARSUIT letters with them onstage. It's the kind of thing you either find totally endearing or totally vomitous. I'm on the endearing side and can't wait to see them.
Bearsuit's show at Cakeshop is with local Brooklyn band Boy Genius who I've meant to write about for some time but haven't. Boy Genius are definitely within the indiepop realm but not too sugary, not too precious, relying on well-crafted melodies and gentle, mostly-acoustic instrumentation to carry the songs. They'll also be playing with Elk City (featuring former Luna guitarist Sean Eden) at Union Hall on October 18th. You can get a new Boy Genius song, "Eleanor," for free on the new mix from Norwegian indiepop blog Eardrums (also featuring Pains of Being Pure at Heart, Pelle Carlberg, the Lodger and loads more, worth the download.) Boy Genius deserve more attention than they've gotten, hopefully that will come soon.
All tour dates below...

Crystal Stilts/caUSE co-MOTION - 2008 US Tour:
Oct. 04 Brooklyn, NY Death By Audio
Oct. 23 New York, NY Pianos (Force Field PR CMJ Showcase)
Nov. 01 San Diego, CA Che Cafe
Nov. 02 Los Angeles, CA The Echo / Part Time Punks
Nov. 03 Oakland, CA House of Nostromo
Nov. 04 San Francisco, CA Bottom of the Hill
Nov. 05 Sacramento, CA Luigi's Fun Garden
Nov. 06 Eugene, OR Samurai Duck
Nov. 07 Portland, OR Holocene
Nov. 08 Olympia, WA The Big Room
Nov. 09 Seattle, WA Chop Suey
Bearsuit - 2008 U.S. Tour Dates
Oct 12 Cambridge, Boston MA
Oct 13 The Cake Shop New York NY
Oct 14 The M Room Philadelphia PA
Oct 16 Beachland Tavern w/ The Afternoon Naps Cleveland OH
Oct 17 The Elbow Room w/ Pizazz, Woven & Wild Years Ypsilanti, MI
Oct 18 DAAC Grand Rapids, MI
Oct 19 Schubas w/Canasta, Pale Young Gentlemen & Colour Me Pop DJs Chicago, Illinois
Oct 20 CBGB w /Bunny Grunt St Louis, MO
Oct 21 TBC Pittsburgh PA
Oct 22 CMJ New York NY
Oct 22 CMJ showcase @ Spike Hill Brooklyn NYC
Oct 23 CMJ New York NY
Oct 23 CMJ SHOWCASE @ The Cake Shop New York
Oct 24 CMJ New York NY
Oct 25 CMJ New York NY
Oct 25 The Yard Brooklyn, NY
Nov 22 Reclaim The Night @ ULU London
Boy Genius 2008 dates
Oct 13 Cake Shop w/Bearsuit New York, New York
Oct 18 Union Hall w/Elk City Brooklyn, New York
Nov 8 PA's Lounge Somerville, Massachusetts
Nov 9 Popfest New England @ Elevens Northampton, Massachusetts