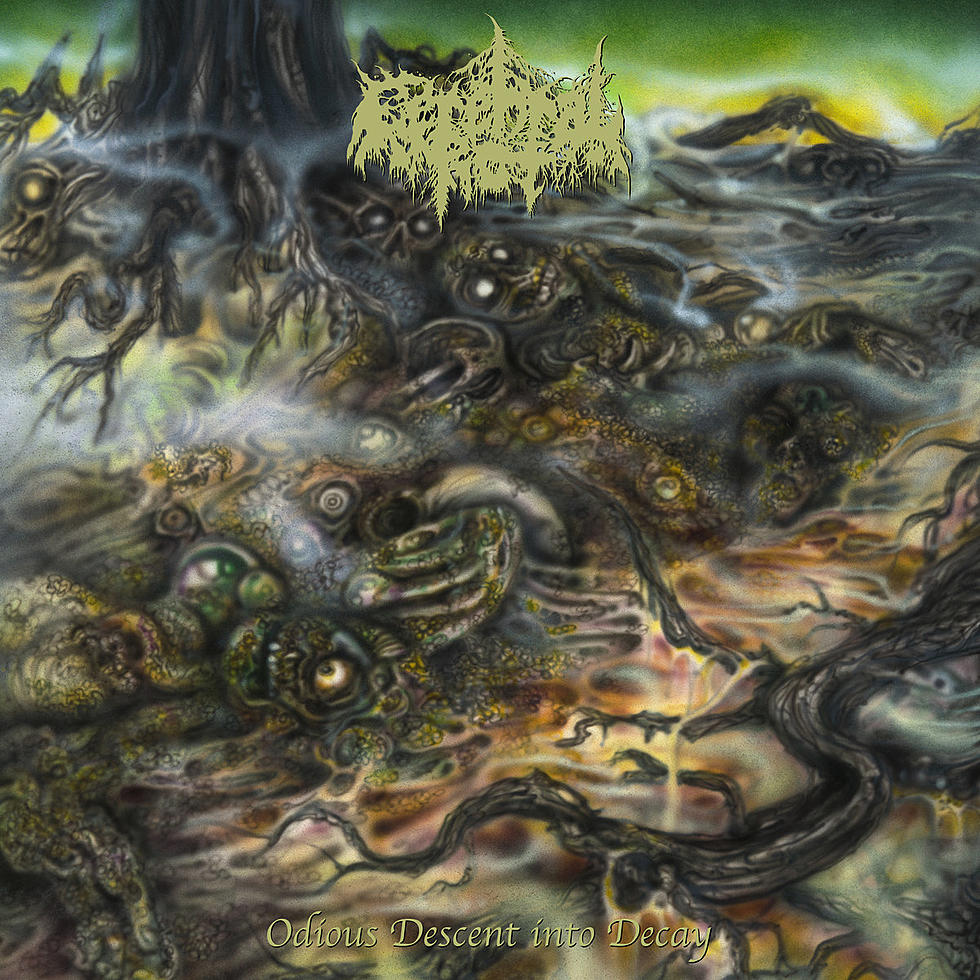 Cerebral Rot prepping debut LP, touring with Fetid
Seattle death metallers Cerebral Rot will release their debut album Odious Descent Into Decay on August 16 via 20 Buck Spin, and they've just shared its third single, "Putrefaction (Eternal Decay)." If you like your DM on the claustrophobic, brutal side, this one's for you. And it's got a nicely psychedelic twist later on in the song too. Listen to all three singles below.
Cerebral Rot are also touring this year with likeminded Seattle band Fetid, who released their debut album Steeping Corporeal Mess on 20 Buck Spin last month. That tour hits NJ's Asbury Park Brewery on September 26 with local headliners Replicant and openers Burial Stone (more info) and Brooklyn's Saint Vitus on September 27 with Altar of Gore, Oxalate, and Calcified (tickets).
Cerebral Rot / Fetid -- 2019 Tour Dates
9/02/2019 Cryptatropa Bar - Olympia, WA
9/03/2019 Graveyard Bar - Salem, OR
9/04/2019 RampArt Skatepark - Arcata, CA
9/05/2019 Elbo Room Jack London - Oakland, CA
9/07/2019 Five Star Bar - Los Angeles, CA
9/08/2019 Bancroft - San Diego, CA
9/09/2019 The Pussy Dispenser - Las Vegas, NV
9/10/2019 Master's Chambers - Phoenix, AZ
9/13/2019 3 Kings Tavern - Denver, CO
9/14/2019 The Cave - Santa Fe, NM
9/15/2019 Rockhouse Bar - El Paso, TX
9/16/2019 Friend of Sound Records - San Antonio, TX
9/17/2019 Lost Well - Austin, TX
9/18/2019 The White Swan - Houston, TX
9/19/2019 Circle Bar - New Orleans, LA
9/20/2019 529 - Atlanta, GA
9/21/2019 Gottrocks - Greenville, SC
9/22/2019 Al's Bar -- Lexington, KY
9/23/2019 Cary St. Café - Richmond, VA
9/24/2019 Atlas Brew Works - Washington, DC
9/26/2019 Asbury Park Brewery - Asbury Park, NJ
9/27/2019 Saint Vitus Bar - Brooklyn, NY
9/28/2019 Ralph's Rock Diner - Worcester, MA
9/29/2019 Bug Jar - Rochester, NY
9/30/2019 Sub Alpine Society - Pittsburgh, PA
10/01/2019 Junker's Tavern - Cincinnati, OH
10/02/2019 Outer Limits Lounge - Hamtramck, MI
10/03/2019 TBA -Chicago, IL
10/04/2019 Point Music Hall - Milwaukee, WI
10/05/2019 Eagles 34 - Minneapolis, MN
10/06/2019 Lookout Lounge - Omaha, NE
10/08/2019 Ernie November - Cheyenne, WY
10/10/2019 The Shredder - Boise, ID
10/11/2019 High Water Mark - Portland, OR