Chance the Rapper packed Europa during Northside Fest (review and videos)
Chance the Rapper @ Europa - 6/15/13 (via BrooklynVegan Instagram)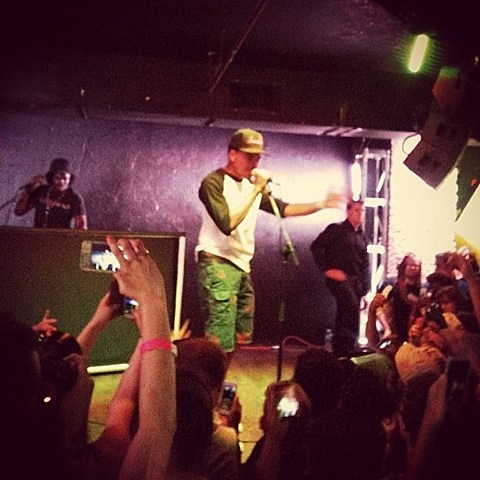 Chance the Rapper is about to embark on a major tour supporting Mac Miller, but before that, he stopped in NYC for a headlining gig at Europa on Saturday (6/15) (part of the Northside Festival), his first ever in the city and first of two in under a week. The place was sold out and filled with people who knew every word. They were probably gonna go nuts no matter what Chance did, but he put on a show deserving of all the love. It's pretty clear from his Acid Rap mixtape and interviews that he's a little quirky, and that came off live too. He'd rap with the mic on the stand or do these sort of weirdly robotic dance moves, but he also knew how to go all out party-rap, jumping around on stage and getting the crowd waving their arms and shouting along.
He played mainly stuff off Acid Rap, and more than a few of those tracks are bangers live. Cuts like "Juice," "Smoke Again," and "Favorite Song" really lit the place up and hardly needed Chance on the mic with how loud everyone was singing along. He had a few surprises in there too, like when his DJ randomly dropped "Harlem Shake." It wasn't the longest set, and when it ended, it seemed pretty clear that the crowd was wishing he wouldn't stop.
Chance's next NYC show is at SOB's on Thursday (6/20), which is also sold out, and then his tour with Mac Miller (and The Internet and Vince Staples) brings him back to the NYC-area in July for shows at Hammerstein (7/11) and the Stone Pony Summer Stage (7/14) (tickets). From the looks of his Europa show, it won't be too long before Chance is headlining venues that size himself.
Check out some videos from the Europa show below...

---
Chance the Rapper - "Good Ass Intro" and "Brain Cells" at Europa - 6/15/13

Chance the Rapper - "Favorite Song" and "Juice" at Europa - 6/15/13