Chaos in Tejas 2011 in pics, video & review (part 5)
Youth of Today

After incredible shows with Cro-Mags/D-Clone at Emo's, Autopsy/Citizen's Arrest at Emo's, and Tragedy/Origin of M at Broken Neck, my third day at Chaos in Tejas started out at Emo's at 9PM where I caught a couple of songs by Spazm 151 before heading into see The Impalers on the inside stage. The Impalers is a supposedly short-lived project that features members of Mammoth Grinder, but from what I could tell, they could be taking it to another level. Brutal punk/crust with touches of metal.
After The Impalers, I hightailed it down to see one of my most anticipated shows of the fest, Youth of Today at Mohawk. Though Youth of Today had set-up but hadn't taken the stage (Ray Cappo was doing complicated yoga poses off stage), the energy was electric, with audience members literally moshing/stagediving to no music. Now that's excitement.
Ray Cappo, Porcell, Ken Olden, and drummer Vinny Panza are Youth of Today 2011, and as the band opened with the Break Down The Walls burner "Make a Change", Mohawk erupted with energy. The stage dives continued for the duration of their set as they played faves like "Disengage" and both a 7 Seconds ("Young Till I Die") and a Minor Threat cover ("Minor Threat"). Though I missed it, I heard from a few that there were people diving off of the top of Mohawk's balcony into the crowd below. Check out the video below. The show was one of the highlights of my night.... though there were a few.
After Youth of Today, I headed back to Emo's to catch a few minutes of the always fun Shitstorm (who also played Maryland Deathfest), followed by Feral Ward's signees Kieltolaki. Kieltolaki's crusty d-beat was great, but I cut out early to check out Iron Age at their last ever show (supposedly). It was good to see them one last time and the crowd responded appropriately, with fists raised, stage divers, and a pit. They will be missed.
Kriegshog

After watching a good portion of Iron Age, I made sure to leave to check out all of Kriegshog, as the band was playing their first and last ever US show. The noisy Japanese crust band were furious, and the indoor Emo's crowd went insane for their short but incendiary live set which was comprised of material from their self-titled record, the Hardcore Hell EP, and various splits. Stage divers dove on top of each other, hung from the rafters, and ate up ever moment of the band's blistering performance. Check out their recorded material if you haven't already, its amazing.
Miasmal (who were also impressive at Maryland Deathfest) played the headlining slot on the indoor stage so I watched them until crusty hardcore legends Doom were ready outdoors. After Kriegshog the crowd outdoors were ready for more crusty hardcore, so the energy that the Tokyo band had built during their set only helped make Doom's set all the more incredible. Not to say that Doom was anything less than amazing on their own - their set was even somehow better than their showing at Maryland Deathfest, but it doesn't hurt to have a lead-in as amazing as Kriegshog was. Helluva way to finish off an amazing night three at Chaos in Tejas.
And while Tim and I were checking out crust, hardcore and metal, Keith Marlowe and Harriet Roberts were checking out garage and rock from bands like Guitar Wolf. Their set from Saturday is on the way. Ours continues, with video, below...

--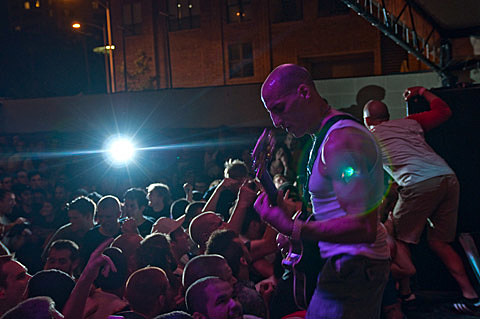 YOUTH OF TODAY (reunion show) @ The Mohawk in Austin June 4, 2011

Youth of Today - Young Till I Die (7 Seconds) - Chaos in Tejas 2011

Kieltolaki by Tim Griffin