Charles Bradley played Fort Greene Park w/ Beans (pics), played Leno w/ Grace Potter & Sharon Jones (video)
by BBG
I followed the music and ended up in the middle of the park, surprised that there weren't too many people there- maybe a few hundred? He deserved a few thousand, at least. During his last song there were flashes of lightning illuminating the night sky followed by a torrential downpour at the end of the song. Some ran away, some (including me) ran for a few small tents that were set up for the sound guys and stayed for the encore song (undoubtedly worth it- wet clothes dry but his voice will stay in my mind forever).
Even from a ways away, I could see his bright smile and feel the positive energy shooting out of him. He was wonderful and the kind of singer who's meant to be heard live, in his element there. I feel so lucky that I heard even a few of his songs in person. -[blogonlyknows]
Charles Bradley & The Menahan Street Band played their encore during the sideways rain last night as part of the Greene Music Series in Fort Greene Park. Though the show started bright and sunny with DJ Todd-O-Phonic Todd and a performance from Beans (of Anti-Pop Consortium), it grew darker/more ominous by the time the soul crooner took the stage around 7:45PM. Video of the rainy encore and more pictures from the mostly-dry show are below.
Charles Bradley was fresh off a July 21st appearance on Jay Leno where he helped The Tonight Show's bandleader Rickey Minor pay tribute to Marvin Gaye by performing "What's Going On" with Grace Potter, Sharon Jones, and The Youth Orchestra of Los Angeles. Video from that appearance is also below. Charles' other recent accomplishments include covering Nirvana for SPIN's new Nevermind tribute album.
The show was one of two scheduled for Beans in the past week. He opened for Buck 65 at Bowery Ballroom a few days earlier.
Charles & The Menahan Street Band continue on tour this summer. Their festival-filled schedule includes Osheaga, Outside Lands, Bumbershoot, MusicFestNW, Austin City Limits, and POPPED!, all before they head to Europe.
An updated set of tour dates, video from Leno, and more pictures & video from Fort Greene below...

--
Rickey Minor - "What's Going On" with Grace Potter, Sharon Jones, Charles Bradley and the Youth Orchestra of Los Angeles on 7/21/11

Beans
Charles Bradley & The Menahan Street Band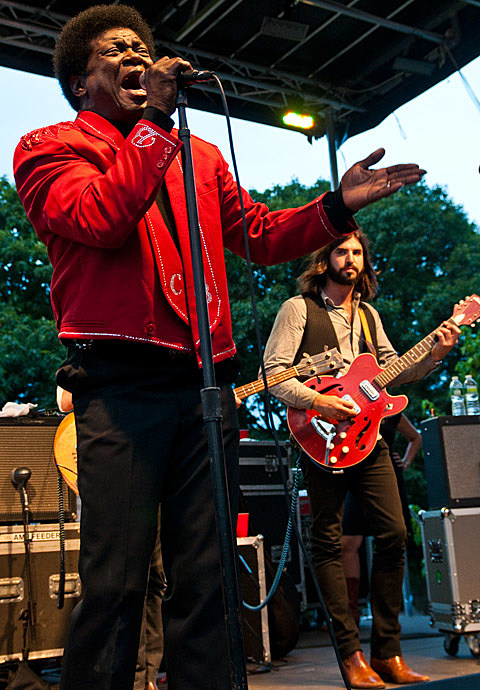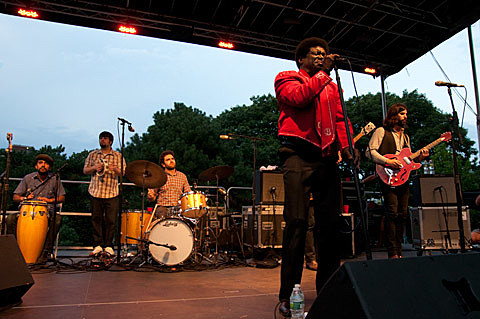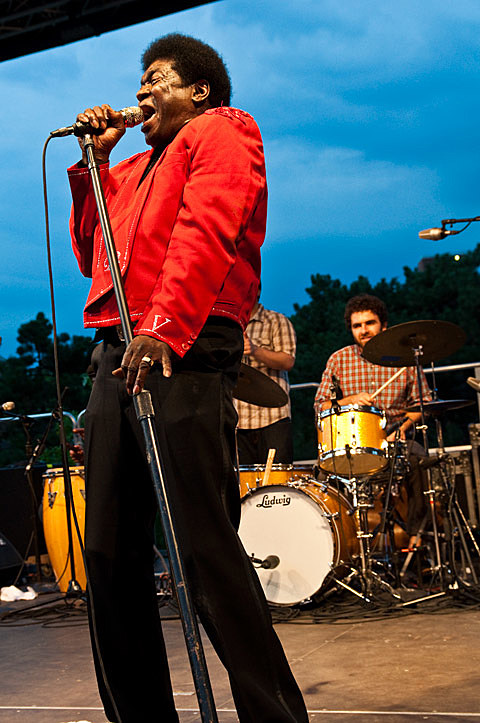 Lots of fun before the storm, Charles Bradley at Fort Greene Park

Charles Bradley & the Menahan Street Band Perform in Fort Greene Park, Brooklyn - July 26, 2011

CHARLES BRADLEY & THE MENAHAN STREET BAND - 2011 TOUR DATES
Jul 29 • Osheaga Music & Arts Festival • Montreal, Canada
Jul 30 • SappyFest • Sackville, Canada
Aug 14 • Outside Lands • San Francisco, CA
Aug 25 • Belly Up • Solana Beach, CA
Aug 26 • Soho • Santa Barbara, CA
Aug 27 • Off The 405 Series • Los Angeles, CA
Aug 28 • Sunset Junction Street Fair • Los Angeles, CA
Aug 30 • The Independent • San Francisco, CA
Aug 31 • Depot at Humboldt State University • Arcata, CA
Sep 2 • The Biltmore • Vancouver, BC, Canada
Sep 3 • Club 919 • Victoria, BC, Canada
Sep 4 • Wild Buffalo • Bellingham, WA
Sep 5 • Bumbershoot • Seattle, WA
Sep 8 • MusicFestNW at The Aladdin • Portland, OR
Sep 10 • State Room • Salt Lake City, UT
Sep 13 • Bluebird Theater • Denver, CO
Sep 16 • Austin City Limits • Austin, TX
Sep 24 • POPPED! Music Festival • Philadelphia, PA
Oct 13 • Le Cargo Club • Caen, FR
Oct 14 • Nancy Jazz Pulsation Festival • Nancy, FR
Oct 15 • Le 106 Club • Rouen, FR
Oct 19 • L'Etage • Rennes, FR
Oct 20 • Salle Vauban • Brest, FR
Oct 21 • Mama Festival • Paris, FR
Oct 22 • Salle du Laussy • Gières, FR
Oct 23 • Ninkasi Kao • Lyon, FR
Oct 26 • Coopérative de Mai Club • Clermont-Ferrand, FR
Oct 27 • Dynamo Club • Toulouse, FR
Oct 28 • Cargo • Arles, FR
Nov 2 • Theatre Barbey • Bordeaux, FR
Nov 3 • Le Time Machine • Tours, FR
Nov 11 • Blues Sur Seine Festival • Mantes-La-Jolie, FR