Cheap Girls talk new album, new label, favorite NYC shows & more, playing BV-SXSW (tour dates & in-studio pics)
photos by Lance Nelson, words by Andrew Sacher
Michigan rockers Cheap Girls are set to release their fourth album, Famous Graves on May 13 (pre-order). It's their first for Xtra Mile Recordings after leaving Rise Records, and sees them back with longtime producer/engineer Rick Johnson after 2012's Laura Jane Grace-produced Giant Orange. The band's sound hasn't changed much, still enamored with the alt-rock and power pop sounds of the '90s, but they continue to hone their songwriting, resulting in some of their best material yet.
Ahead of the tour, I spoke to bassist/vocalist Ian Graham via IM about the new record, their new label, their favorite NYC shows they've played, their relationship with Against Me! and more. We've also got a set of pictures of the band from the Famous Graves recording sessions in this post. More of those pictures, the interview, list of tour dates, and more, below...

---
BV: You have a new record, Famous Graves, coming out this May. After recording Giant Orange with Laura Jane Grace, what made you go back to Rick Johnson who did your first two records?
Ian: Honestly, a lot of it was simply necessity and comfort. My brother Ben, who plays drums, was expecting his first child so we didn't really want to be somewhere more than an hour or two away from home. Also, we demoed a chunk of the record a few months before with Rick and everything just felt so comfortable, just really good. So, we thought after doing a record that was so involved with a producer, we'd kinda try our hand at producing the next one with some of the things we'd learned the last time around. So, Rick kinda seemed like the obvious engineer at that point.
Ben and I have also known Rick for like 10-12 years? He's actually recorded every single thing we've ever recorded besides Giant Orange. So, yeah, we just thought we'd do all of the basic tracking with Rick in a super comfortable environment and then take it all to Chicago to finish up in a new studio and see what else we wanted to add. So, really, it was recorded in a couple places.
BV: How did you guys feel taking the role of producers yourselves this time?
Ian: It was great, man. We'd definitely work with Laura again in a heartbeat, and maybe next time around we'll try something with another producer again. But for the moment, trying that role ourselves was really fun. We dissected the shit out of the songs more than we had ever done on our own, got them to the point where they all just felt really good on a live level, and also to a point where we could have a lot of fun with them in the studio. We're all really, really happy with how it turned out.
Cheap Girls - "Knock Me Over"

BV: It sounds like you and Laura still maintain a good relationship then? And I know you're also about to tour with Against Me.
Ian: Yeah, Laura and I talk in some capacity just about every day. She's one of my favorite people to talk to, joke around with. She's just great. Couldn't be more excited about going out with the Against Me crew. We just know them and their crew so well on so many levels at this point so I'm really glad we could do some more together.
It's really about as comfortable and desirable as it gets when it comes to spending 4 weeks with a group. Not to mention, Laura Stevenson and the Cans are also some of our oldest friends. That tour is just going to be a blast.
BV: Yeah, it sounds like it. Though I noticed there's no NYC date... being that we're a NYC-based website I have to ask, can we expect to see you guys back here soon enough?
Ian: Yeah, for sure. I think in the last few years, we've managed to play in NYC more than we play in our home town. We love it there - loads of our friends are from there or have moved there so it's usually pretty high priority for us. We'll certainly be doing something there near the release time. Just ironing out exactly what we're doing after the March/April dates.
BV: Right right. Well glad to hear you love it here! What's your favorite place in NYC that you've played?
Ian: Oh man, we've had really good times at several places. We did a show at Saint Vitus last summer and that's definitely a place I'd love to do again soon. But, Europa is a really interesting place that we've had some really memorable times at. We also just did the Warsaw which is a fairly large room so I'm not sure how soon we'll be back there, but such a great environment there.
Ian: Yeah, that was THE last one. Some of our best friends were also on that one and I think on the drive back to Michigan the next day, we had Sean from Andrew Jackson Jihad in the van with us too, and we all kinda realized that it was maybe one of the greater nights we've ever had as people in bands. Just so much fucking fun. Such a great night.
BV: Sounds awesome. So back to the new record for a second -- you guys left Rise Records and signed to Xtra Mile Recordings for this one. Why the new label?
Ian: Well, we just didn't really have a great experience with Rise, to be honest. We just always struggled to find a common ground with how things should be handled. And I say that with respect for them as a label and as people, but I don't think anyone would disagree that we're very different people. Xtra Mile came along and had some really refreshing ideas as to how we could go about the release, and we really just saw eye-to-eye from the beginning.
And to be honest, what it comes down to for us...they were simply really excited and encouraging with where we were going with the songs and the record and how we wanted to approach it all. That's really #1 with any record or release situation for us.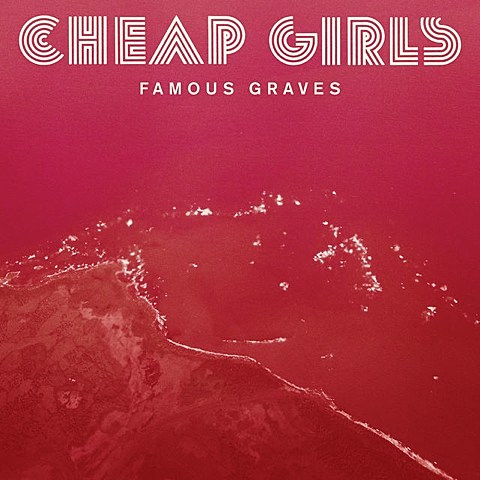 Cheap Girls -- 2014 Tour Dates
03/09/14: Omaha, NE at the Slowdown^
03/10/14: Columbia, MO at the Blue Note^
03/12/14: SXSW - Brixton Agency/Run for Cover Records Day Party at The Liberty
03/12/14: SXSW - BrooklynVegan Official Showcase at Red 7 Patio #
03/13/14: Mcallen, TX at Cine El Rey^
03/15/14: Corpus Christi, TX at House of Rock^
03/16/14: Houston, TX at Fitzgerald's^
03/18/14: San Antonio, TX at Backstage Live^
03/19/14: Dallas, TX at Gas Monkey^
03/21/14: Denver, CO at the Summit Music Hall^
03/22/14: Salt Lake City, UT at Murray Theatre^
03/23/14: Reno, NV at Knitting Factory^
03/24/14: Portland, OR at Hawthorne Theatre^
03/25/14: Seattle, WA at Neptune Theatre^
03/26/14: Vancouver, BC at Commodore Ballroom^
03/28/14: Edmonton, AB at Starlite Room^
03/29/14: Calgary, AB at Republik^
03/30/14: Regina, SK at Exchange^
04/01/14: Winnipeg, MB at West End Culture Center^
04/02/14: Minneapolis, MN at First Avenue^
04/03/14: Madison, WI at the Majestic Theatre^
04/04/14: Palatine, IL at Durty Nellie's^
04/05/14: Indianapolis, IN at the Vogue^
04/06/14: Asheville, NC at the Orange Peel^
04/07/14: Washington, D.C. at the 9:30 Club*
04/08/14: Buffalo, NY at the Town Ballroom*
04/09/14: Toronto, ON at the Phoenix Concert Theatre*
04/11/14: Albany, NY at the Hollow*
04/12/14: Pawtucket, RI at the Met Cafe*
^ = w/ Against Me!, Laura Stevenson & the Cans
* = w/ The Hold Steady
# = w/ Against Me!, Touche Amore, The Front Bottoms, Frameworks, Placeholder, Harvey Sid Fisher