Chelsea Wolfe, Cult of Youth & Planning for Burial played Saint Vitus (pics & video)
Chelsea Wolfe @ St Vitus

Cult of Youth (who headlined), Chelsea Wolfe, and one-man show Planning for Burial (who opened) played Saint Vitus in Brooklyn on Wednesday (8/17). The packed out BrooklynVegan-presented show also featured opening and between set DJing from Robin of Tri Angle Records.
Though unfortunately without her band, who she prefers to play live with, Chelsea Wolfe still made a strong NYC debut. Conjuring up images of the demons she sings about, Chelsea stood veiled in a sea of fog before a backdrop of blood red visuals, as Ben Chisolm casted beats and atmospheres into the mix. Her set was way too short, but I enjoyed every second of it. She played some standouts off the upcoming Apokalypsis, which comes out this Tuesday, and some reworked material off the self-recorded The Grime and the Glow. Chelsea removed her veil for the last song, revealing a hypnotizing stare that never wavered for the entire song.
Cult of Youth started no later than 10 minutes after Chelsea's Set came to a close, with the band blazing through a heavy folk set indebted to gothic greats like Death in June, Angels of Light, Current 93, and others. Violinist Christiana Keys punctuated vocalist/guitarist Sean Ragon's fire-and-brimstone delivery (sidenote, how does he not break a string every song?) with similarly passionate string touches and texture, while the galloping rhythm section moved things along with a healthy thump. Despite the lack of a distortion pedal and even a guitar amp, it is clear that Cult of Youth is definitely a punk band.
More pictures and videos from the show, below...

--

Planning for Burial at Saint Vitus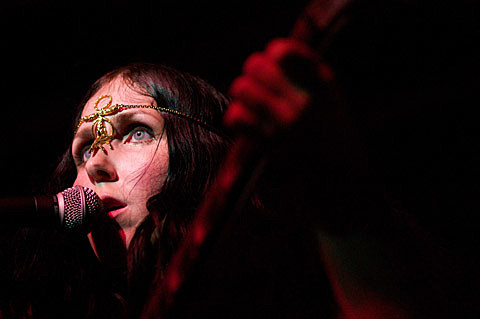 Chelsea Wolfe at Saint Vitus

Cult of Youth at Saint Vitus