Chester French & Kid Cudi, who is touring (dates) w/ Asher Roth (pics), play a free show @ South Street Seaport Friday
Kid Cudi @ Highline Ballroom in Dec (more by Leia Jospe)

New York's iconic Paper magazine celebrates the release of its summer music issue by hosting the biggest music event in its history -- a free concert featuring hipster-hip-hopper Kid Cudi, with prep-pop duo Chester French, and DJ sets by Brooklyn noise-rock legends Les Savy Fav.

The concert, Sounds Like Paper 2009 -- presented by Ray-Ban -- is slated to kick off at 5:30 p.m. this Friday, June 26, on the Pier 17 stage at The Seaport.
The flyer for that show is below, and Kid Cudi will be back his NYC on July 15th as part of his summer tour with Asher Roth. Tickets to that show at the Nokia Theater appear to be sold out. The tour runs up to Lollapalooza on August 7th, where both acts will perform. All dates below.
Viking's remix of Cudi's "Dat New New" is posted above. Cudi's debut, Man on the Moon: The End of Day, is scheduled to come out August 25th on Kanye's G.O.O.D. Music/Universal Motown.
Asher Roth, like Public Enemy, was among the artists who played the Roots Picnic in Philly earlier this month. A not-yet-published set of pictures from that show below.
Friday's flyer, "Five things you didn't know about Kid Cudi," the above-mentioned pics, and all tour dates, below...

--
Asher Roth @ the Roots Picnic...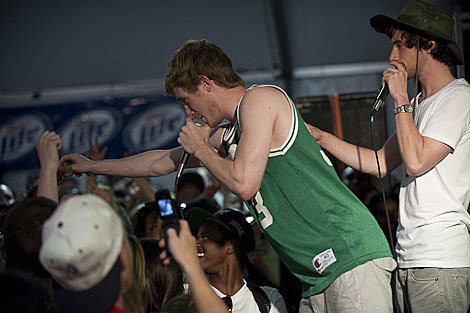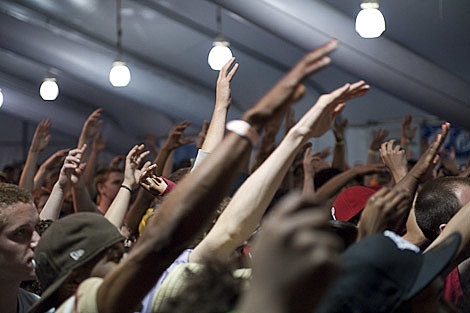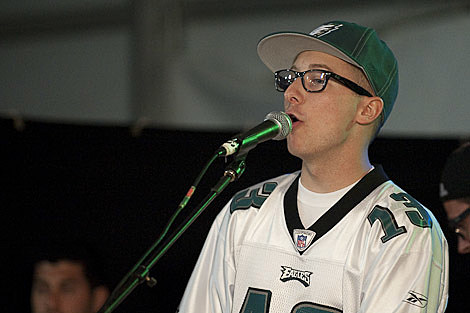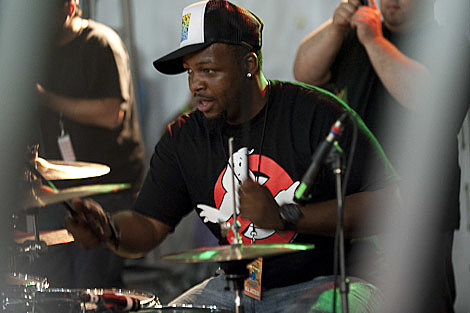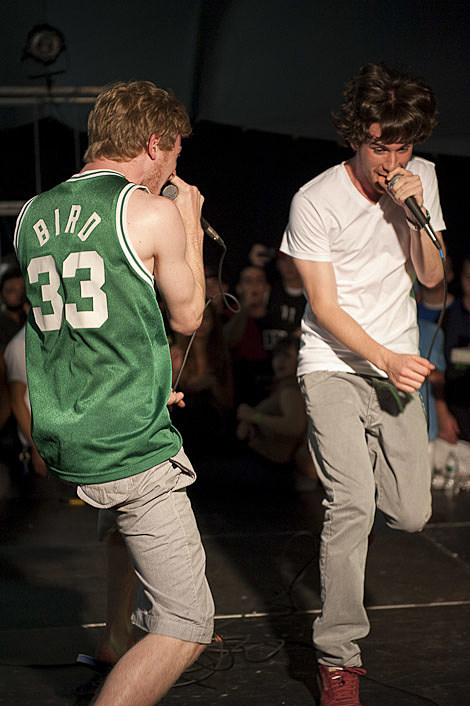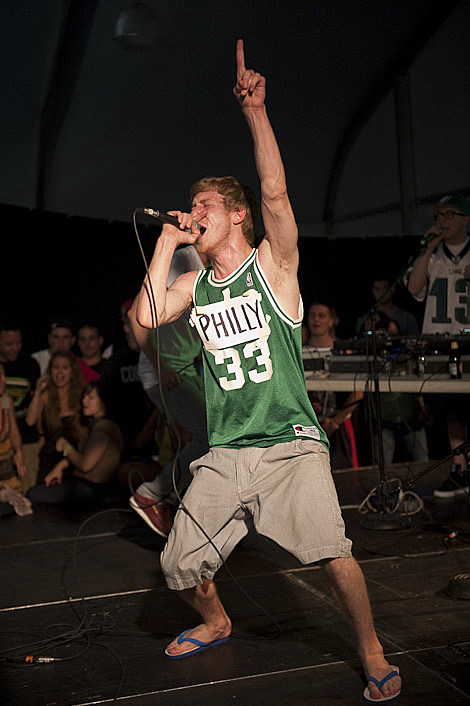 pics of the Roots & Antibalas at this same show are HERE.
Kid Cudi - 2009 Tour Dates
Jun 26 South Street Seaport New York, NY
Jul 02 Double JJ Ranch Rothbury, Michigan
Jul 05 Hyde Park London
Jul 06 Hammersmith Apollo London
Jul 07 Hammersmith Apollo London
Jul 08 Live at the Marquee Cork
Jul 09 Les Ardentes Festival Liege
Jul 10 Openair Frauenfeld Frauenfeld
Jul 11 Folkets Park Hultsfred
Jul 12 Splash Festival Grounds Leipzig
Jul 14 House of Blues Boston, Massachusetts #
Jul 15 Nokia Theater New York, New York #
Jul 16 Indian Lookout Mariaville, New York #
Jul 17 House of Blues Cleveland, Ohio #
Jul 18 Royal Oak Detroit, Michigan #
Jul 20 Voodoo Lounge Kansas City, Missouri #
Jul 21 Ogden Denver, Colorado #
Jul 22 Harry O's Salt Lake City, Utah #
Jul 23 Regency Theatre San Francisco, California #
Jul 24 House of Blues Las Vegas, Nevada #
Jul 25 White River Amp. Seattle, Washington #
Jul 26 House of Blues Los Angeles, California #
Jul 27 Marquee Phoenix, Arizona #
Jul 29 House of Blues Dallas, Texas #
Jul 30 Stubbs Austin, Texas #
Jul 31 House of Blues Houston, Texas #
Aug 01 House of Blues New Orleans, Louisiana @
Aug 02 Tabernacle Atlanta, Georgia #
Aug 03 Norva Norfolk, Virginia #
Aug 04 Rams Head Baltimore, Maryland #
Aug 05 9:30 Club Washington D.C.
Aug 06 Secret Location #
Aug 07 Grant Park Chicago, Illinois #
Aug 07 Congress Theatre Chicago, Illinois
# w/ Asher Roth