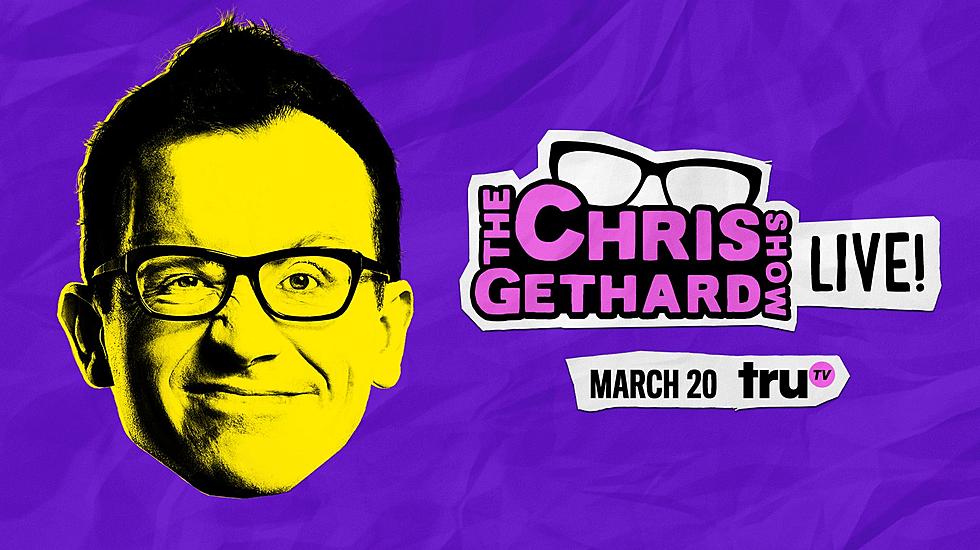 Chris Gethard doing standup in NYC ahead of the return of his truTV show
Chris Gethard is known for basically bringing mayhem and chaos wherever he goes, His HBO special, Career Suicide, deals with themes like addiction and, well, suicide, and on his podcast, "Beautiful Stories From Anonymous People," Chris "opens the phone line to one anonymous caller, and he can't hang up first, no matter what."
Then there's weekly show, which returns to truTV on March 20 at 11 PM, that has featured everything from Gethard being tortured by a professional dominatrix to callers phoning in to purposely ruin the episode. The 2017 season, which was his first on truTV and concluded in November, featured How Did This Get Made?'s Paul Scheer and Jason Mantzoukas hijacking the show, Ellie Kemper playing audience matchmaker, and Gillian Jacobs donning a penguin costume to celebrate Halloween. (Watch clips below.) What can they do to top it this year? The show is broadcasted live, and viewers can call via phone or Skype to participate in the ongoing insanity.
But this Saturday (3/10) at The Brick in Williamsburg, Gethard wants to make clear there will be none of that humiliating nonsense. In the description of his stand up hour, titled "Chris Gethard Tells Fuckin Jokes Sometimes Too," which is part of the Brooklyn Comedy Collective, Gethard puts it bluntly: "No suicide talk. No emo phone calls. No insane characters screaming on TV. Tonight, Gethard unleashes an hour of his best jokes. You know, jokes? Those things comedians do." Tickets are on sale.
Chris will also be appearing at Comedy Cellar in the Village on Sunday (3/11, 1:30 PM show), Monday (3/12, 9:30 PM show) and Tuesday (3/13 (:30 PM show). Check out Comedy Cellar's lineup page for more details.
Before those shows, the head writers of The Chris Gethard Show are hosting a TCGS Character Dump on Friday (3/9) at the UCB Theatre in Hell's Kitchen. Every year, The Chris Gethard Show sources names for new characters from their audience. At their show this Friday, head writers Dru Johnston and Noah Foreman will invite some of the craziest, dumbest rejected characters to the stage for a second chance at TCGS stardom (tickets).
Further off in 2018, Chris will also be performing at The Onion Comedy Festival in Chicago, with a closing-night set at the UP! Comedy Club on June 3.