Chris Rapoza of Brooklyn band The Toothaches was among those shot at 'Batman' in Colorado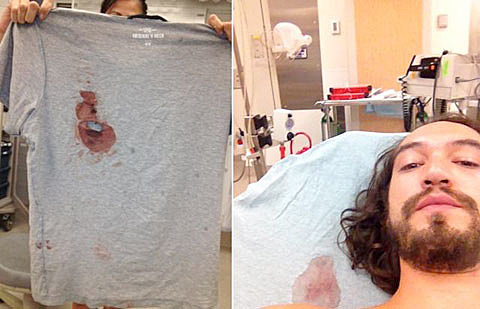 To quote a June 7th press release in my inbox:
With the release of their debut studio album, O! Be Joyful (ORG Music), earlier this week, THE TOOTHACHES have unleashed their dynamic, dance-punk sound on the masses.

Hailing from Brooklyn, New York, THE TOOTHACHES are a five-piece band comprised of Zimmy (Guitar, Vocals), Rose (Keys, Vocals), Monica (Tambo, Glock, Vocals), Kiril (Drums, Vocals) and Chris (Bass, Vocals).
Chris, full name Christopher Rapoza, was one of the many shot by that psychopath in Colorado... To quote Gothamist:
With New Yorkers feeling the aftereffects of Wednesday's horrible massacre in Aurora, Colorado, it turns out at least two area residents were among the survivors. Christopher Rapoza, a musician from Brooklyn, and Stephen Barton, a Southbury, Connecticut native and recent Syracuse University graduate, were both at the midnight showing of The Dark Knight Rises when suspected gunman James Holmes began shooting; both were shot, but are recovering.

Rapoza, who plays bass for local punk band The Toothaches and was in Colorado on a trip with his girlfriend, received a grazing wound on his back during the shooting and was treated at an area hospital. He linked to photos of his wound and bloodied t-shirt on Reddit (and as the photos show, he's lucky!), "I'm doing all right just a little shook up," he wrote on the site. "Me and my girlfriend waited until it seemed the shooting was finished so we were some of the last people out of the theatre and there was a lot of blood." He had also posted on Facebook, "Perry and I were just at a midnight showing of Batman in Colorado when some f***ing psycho decided to open fire on the crowd. "I was grazed in the back with a bullet but am fine. Perry is unscathed, but unfortunately has lost her shoes. A lot of other people weren't so lucky."
So glad to hear Stephen and Chris and Perry (and many others) came out of there okay, and of course our condolences go out to all the families and friends of those who didn't.