Christine and the Queens streaming new album ft. Perfume Genius, playing NYC after tour w/ Marina & the DIamonds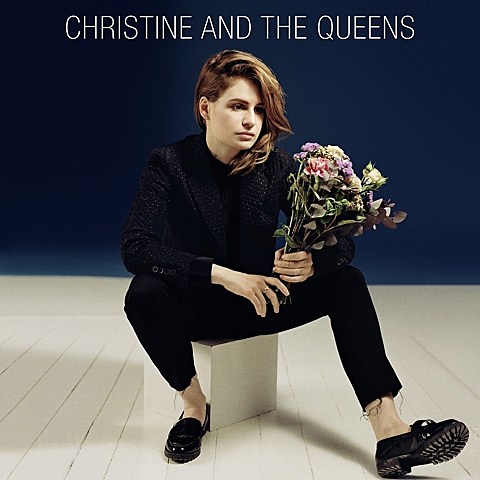 France's Christine and the Queens will release their self-titled debut album this week (10/16) via Neon Gold/Because/Atlantic, and the whole thing is streaming now via Hype Machine. It features the single "Paradis Perdus," which is a mashup/cover of fellow French singer Christophe's 1973 song of the same name and Kanye West's "Heartless." It also features "Jonathan" which includes guest vocals from Perfume Genius. Another song has a verse from Pennsylvania rapper Tunji Ige. Like a lot of Christine's Neon Gold labelmates, it's a synthpop record, but it's a bit darker and weirder than the stuff that label's best known for. Pitchfork caught their NYC debut at LPR in April and wrote:
It's been a week of firsts: a debut set at (Le) Poisson Rouge, a performance on VH1, a show at the UN (thus [performing for] Hillary [Clinton]). And she was in California last week--another first. "The East and West Coasts are like two different movies," she says. White flowers float off the trees, fall on our faces. Christine, about to catch a plane back to Paris, is wearing her overstuffed carry-on backpack. I ask if it's not too heavy for a walk. "Oh no," she says quickly, hoisting the bag up on her shoulders. "Keeps me grounded."

Christine is not Christine's real name. She was born Héloïse Letissier, a strange kid in a family of teachers, a creative maniac who spent her afternoons in ballet and her nights writing short stories. ("I was 11," she says, "and my mother would come to me like, 'Did you write this? It's about a murder.'") Her live set, like her minimalist, color-saturated music videos, is dance-heavy. Aided by her intensely charismatic backup dancers Diablo and Nick, Christine punctuates her sweet, off-kilter pop music with a distinct type of movement: a mix of Michael Jackson, fluid contemporary, vogue. She's glad to be dancing again. She gave it up briefly in her late teens, just a few years before the depression that brought her to making music--and before that, into the arms of three drag queens at Madame Jojo's, a now-closed venue in London, where Christine was trying and failing to go to school.
Christine is about to begin a North American tour this month opening for Marina and the Diamonds, which includes sold-out NYC shows at Terminal 5 on November 9 and 10. Right after those shows, she'll play her own NYC show on November 11 at Webster Hall. Tickets for that show are on sale now.
All dates are listed, with the album stream, below...

---
Christine and the Queens -- 2015 Tour Dates
10/19 - Los Angeles, CA @ Greek Theatre*
10/20 - Oakland, CA @ Fox Theater*
10/21 - Oakland, CA @ Fox Theater*
10/23 - Portland, OR @ Roseland*
10/24 - Vancouver, BC @ Commodore*
10/25 - Seattle, WA @ Paramount*
10/27 - Salt Lake City, UT @ The Complex*
10/28 - Denver, CO @ Ogden*
10/30 - Minneapolis, MN @ Northop*
10/31 - Chicago, IL @ Riviera Theatre*
11/02 - Toronto, ONT @ Sound Academy*
11/03 - Montreal, QC - Metropolis*
11/04 - Boston, MA @ House of Blues*
11/09 - New York, NY @ Terminal 5*
11/10 - New York, NY @ Terminal 5*
11/11 - New York, NY @ Webster Hall
*supporting Marina And The Diamonds