Chubby Checker played Lincoln Center's Midsummer Night Swing Festival (pics & full upcoming schedule)
words & photos by Gabi Porter, additional words by Andrew Frisicano
I go to a lot of amazing shows, but it's rare to go to a show in New York where the audience makes the show better. Midsummer Night Swing has a built in crowd of people who love to dance in a know-the-steps kind of way, and the energy that creates is so infectious. It makes you realize how sick you are of irony and arms-crossed-head-nodding shows, and makes you want to be more sincere and enjoy yourself unselfconsciously. What also set this show apart from others was the age range, there were times when you could look around and see that children, parents and grandparents were all in attendance. A svelte Chubby Checker looked and sounded fantastic, and it made me wonder why we don't see stacks and stacks of re-issues of his memorable catalog, and why we haven't seen a fresh new project, championed by a hot young producer, from Chubby Checker. The man is ripe for a reverent re-invention from a visionary like ?uestlove, like he did for Al Green. This is the man who, arguably, invented the Twist for chrissakes, and last night when he played the Hank Ballard's "The Twist" there were - literally - 13 year old kids twisting in the bushes. It's a rare rare thing to see that much joy on the Upper West Side on a Wednesday night.
Last night's concert/dance party was a celebration of 50 years of Lincoln Center, in the 21st year of Midsummer Night's Swing. And the size of the crowd and the quality of the music reflects Bill Bragin's leadership in bringing fresh programming to one of New York's anticipated summer series. -Gabi
Chubby Checker played last night (7/8) as part of this week's kick off for Midsummer Night Swing Festival happening at Lincoln Center's Damrosch Park through July 25th. Kermit Ruffians played on the first night, July 7th. Each night of the fest is geared towards a particular danceable genre. So, for example, the Checker show on Wednesday, July 8th featured 'Rock n Roll' dancing. Check out a video of some crowd members up on stage doing "The Fly," below.
Other nights include Big Bad Voodoo Daddy on Wednesday, July 22nd and a closing set by Harlem Renaissance Orchestra with special guest Houston Person on July 25th. Tickets to all the upcoming shows are on sale.
The full schedule, with more pictures and video from Chubby Checker, below...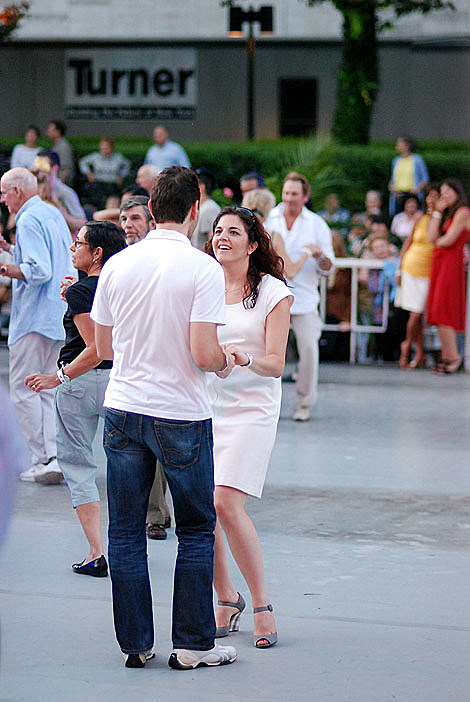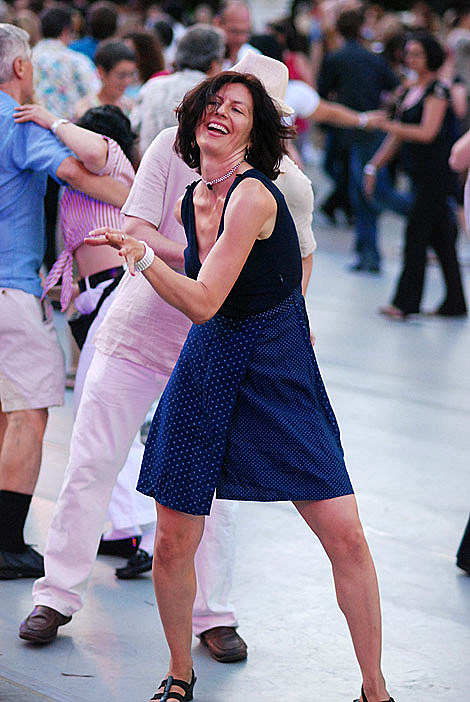 Chubby Checker at Midsummer Night's Swing-the "'fly"

Midsummer Night Swing schedule:
Thursday, July 9
The Woody Herman Orchestra directed by Frank Tiberi Big Band Swing
Very few of the bands that carry the name of the great band leaders of the 1930s and 40s have any of the original players left. But the Woody Herman Orchestra is an exception. Band leader Frank Tiberi played with Herman beginning in 1969, and was personally chosen by Herman to lead his band before he died in 1987. The Herman band, known for its often experimental approach to jazz, blues and swing, was one of the best bands of the era and its current incarnation carries on the driving sound that made it famous.
Lesson: Simone Coonrod of Swinging with Simone®
DJ: Nando Valesquez
Friday, July 10
Occidental Brothers Dance Band International (at 7:30pm) Soukous, Rumba, Benga, Highlife
Samba Mapangala & Virunga (at 9:30pm)
The Chicago-based Occidental Brothers Dance Band International plays Central and West African classic dance music including soukous, rumba, and highlife. This multi-racial group, popular on the summer festival circuit, gets audiences on the dance floor with their classic Ghanian beats. Joining them on the bill will be East Africa's most beloved singer, Samba Mapangala, and his group, Virunga. Mapangala created a unique style of Congolese rumba which incorporates elements of Kenyan benga and Swahili rumba, all sung in his astounding voice. Mapangala had a recent worldwide hit with his song, "Obama Ubarikie."
Lesson: Thelma Mwan' Dido
DJ: DJ Beto
Saturday, July 11
Big 3 Palladium Orchestra: The Music of Machito, Tito Rodriguez, and Tito Puente Mambo, Latin Jazz, Big Band **50th Anniversary Show**
In the 1950s, America's love affair with the mambo started in the Palladium Ballroom in New York. The giants of the genre were Machito, Tito Rodriguez and Tito Puente, known as "The Big 3." This musical era is recreated by the Big 3 Palladium Orchestra, led by two sons of the maestros - percussionists Tito Rodriguez, Jr. and Machito, Jr. (Mario Grillo) - and comprised of many musicians from the original bands. The sound is big and blazing, an aural feast of pulsing Latin rhythms.
Lesson: Delille 'Mambo D' Thomas & Glenda 'La Mambera' Heffer
DJ: Ron McGugins - On2 Productions
Tuesday, July 14
Melba Joyce & Her Big Band Big Band Swing Debut performance
The big band era had only a few female band leaders - Ella Fitzgerald and Billie Holiday were two - but now veteran jazz songbird Melba Joyce joins their ranks. Joyce, who has sung with The Count Basie Orchestra and the Lionel Hampton Orchestra as well as made numerous recordings, has assembled a constellation of New York jazz all stars to perform this summer, including Helen Sung on piano, Anat Cohen on tenor sax, Don Braden on tenor sax, Valery Ponomav on trumpet, Tanya Darby on trumpet and Benny Powell on trombone. The group will swing the standards, the not-so-standards, old tunes, new tunes and some Latin on the side. The evening will include a tribute to the great Benny Goodman, who would have celebrated his 100th birthday this year.
Lesson: Pierre Dulaine - American Ballroom Theater
DJ: Dave Muzii
Wednesday, July 15
Otros Aires Tango New York Debut
Otros Aires, an electro tango group founded in Barcelona in 2003 but now based in their native Argentina, mixes the tango and milongas songs from the early 20th Century with electronic melodies, sequences and lyrics from the 21st Century for a unique sound. Composed of four members - on bandoneon, guitar, drums and keyboard - the warmth of the acoustic instruments is more than matched by the coolness of the electronic sequences. Otros Aires' music is hypnotic, sensual, and timeless tango. Their set will include traditional acoustic tango as well as new, electronic repertoire.
Lesson: Victoria Sarquisse & Federico Jorquera - Tampa Tango Argentino
DJ: Yesim 'La Turca"
Thursday, July 16
Ponderosa Stomp: The Get Down - Soul/R&B Soul, R&B, Funk
Featuring William Bell, Harvey Scales, and The Bobbettes with The Bo-Keys
New Orleans' renowned music revue, the Ponderosa Stomp, decamps to New York for several nights of great live music. The first night will showcase Stax/Volt recording artist and songwriter William Bell, whose strong yet smooth voice sang "You Don't Miss Your Water," among other R&B classics. Harvey ("Disco Lady") Scales, also on the bill, has been active since the 60s. He credits James Brown's funk as being a major influence on his music. The third headliner will be The Bobbettes, the first all-female R&B group to have a major pop hit record with "Mr. Lee." All three acts will perform with those champions of the Memphis soul sound, The Bo-Keys.
Lesson: Dave Maxx & MAK 3 Dance Club featuring Chicago's DJ Lady C
DJ: Meredith Ochs - Sirius XM
Friday, July 17
Ponderosa Stomp: The Best Dance in Town - Rockabilly
Featuring Joe Clay, Carl Mann, and The Collins Kids with Deke Dickerson & The Eccofonics
Night two of Ponderosa Stomp will celebrate with a night of rockabilly starting with singer Joe Clay. Clay, a contemporary of Elvis Presley's who mined the same rock, R&B, and blues roots, had some early hits before being rediscovered in the 1980s by British audiences. Carl Mann, singer and pianist, is an alum of Sun Records (as was Presley) who recorded a rockabilly version of Nat King Cole's "Mona Lisa", among other songs, that have fanatic fans to this day. The Collins Kids were juvenile rockabilly stars in the 1950s, singing hits aimed at a young audience. Larry Collins was a lightning-fingered double-neck guitar whiz from the age of 10, and the brother and sister (Lorrie) still perform together. All three acts will perform with Deke Dickerson & The Eccofonics, one of America's foremost purveyors of roots music. These two nights of Ponderosa Stomp will be followed by a third, July 19th, when Lincoln Center Festival presents a Tribute to Wardell Quezergue, the composer/arranger responsible for shaping southern music and the soulful sounds of the Mississippi delta and New Orleans into giant hits.
Lesson: John Knapp & Meredith Snead - Shall We Dance?
DJ: Todd-O-Phonic Todd, WFMU
Saturday, July 18
New Swing Sextet Salsa, Boogaloo
A New York-based salsa band that was wildly popular in the 1960s and 70s, New Swing Sextet has reformed and is playing concerts dates all over the world as well as making recordings of classic pop songs given a salsa treatment, including "My Favorite Things" and "Che Che."
Lesson: Tony Meredith & Melanie LaPatin - www.DanceTimesSquare.com
DJ: DJ Nelson Torres
Tuesday, July 21
Catherine Russell and Cat & the Hounds Swing Band Small Band Swing, Blues
Catherine Russell is a genuine jazz and blues singer with a voice that is dusky, feminine and soulful. The daughter of Louis Armstrong's longtime musical director, Luis Russell, and outstanding bassist and vocalist Carline Ray, Russell has performed with such noted artists as Cyndi Lauper, Steely Dan and David Bowie. Her first two CDs - Cat and Sentimental Streak - won accolades from sources as diverse as The Wall Street Journal and France's Prix du Jazz Vocal 2008. Her talent can stand comparison to her prodigiously gifted forebears.
Lesson: Joe Palmer - joepalmerdance.com
DJ: Dave 'Shorty Dave' Jacoby
Wednesday, July 22
Big Bad Voodoo Daddy Swing, Swing, Jump Blues
Big Bad Voodoo Daddy is the band most responsible for reviving swing dancing in the 1990s, and they are also known for playing on the hit TV show, "Dancing With the Stars" and in the movie "Swingers." Their horns moan, the rhythm section slips and slides, the vocals scream and croon - guaranteeing that everybody is up jitterbugging and skip jiving with the best of them. This evening's show will include a tribute to the consummate entertainer, Cab Calloway.
Lesson: Erik Novoa - SwingShoes.net
DJ: Juke Joint Johnny
Thursday, July 23
La Excelencia Salsa Dura
New York's new La Excelencia plays sizzling salsa dura, as raw and tough as the city it calls home. The voices are loud, the percussion louder, the horns loudest of all. Their lyrics are about the struggle of life in the city. La Excelencia is, according to Latin Beat magazine, "the real thing", music to be celebrated, listened to, danced to.
Lesson: Stepping Out Studios
DJ: DJ Andreas
Friday, July 24
La Sonora Dinamita Cumbia
A Columbian group now based in Mexico, La Sonora Dinamita is one of the first cumbia groups to reach international success (in the early1960s) and it is now one of the most important bands in the genre under the leadership of Fruko, of Columbian salsa powerhouse Fruko y sus Tesos. The band plays cumbia, an African-rooted style from the Atlantic coast of Colombia, and it is the most popular dance style throughout Central America and Mexico. The tempo is moderate and the steps are easy, but the sizzle is there. Baile!
Lesson: Lucy Cruz
DJ: Monk-One (Wax Poetics, NYC Trust)
Saturday, July 25
Harlem Renaissance Orchestra with special guest Houston Person Lindy Hop, Big Band Swing, Jump Blues
The evening includes a special tribute to the late band leader, saxophone great and former Midsummer Night Swing headliner Illinois Jacquet.
Jump to the big-band sound of the Harlem Renaissance Orchestra, a group that was formed more than twenty years ago to revive the great sounds from the big band era. The band recognizes the masters of the big band sound: Benny Goodman, Duke Ellington, Count Basie, Lionel Hampton and many others, and plays their music like it was yesterday. The band's special guest is the soulful sax player Houston Person, known for his distinctive sassy sound and for his years performing with the great Etta Jones.
Lesson: Margaret Batiuchok, NY Swing Dance Hall of Fame, Harvest Moon Ball Champion
DJ: Larry Kang
Special Event for Midsummer Night Swing 2009:
Saturday, July 18 from 3:30 to 5:00pm
Kids' Day! with Rodney Lopez and American Ballroom Theater
($5 per person, children and adults; children under five are free)
Ballroom, Tango, Swing for kids
Kids can get in on the act with a special afternoon session (ideal for the entire family) with Rodney Lopez from American Ballroom Theater, featured in the documentary "Mad Hot Ballroom." He'll get youngsters off on the right foot, teaching them the basics of ballroom, tango and swing.
Programs and artists subject to change.