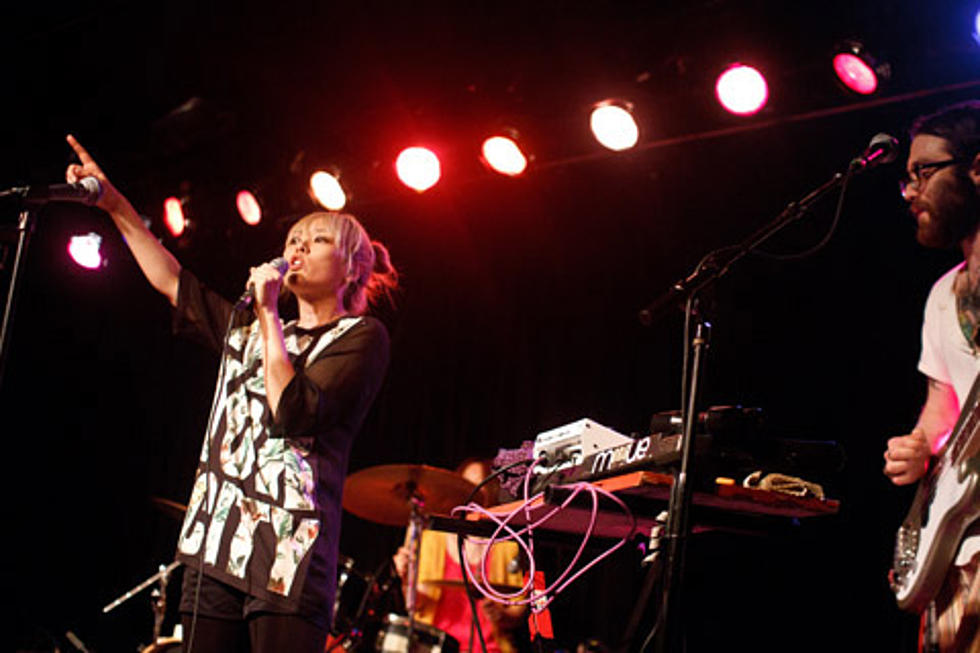 Cibo Matto sold out LPR, add 2nd NYC show & free in-store, streaming new LP (updated tour dates)
Cibo Matto at Littlefield in 2013 (more by Amanda Hatfield)

Cibo Matto are back in action with a new album and tour this month. As mentioned, the tour includes a NYC show happening on February 14 at Le Poisson Rouge with Salt Cathedral. Since we last spoke, that show sold out, but the band have tacked another NYC show on to the end of the tour happening March 8 at Brooklyn Bowl with Buffalo Daughter. Tickets for that show are on sale now. Updated dates are listed below.
UPDATE: Cibo Matto also do a free in-store and signing at Other Music on 2/14 at 6 PM before the LPR show.
Cibo Matto's new LP, Hotel Valentine (their first since 1999), comes out next week (Valentine's Day), but you can now stream the whole thing at NPR.
Video for its single "MFN," along with the list of dates, below...

---
Cibo Matto - "MFN" ft. Reggie Watts

Cibo Matto -- 2014 Tour Dates
02/07 New Haven, CT Spaceland
02/08 Boston, MA Sinclair
02/09 Kingston, NY BSP Lounge
02/11 Philadelphia, PA Boot and Saddle
02/14 New York, NY LPR
02/15 Washington, DC Black Cat
02/16 Carrboro, NC Cat's Cradle Backroom
02/17 Atlanta, GA The Earl
02/18 New Orleans, LA One Eyed Jacks
02/19 Austin, TX Mohawk
02/21 Phoenix, AZ Crescent
02/22 San Diego, CA Casbah
02/23 Santa Ana, CA Constellation Room
02/24 Los Angeles, CA El Rey Theater
02/26 San Francisco, CA Slim's
02/28 Portland, OR Wonder Ballroom
03/01 Seattle, WA Crocodile Cafe
03/04 Minneapolis, MN Turf Club
03/05 Des Moines, IA Vaudeville Mews
03/06 Chicago, IL Lincoln Hall
03/07 Pittsburgh, PA Club Cafe
03/07 Brooklyn, NY Brooklyn Bowl