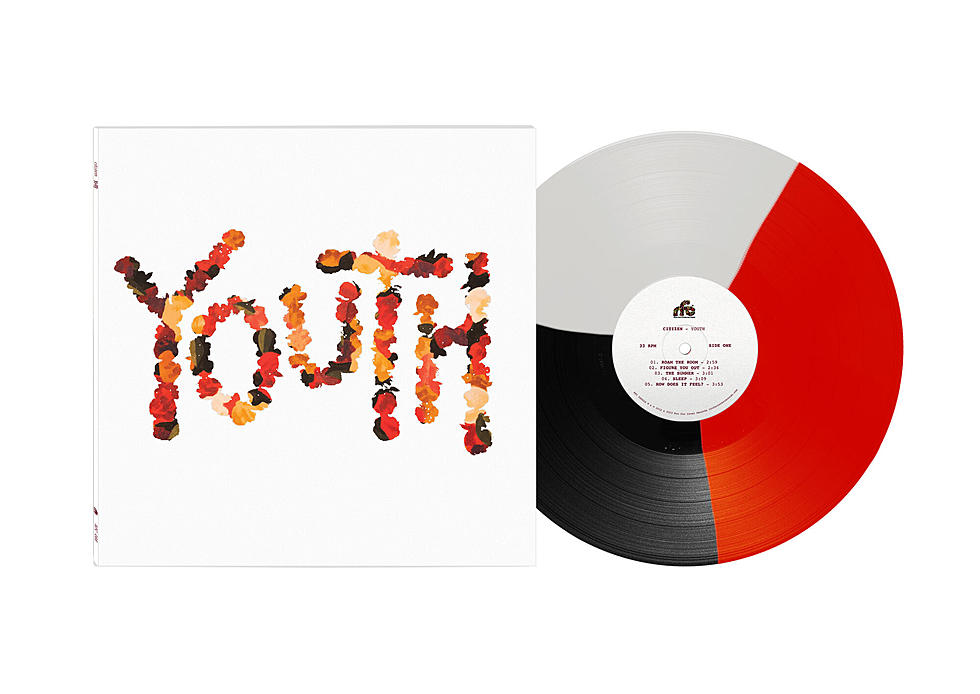 Citizen announce 'Youth' 10th anniversary edition (exclusive tri-color vinyl)
Ohio emo/post-hardcore staples Citizen have already planned to celebrate the 10th anniversary of their classic 2013 debut LP Youth on tour with Fiddlehead, and now they've also revealed plans for a 10th anniversary reissue. The package includes an inner sleeve printed with photos from the era, a slipcase cover, an updated rendition of the iconic flower text artwork by Mike Adams, and lyrics and updated liner notes. We've got an exclusive red, cloudy clear & black tri-color vinyl variant up for pre-order now, limited to just 350 copies. That's a mock-up above.
Reflecting on the album, guitarist Nick Hamm says, "It's both exciting and slightly concerning that it's been 10 years since the release of Youth. We wrote it as 18 year olds with very little clue what we were doing but it accidentally changed our lives. It afforded us the ability to travel the world and has served as a symbol of such an exciting time for us. I would've never thought, at the time, that we'd be celebrating it a decade later."
Here's what we said about Youth in our list of 25 classic emo & post-hardcore albums turning 10 in 2023:
What do you do after releasing a debut album as instant-classic as Youth? In Citizen's case, the answer is you just keeping reinventing yourself. That's led them down the unpredictable path of caustic post-hardcore (2015's Everybody Is Going to Heaven), poppier alt-rock (2017's As You Please), dance-punk (2021's Life In Your Glass World), and first-wave punk revival (2022 single "Bash Out"), and it also means they've never made another album like Youth. I'd argue that they've made some of their best music in more recent years, but if you want Citizen at their most heart-on-sleeve, their most youthful (no pun intended), and their most full-on emo, you'll always get that from Youth. From the perfect title to the iconic, Tumblr-friendly floral artwork to the arsenal of singalongs, Youth encapsulated the sound and look and feeling of emo's then-new wave. This wasn't "emo revival"; this was emo for a new generation that was coming of age and seeking out fresh, new bands to call their own. From fist-raised anthems like "The Summer" to emo/shoegaze hybrids like "How Does It Feel?" (and Will Yip production), Youth had a firm grasp on where emo was in 2013 and where it was heading. It can feel like such a moment in time--both for the genre and for wherever you were in your personal life in 2013--but these songs also hold up as some of the best of that era.
Pick up our new vinyl variant here.
The Youth tour with Fiddlehead hits NYC on June 14 at Knockdown Center. All dates below.
CITIZEN -- 2023 TOUR DATES
Jun 14, 2023 Knockdown Center New York, NY *
Jun 15, 2023 House of Blues Boston Boston, MA *
Jun 17, 2023 House of Blues Chicago Chicago, IL *
Jun 18, 2023 Metro Chicago, IL *
Jun 22, 2023 Emo's Austin Austin, TX *
Jun 24, 2023 The Wiltern Los Angeles, CA *
Jun 25, 2023 House of Blues Anaheim Anaheim, CA *
Oct 21, 2023 Las Vegas Festival Grounds Las Vegas, NV
* - Youth show with Fiddlehead