Clap Your Hands Say Yeah played Bowery (belated pics), playing Webster Hall (and other dates)
Clap Your Hands Say Yeah @ Bowery Ballroom

Clap Your Hands Say Yeah, who we just mentioned will play a live performance for KEXP at Ace Hotel during CMJ, also have some other upcoming dates coming up. The band will play Fun Fun Fun Fest in Austin and then play a few Australian dates before returning to the US for a few shows in November/December which includes Webster Hall on December 7 (three days before the just-announced Antlers show at the same venue). Tickets for the NYC show go on sale Friday (10/7) at noon with an AmEx presale starting Wednesday (10/5) at noon.
Considering CYHSY's last NYC show was at Bowery Ballroom and it sold out pretty quickly, Webster Hall seems to make sense this time around. Speaking of that Bowery show, which was one day before that Philly show at Union Transfer, here are some pics from it.
Check out their video for "Maniac" off the recently released Hysterical, their performance of "Same Mistake" from the same album on Fallon, more Bowery pics and all dates below...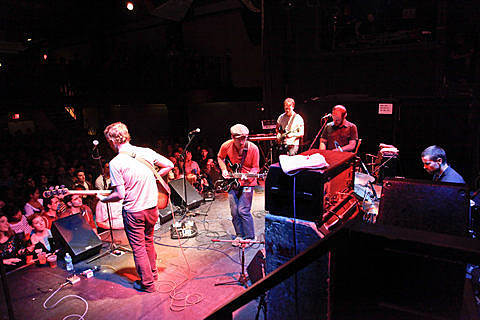 Clap Your Hands Say Yeah - "Maniac" Official Video

Clap Your Hands Say Yeah - "Same Mistake" on Fallon

Clap Your Hands Say Yeah -- 2011 Tour Dates
10/9/11 Los Angeles, CA Culture Collide Festival
10/19/11 New York, NY Ace Hotel (KEXP @ CMJ daytime)
11/4/11 - 11/6/11 Austin, TX Fun Fun Fun Festival
11/7/11 Portland, OR Hawthorne Theatre
11/8/11 Seattle, WA Neptune Theatre
11/12/11 Melbourne, VIC, Australia Harvest Festival, Werribee Park
11/13/11 Sydney, NSW, Australia Harvest Festival, Parramatta Park
11/19/11 Brisbane, QLD, Australia Harvest Festival, Botanical Gardens
11/29/11 Chicago, IL Lincoln Hall
11/30/11 Chicago, IL Lincoln Hall
12/1/11 Minneapolis, MN Varsity Theater
12/2/11 Milwaukee, WI Turner Hall
12/7/11 New York, NY Webster Hall
1/6/12 Tokyo, Japan Shibuya O-East
1/8/12 Nagoya, Japan Club Quattro
1/10/12 Osaka, Japan Big Cat