Clay Rendering released an EP, announced a tour; Aaron Dilloway playing Saint Vitus w/ Richard Pinhas (dates & video)
Clay Rendering

Noise artist and sound astronaut Aaron Dilloway's been hyper prolific since leaving the also hyper prolific Detroit noise powerhouse Wolf Eyes. He's released dozens of cassettes, CDs and records over the last eight years, often on his own Hanson Records. One thing he hasn't done too much of? Perform live. Dilloway is headlining a just-announced show in NYC at Saint Vitus on October 1 with Richard Pinhas from the 70's French prog band Heldon (who has collaborated with Wolf Eyes). Support comes from Matthew Regula, John Mannion, and On a Clear Day. Tickets for that show are on sale now.
In other ex-Wolf Eyes news, Mike Connelly (Hair Police) and Tara Connelly (his wife, The Haunting) recently teamed up to form the post-industrial project Clay Rendering. Having released their powerful debut EP, Vengeance Candle, on Dominick Fernow's Hospital Productions, they're taking their eerie, reverb drenched pop on the road. The tour hits NYC at Far Rockaway noise venue Red Light District on October 11. It's the venue's first show since Hurricane Sandy. All tour dates are listed, along with the tour flyer and the creepy video for "Nature's Confusion" from the EP, below.
Speaking of Hospital Productions, a new LP from Dominick Fernow's militant techno project Vatican Shadow titled Remember Your Black Day will be released on October 21 through Hospital.
All Clay Rendering dates are listed, along with that video and flyer, below...

---
Clay Rendering - "Nature's Confusion" Official Video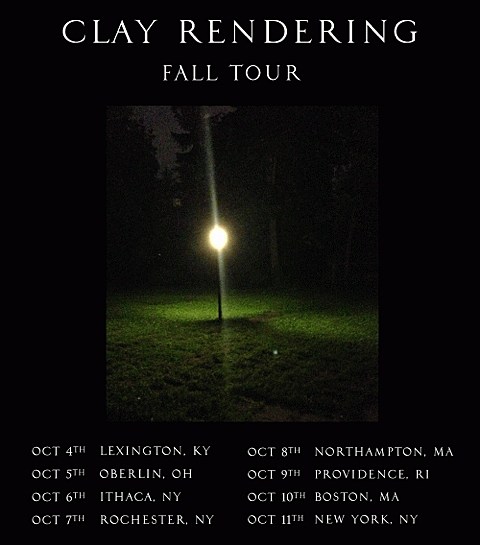 Clay Rendering -- 2013 Tour Dates
10/04: Lexington, KY - Embrace Church. 105 N Limestone
10/05: Oberlin, OH - Fairfield Chapel. 50 West Lorain St
10/06: Ithaca, NY - J.A.M., Cornell University. 142 Program House Dr
10/07: Rochester, NY - the Bug Jar. 219 Monroe Ave
10/08: Northampton, MA - the Flywheel. 43 Main St
10/09: Providence, RI - Monsters with Magnets, 400 Main St., Pawtucket
10/10: Boston, MA - Radio. 379-381 Somerville Ave., Somerville
10/11: New York, NY - Red Light District. 1034 Bay 25th St., Far Rockaway