Clearwater Festival this weekend – full schedule ++ Pete Seeger pics (from his 90th birthday & Columbia University)
Pete Seeger @ Columbia in April...

"Clearwater conducts innovative environmental programs, advocacy and celebrations in order to inspire and energize the next generation of environmental leaders.

Clearwater was founded in 1969 by music legend and environmental activist Pete Seeger." [Clearwater]
Pete Seeger's been busy lately, especially for someone who just celebrated his 90th birthday. The event for that occasion took place at Madison Square Garden on May 3rd, and is reviewed in full below, with pictures. A few weeks before that, on Earth Day (April 18th), Pete played a show at Columbia's Teachers College. Photos from that show are below too. Right after that he headed to New Orleans to perform at Jazz Fest. Prior to those, Seeger played the Clearwater benefit with Jeff Tweedy at Beacon High School on March 28th. We also recently noticed his name as the special guest on a show at Joe's Pub.
UPDATE: we can confirm that Pete played his scheduled Saturday morning Clearwater Fest performance "with kids" for those who braved the rain. Pete will perform again at the festival on Sunday afternoon with his grandson Tao Rodriguez-Seeger.
A review of Pete Seeger's 90th Birthday Celebration at MSG, and all above-mentioned photos, with the full Clearwater Festival lineup & schedule, below...

---
Pete Seeger & friends @ MSG
by Jacob Blickenstaff
On Sunday May 2nd, a barge bedecked with nautical rope, captain's wheel and ratty fishing bouys set sail on a sea of middle aged white liberals.
It was Pete Seeger's 90th birthday, and while all the hip kids were at Dark Was the Night, old folkies, folk descendants and inheritors, misplaced rock stars, BRUUUUCE and one Muppet got together to celebrate and raise money for Seeger's environmental project Hudson River Sloop Clearwater. The scene was something between Pirates of the Caribbean and the 'Free Credit Report.com' commercial in the seafood restaurant. A dozen video cameras swept back and forth on rails and cranes: this was either a PBS special in the works or the sequel to A Mighty Wind. (Update: this WAS being filmed for a PBS special, to air in late summer.)
Pete Seeger certainly deserves respect and a good party at 90. He comes from a time when his to-the-point protest songs were the meat of a cultural movement (which landed him in the middle of the McCarthy hearings) and his inclusive, communal approach to music drew in countless youngsters to pick up guitars and start singing over the decades. His commitment to social change and environmental causes is ceaseless, turing his birthday into a fundraiser was certainly classy. But in my opinion, his 900 albums for Folkways in the 50's and 60's did more to catalog the music than further it. Many times in the concert dragged along despite the pantheon of musical Gods assembled.
It was quite a marathon, almost 5 hours with an intermission. Several members of the SNL house band were there to provide steady and often minimal backing, the Preservation Hall Jazz Band came on and off several times as the horn section, the NYC Labor Chorus hung out in the back looking like a gang of candy stripers. Each lineup played a single song.
Many of the performances were straightforward, dutiful recitations of the bedrock, iconic folk songs that Seeger either wrote or popularized: "We Shall Overcome" (with much hand holding in the audience), "If I Had A Hammer" (Mellencamp) "Where Have All the Flowers Gone" (Joan Baez solo), "Jacob's Ladder," "Oh Mary Don't You Weep" (Arlo), "Amazing Grace" (Pete-led sing-along), "This Land is Your Land" (finale with everyone on stage) and "This Little Light of Mine," "Goodnight Irene" (closing numbers).
Pete Seeger 90th Birthday - Amazing Grace

These were some of the more interesting musical moments:
Taj Mahal and Tom Morello performing "Waist Deep in the Big Muddy" -- an odd pairing, Morello (who's been performing folk music under the Nightwatchman name) couldn't quite live up to the traditional mastery of Taj, Morello's voice sounding forced and his blues licks rudimentary, if not accidentally atonal.
Kris Kristofferson and Ani DiFranco performing "There's a Hole in the Bucket" -- odd and spare, Kris chastising Ani that his name isn't Willie and Ani responding 'whateveryournameis.'
Bruce Cockburn with The McGarrigle Family performing "Fare Thee Well" -- one of the few gorgeous musical moments -- played in slow, loose time with shimmering guitar runs, interweaving harmonica and beautiful vocal harmonies. Mother McGarrigle told her kin at the offset: "Alright Children, sing it good, it's Pete Seeger's 90th Birthday."
Bela Fleck and Tony Trischka -- two banjo masters playing an intricate medley of banjo songs with a breakaway to "Happy Birthday."
Richie Havens performing "Freedom/Motherless Child" -- classic inspired Havens finished with a jump kick.
Oscar the Grouch and Tom Chapin duet on (what else) "Garbage" -- Oscar + MSG made me think I was at Sesame Street Live.
Ben Harper on stage with his mother Ellen Chase-Verdries and aunt Sue Chase performing "Gather 'Round the Stone" -- perhaps not the most interesting performance but an interesting lineup to see Harper in the context of his family.
Roger McGuinn (of the Byrds) performing "Turn, Turn, Turn" with DBT/Band of Horses fellows. McGuinn's voice sounded as clean and lovely as on the original LP.
Kris Kristofferson, Richie Havens, Taj Mahal, Ramblin' Jack Elliot, Warren Haynes trading verses on a (barely electrified) Dylan's "Maggie's Farm." Ironically, it took a Dylan song to wake up the room, and surprisingly Pete didn't run out and try to bite through the power cables.
"Maggie's Farm" by Bob Dylan at Pete Seeger's 90th Birthday

Dave Matthews performing solo "Rye Whiskey" -- decent, a bit overdramatic but that's Dave Matthews.

Bruce Springsteen and Tom Morello performing "Ghost of Tom Joad" -- Bruce as strong and powerful as ever, he gave a great speech about Seeger before performing. The least eloquent but most quotable: "He looks like your granddad if your granddad could kick your ass."
Morello's singing is a bad Bruce impersonation.

Everyone for the finale -- "This Land Is Your Land," "Happy Birthday," "This Little Light of Mine" and "Goodnight Irene" -- the army of musicians danced off the stage.
more pictures from MSG right here...
Pete Seeger @ Columbia's Teachers College April 18th, 2009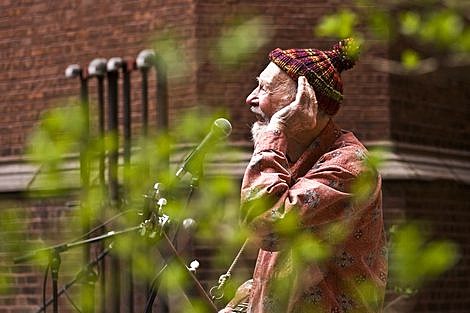 Clearwater Festival Saturday, June 20th schedule
HUDSON STAGE (HS)

7:00pm Susan Tedeschi (HS) *
4:45pm Richie Havens (HS) *
2:45pm Old Crow Medicine Show (HS) *
12:45pm Alejandro Escovedo (HS) *
11:00am Pete Seeger and Kids(HS) *

RAINBOW STAGE (RS)

6:45pm Dr. Dog (RS)*
5:00pm A.C. Newman (RS)*
3:30pm Allison Moorer (RS)
2:00pm Tao Rodriguez-Seeger (RS)
12:30pm Mike & Ruthy (RS)
11:00am Jennie Arnau (RS)

DANCE TENT (DT)

6:00pm "The Waltz Hour" - Jay Ungar and Molly Mason (DT)
4:00pm Mike & Ruthy with Family and Friends (DT)
2:00pm The Vanaver Caravan (DT)
12:00pm Big Band Sound (DT)
10:15am ReadNex Poetry Squad (DT)

FAMILY STAGE (FS)

6:30pm Dog on Fleas (FS)
5:40pm Rik Palieri (FS)
4:30pm Hudson River Playback Theater (FS)
3:20pm The Kids from Room 12 (FS)
2:30pm Story Laurie & Ira McIntosh (FS)
1:40pm The Hudson River Ramblers (FS)
12:50pm Paul Richmond & Friends (FS)
12:00pm Grenadilla (FS)
10:30am Walkabout Clearwater Chorus (FS)

STORY GROVE (SG)

6:30pm "Tales a-Flowin" - Bates, Forest, Leaf Arrow, Kessel, Koram,
Kruk, Storycrafters (SG)
6:00pm Walkabout Clearwater Chorus (SG)
5:30pm Jonathan Kruk (SG)
4:30pm "World Story Traditions" - Kessel, Arrow, Koram (SG)
3:45pm Baba Jamal Koram (SG)
3:15pm Davis Bates (SG)
2:15pm "Stories from Planet Earth" - Hudson River Playback Theater (SG)
1:30pm Louise Omoto Kessel (SG)
12:30pm "Animals & Nature" - Bates, Forest, Kruk (SG)
12:00pm Leaf Arrow Storytellers (SG)
10:30am "First Wave" - Bates, Forest, Leaf Arrow, Kessel, Koram,
Kruk, Storycrafters (SG)

Circle of Song (COS)

6:15pm "Hudson River Songs" - Dan Einbender (COS)
5:30pm "Revival Pop" - Linda Richards (COS)
4:45pm "Uke Can Do It" - Donna Nestler, Evy Mayer, Edukated Fleas (COS)
4:00pm "Rounds Galore and More Singers" (COS)
Sol "Roundman" Weber, C.J. Fitts, Jan Maier, Evy Mayer, Sara Ruderman
3:00pm Arm-of-the-Sea Theater (COS)
1:00pm Circle of Gospel (COS)
12:00pm Rick Nestler (COS)
11:15am "Sisters in Song" - Melissa Ortquist, Sarah Underhill (COS)
10:30am "Open Shanty Sing" - with Jan Christensen (COS)
Clearwater Festival Sunday, June 21st schedule
HUDSON STAGE (HS)

7:00pm Arlo Guthrie *
4:45pm Taj Mahal*
2:45pm Grace Potter & the Nocturnals*
12:45pm Tao Rodriguez-Seeger*
11:00am The Persuasions

RAINBOW STAGE (RS)

5:15pm Elvis Perkins in Dearland *
3:30pm Pete Seeger & Tao Rodriguez-Seeger *
2:00pm Cornmeal
12:30pm Jay Ungar & Molly Mason Family Band
11:00am Sleepy Hollow String Band

DANCE TENT (DT)

6:00pm Manchado
4:00pm MacTalla Mór
2:00pm Caravan of Thieves
12:00pm Cliffsidepush
10:15am (To Be Announced)

FAMILY STAGE (FS)
a
5:30pm Kenny Young & the Eggplants
4:30pm Something to Say Café
2:50pm Louis Omoto Kessel, Baba Jamal Koram
2:00pm The Ebony Hillbillies
1:10pm Roger the Jester
12:20pm Dan Einbender
11:30am Elizabeth Mitchell & You Are My Flower
10:40am Ratboy Jr.

STORY GROVE (SG)

5:30pm "One More Story For The Road" - Forest, Kessel, Koram, Smith,
Storycrafters
4:45pm Storycrafters
3:00pm Roger the Jester
2:00pm "Musical Stories" - Forest, Kelly, Storycrafters
1:15pm Heather Forest
12:15pm "Guffaws, Chuckles, & Grins" - Kessel, Koram, Storycrafters
11:45am Joy Kelly
10:30am "Stories of Spirit & Heart" - Forest, Kessel, Koram, Smith,
Storycrafters

CIRCLE OF SONG (COS)

5:45pm Hudson River Sloop Singers Reunion
5:00pm Work o' the Weavers
4:15pm "Songs from the Road" - Rik Palieri
3:30pm "Jug Band Jam" - Dirty Stay Out Skifflers
2:45pm "Songs of Peace & Justice" - Gillen & Turk, Hope Machine
2:00pm Walkabout Clearwater Chorus

1:15pm "The Irish in Me" - Rick Nestler, Stout, Terry Sullivan
11:45am Open Round Robin Hootenanny Song Circle
11:00am