Clutch & Wino – 2009 Tour Dates
High caliber, consecrated.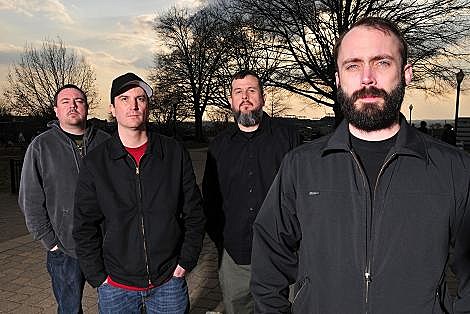 Clutch and Wino are opening for Shadows Fall (grody) on July 3rd in Atlantic City. That's bad news for those with a fear of New Jersey, crap metalcore (that's me), or crumbling casinos from the 80s. As tempting as it still is to go to that show just for the openers, there is now much less of a reason to. Clutch and Wino will team up for a US tour in September with Revolution Mother. That tour, which kicks off one month after Clutch's tour with Baroness and Lionize, includes NYC shows at Irving Plaza on Oct 9th and 10th. Ticket info is forthcoming.
Clutch is preparing to release their new album, Strange Cousins From The West on July 14th via their own Weathermaker imprint. Stream "50,000 Unstoppable Watts" from that LP at their myspace.
Revolution Mother's new LP, Rollin' With Tha Mutha is due on Ferret Music on July 7th. Pre-order that record here.
All dates below...

CLUTCH - 2009 TOUR DATES
7/3 House of Blues Atlantic City, New Jersey *
7/9 Bogart's Cincinatti, Ohio^
7/10 The Fillmore Detroit, Michigan^
7/11 FREE SHOW--Kuma's 4th Anniversary Block Party Chicago, Illinois^
7/12 Pop's Sauget, Illinois^
7/14 House of Blues Dallas, Texas^
7/15 House of Blues Houston, Texas^
7/17 Sunshine Theater Albuquerque, New Mexico^
7/18 Marquee Theatre Tempe, Arizona^
7/19 House of Blues Las Vegas, Nevada^
7/20 Cane's Bar and Grill San Diego, California^
7/21 House of Blues Hollywood, California^
7/22 Regency Center @ The Grand Ballroom San Francisco, California^
7/24 The King Cat Theater Seattle, Washington^
7/25 Knitting Factory Concert House Spokane, Washington^
7/26 Wilma Theater Missoula, Montana^
7/27 Knitting Factory Concert House Boise, Idaho^
7/28 Crystal Ballroom Portland, Oregon^
7/29 Commodore Ballroom Vancouver, British Columbia^
7/31 Flames Central Calgary, Alberta^
8/1 Edmonton Events Center Edmonton, Alberta^
8/2 Odeon Events Center Saskatoon, Saskatchewan^
8/3 The Garrick Center Winnipeg, Manitoba^
8/5 First Avenue Minneapolis, Minnesota^
8/6 Eagle's Ballroom Milwaukee, Wisconsin^
8/7 House of Blues Cleveland, Ohio^
8/8 Sonar Baltimore, Maryland^
9/9 Pittsburgh, PA @ Mr Smalls**
9/10 Buffalo, NY @ The Town Ballroom**
9/11 Philadelphia, PA @ The Electric Factory**
9/12 Hartford, CT @ The Webster Theater**
9/13 Montreal, QC @ Lee Saints**
9/15 London, ON @ London Music Hall**
9/16 Toronto, ON @ Phoenix Concert Theatre**
9/18 Asheville, NC @ The Orange Peel**
9/19 Jackson, MS @ Club Fire**
9/20 New Orleans, LA @ House of Blues**
9/22 Mobile, AL @ Soul Kitchen**
9/23 Nashville, TN @ Cannery Ballroom**
9/24 Columbus, OH @ Newport Music Hall**
9/25 Grand Rapids, MI @ The Orbit Room**
9/26 Chicago, IL @ The Metro**
9/27 Omaha, NE @ Sokol Auditorium**
9/29 Salt Lake City, UT @ The Depot**
9/30 Denver, CO @ The Fillmore**
10/1 Kansas City, MO @ The Beaumont Club**
10/2 Memphis, TN @ New Daisy Theatre**
10/3 Oklahoma City, OK @ Diamond Ballroom**
10/4 Austin, TX @ Austin City Limits Music Festival**
10/6 Lake Buena Vista, FL @ House of Blues**
10/7 Atlanta, GA @ Center Stage**
10/8 Richmond, VA @ The National**
10/9 New York, NY @ Irving Plaza**
10/10 New York, NY @ Irving Plaza**
* w/ Wino, Shadows Fall
^ w/ Baroness, Lionize
** w/ Wino, Revolution Mother