CMJ day 1 pics: Peter Matthew Bauer, Lydia Ainsworth, Doprah, The #1s, Happyness, J. Fernandez & more
Peter Matthew Bauer @ Baby's / Lydia Ainsworth @ Union Pool, CMJ 10/21/2014

CMJ got underway here in NYC on Tuesday (10/21) and our intrepid photographer Amanda Hatfield was out all day covering the action. She started at Tell All Your Friends' day party at Baby's All Right with sets from local psych-pop band Spires, hotly-tipped UK at MONEY, another UK band Happyness (one of our 20 out-of-town bands to see) and former Walkmen bassist Peter Matthew Bauer.
Doprah @ The Studio at Webster Hall 10/21/2014

Next was was a trip into the city for the annual New Zealand Showcase (now at The Studio @ Webster Hall): Chelsea Jade spent much of her set singing amongst the crowd; Doprah have drawn comparisons to Portishead and The xx which aren't entirely unwarranted.
The #1s @ Union Pool 10/21/2014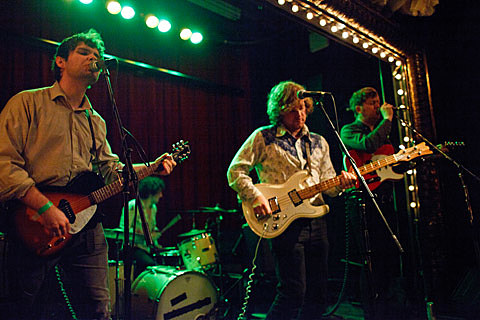 Finally it was off to Union Pool for YVNYL's showcase with Irish powerpop band The #1s, Montreal rockers HEAT, the crystalline guitar pop of Chicago's J. Fernandez, and Toronto-based classically trained singer-songwriter Lydia Ainsworth. The latter's set included a string section, though it got off to a late start due to technical difficulties.
Pictures from all bands mentioned here are in this post. More below...

--
Spires @ Baby's All Right
Happyness @ Baby's All Right
Peter Matthew Bauer @ Baby's All Right
Chelsea Jade @ The Studio at Webster Hall
Doprah @ The Studio at Webster Hall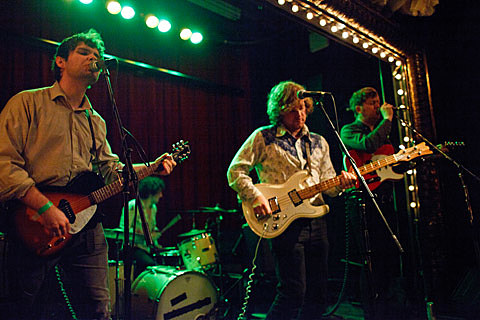 Lydia Ainsworth @ Union Pool