CMJ Day 2 in review & pics (The Drums, Wild Nothing, Cloud Nothings, Prince Rama, Dale again & more)
The Drums @ Santos, late Wednesday night (this photo by Nathan Lee Bush)

When I started to scope out the schedule for Wednesday night, I planned on spending the first part of the night running back and forth between Spike Hill and Bruar Falls, but I decided to head over to Rock Shop instead, comforted by the knowledge that most of the bands I wanted to see (Dale Earnhardt Jr. Jr., The Magic Bullets, etc.) would be playing more sets later in the week anyway.
When I arrived at the Park Slope venue, Tape Deck Mountain was mid-set. At the time, I was fairly satisfied with the few songs I did catch (including a cover of "Mother" by Danzig) (a theme this week?). The band has decent vocals and execution, but when I later reflected on the bands I had seen, I realized that nothing about their set really stuck with me.
Up next was Cloud Nothings. The energy in the room picked up immediately when the Cleveland group began to play (of course it helped that the crowd had begun to fill out at that point). Possibly propelled by nerves or sheer excitement, the youthful band raced through their set as if competing at a track meet, slowing down just long enough for vocalist Dylan Baldi to entertain the audience with his endearing asides. Baldi may not have what you'd generally consider to be a 'good' voice, but he more than makes up for it in his delivery.
Just when I had begun to get a little sick of all-guy groups, the next two acts on the bill each featured a more even distribution of the sexes. Up first - Blair. Right before she and her backing band began their set, there was a bit of an upset when her acoustic guitar came crashing down, but she didn't let the setback dampen the mood. "I just broke a guitar, but it's ok," she said surprisingly nonchalantly. Thanks to their matching tie die shirts (worn by 3 out of 4 people anyway), sunny indie pop melodies, and Blair's unadulterated voice and accompanying song topics (she sings about things like love, candy, and dancing to Whitney Houston), things suddenly took a turn for twee, but I was totally ok with that.
For what it's worth, it was Blair's upbeat diddy "Hello Halo" that I found stuck in my head at the end of the night, and given the position of her set (right in the middle), that's saying something.
The Rock Shop was treating me well, but sadly, my itinerary called for me to return to Manhattan. I did get to stay just long enough to know what I was missing with Braids though. Their set-up may have been nearly identical to that of Blair, but their sound was much more polished thanks to the many overlapping layers of instrumentation and vocals that they carefully crafted on stage. Though I would have gladly stayed longer, I made my way to the train midway through their set.
When I arrived at Santos Party House for the Stereogum/PopGun show, I was a bit dismayed to see the long line extending down the block, but I somehow managed to get into the venue. I made my way to the smaller downstairs room to see Dale Earnhardt Jr. Jr. Just when I was really starting to get upset about the obnoxiously long wait (I could have seen more of Braids set!), I understood the reason for at last part of the hold-up: the group's two main members (Joshua Epstein and Daniel Zott) had run backstage to change into their costumes. Yes, costumes. Head to toe Nascar uniforms to be exact. It's hard to say whether this kind of shtick will hold up in the long run, but it's a pretty good way to stand out on a long list of relatively unknown bands (well that and their ridiculous name).
Whether it's your bag or not, chances are you might end up seeing these guys at some point during the week if you haven't already. They're certainly putting in the time. It was apparently their third show of the day. There wasn't much room for dancing in the packed room, but that didn't stop people from trying, and their light-hearted and energetic set certainly helped propel me through the rest of the night.
To close the evening, I darted upstairs to the main room at Santos to catch (the second half of) Wild Nothing and The Drums. It was kind of a weird succession of moods at that point. After leaving the lively basement room, Wild Nothing seemed even more subdued than I had remembered, but the group (under Jack Tatum's lead) put on a tight set. Considering the next band's laid back, sun-drenched sound, "Summer Holiday" was particularly enjoyable since it was distinctly more upbeat than their other tunes.
Then, finally a bit after 1:00am - The Drums. At this point, I was pretty exhausted, so I was pretty glad when singer Jonathan Pierce announced that they were going to play everything "twice as fast" so we could get home. The Drums seem to have mastered that fine balance of playfulness and artistry. It's hard not to grin at Pierce's over-the-top delivery. With a distinct swagger in his voice and some ridiculously exaggerated dance moves, he's a sight to behold - but so is the rest of the band, swaying in the background. These boys have come a long way since last summer.
I may not have gone to sleep until nearly 4:00am last night, but the constant adrenaline rush from just knowing how many good acts there are tonight should be more than enough to keep me going... that and the knowledge that I'm already planning on taking a personal day tomorrow.
Also Wednesday: "Viral sensation" Kyle Andrews, Animal Collective friends Prince Rama, and Minneapolis-based "chamber-folk sextet" Dark Dark Dark played the Terrorbird day party at Cake Shop with Kordan, Botany, Revolver, Baths, Marnie Stern, and Dale Earnhardt Jr. Jr. Pics of the first three adorn this post.
Dark Dark Dark are also on board for Supply & Demand/InDigest CMJ Official Showcase at CoCo 66 on Friday 10/22 with Franz Nicolay, Vandaveer, The Lisps, Milageres, and Spirit of the Red City. The band will also then Fontana's during the day on Saturday 10/23 to team up with Swells, Brian Bonz, Fairmont, New Numbers, and Skyler.
Cloud Nothings also have shows coming up at the Fader Fort and Don Pedro's.
More pictures from Cake Shop show, with all Cloud Nothings dates, below...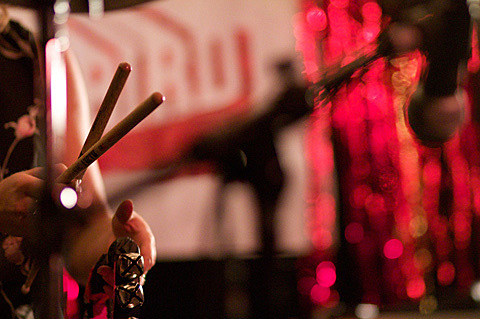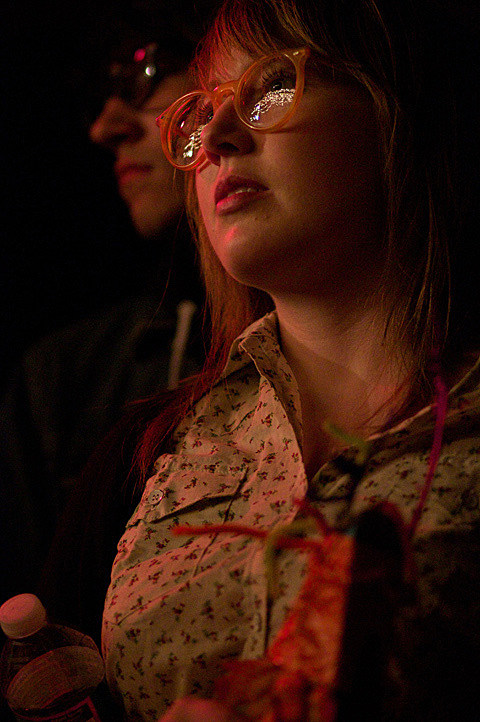 Dark Dark Dark @ Cake Shop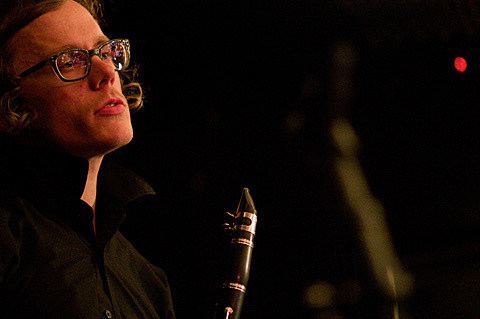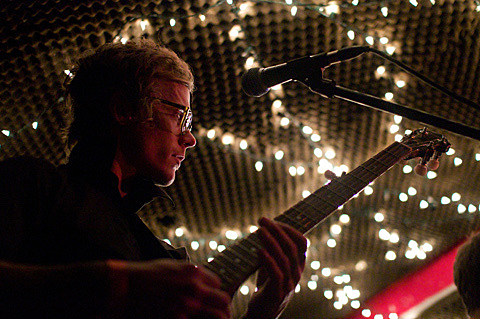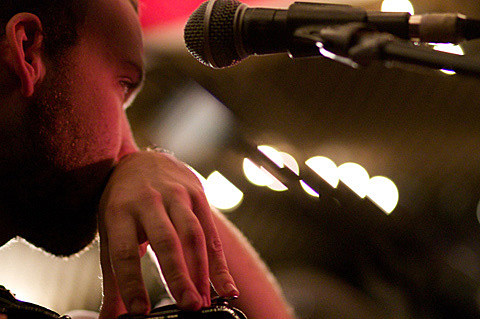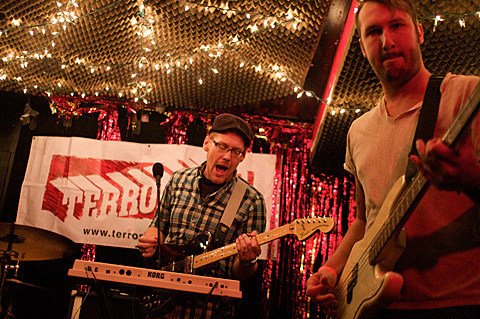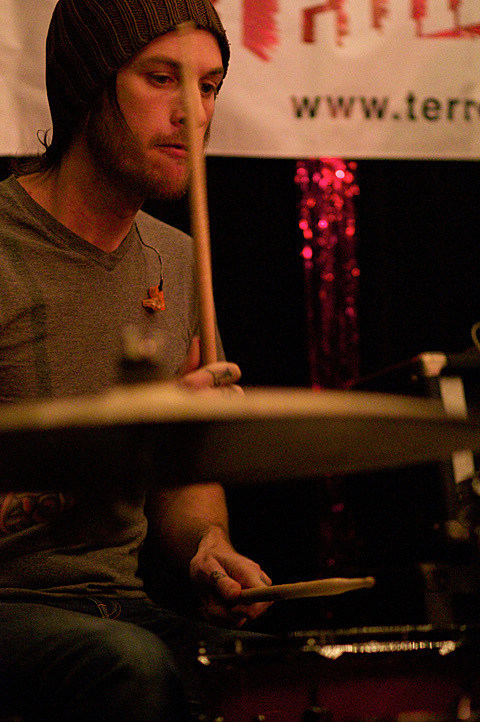 Cloud Nothings - 2010 Tour Dates
10-21-10: Cake Shop w/ Prince Rama + More (11:00 PM, NYC)
10-22-10: Fader Fort (38 Delancey Street) 5:45 PM (NYC)
10-23-10: Don Pedro's (10 PM, NYC)
11-1-10: Beachland Ballroom w/ Wet Hair (Cleveland)
11-5-10: Elektrowerkz w/ Veronica Falls (London)
11-6-10: The Hope w/ Veronica Falls (Brighton)
11-7-10: Thekla w/ Veronica Falls (Bristol)
11-8-10: Harley w/ Veronica Falls (Sheffield)
11-9-10: Deaf Institute w/ Veronica Falls (Manchester)
11-10-10: Captains Rest w/ Veronica Falls (Glasgow)
11-11-10: Sneaky Petes w/ Veronica Falls (Edinburgh)
11-13-10: ABC w/ Les Savy Fav (Glasgow)
11-14-10: Constellations Festival w/ Les Savy Fav (Leeds)
11-15-10: Komedia w/ Les Savy Fav (Brighton)
11-17-10: Werkstatt w/ Les Savy Fav (Koln)
11-18-10: Festsaal Kreuzberg w/ Les Savy Fav (Berlin)
11-19-10: Trouw w/ Les Savy Fav (Amsterdam)
11-20-10: Nouveau Casino w/ Les Savy Fav (Paris)
11-21-10: Trix w/ Les Savy Fav (Antwerp)
11-22-10: Electric Ballroom w/ Les Savy Fav (London)
11-23-10: White Heat @ Madame JoJos (London)