Coachella 2010 – Day One in pics, video & review
Jay-Z, Beyonce & Johnny Rotten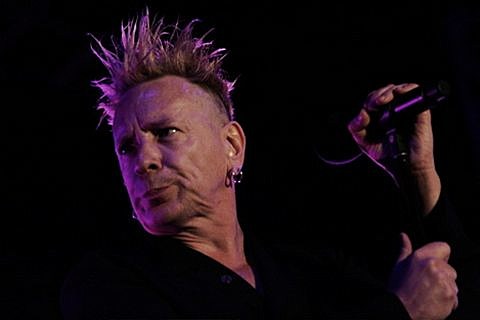 This year, the Coachella Valley Music & Arts Festival reveals that tattoos are more ubiquitous among social scenes than ever before. A walking museum of quotes and legendary faces from Jesus to Michael Jackson decorates the backs, shoulders, calves and fingers of people fashionably reliving their favorite historical decades at this heat-stroke inducing music marathon.
I thought Wale didn't show up, but later found out that he showed up late. Baroness demonstrated the art of rocking out at least three to five times before each song reached a satisfied climax. Metal can be a real turn on, especially surrounded by sweaty good-looking people. Deer Tick performed an R+B version of "Ashamed" followed by John McCauley caressing his nipples. LA band Iglu and Hartly had enthusiasm, but is this Mickey Avalon without the drugs and prostitutes? Which leaves what? Sleigh Bells began with a booty melting bass line palpable from the VIP section across the field, soon overtaken by hipster hop metal pop for people that like beaches and children. The Avett Brothers made an exciting second Coachella appearance on the Outdoor Stage. Two years ago, the band played Sunday gospel time, all manners and simplicity, but the Bros returned with a full band, and a few thousand people singing every word, stomping to the banjo, and hugging during the sweet parts. The banjo will take over America. Just wait. Country music is infiltrating avant-garde and above ground indie worlds alike.
Standing midway between the big stages, just a few feet from yet another girl with the words "Have u seen my friend Molly?" scrawled on her back, the Avett Brothers' heart-wrenching "January Wedding" got a reggaeton remix from Calle 13 booming on the Main Stage. This Puerto Rican dancefloor marvel used a tea kettle for a mic effect, and taught the audience to say "No me jodas las pelotas" against negativity ("Don't fuck my balls"). Speaking of balls, Yeasayer's crowd went absolutely nuts screaming, but the guys barely seemed aware, transported as they were to some space station cloud. The harmonies rocked like angelic aliens-but, smile, guys. Hockey demonstrated a genuine interest in moving indie rock standards forward, especially attracting the PG-13 festival contingency. M. ward raspy singing "Roll Over Beethoven" during She & Him's set delivered tingly shivers, but Zooey Deschanel's approach to "I Put A Spell On You" did not crumble souls. Her jazzy voice and bouncy energy otherwise made for a good time that elicited repetitive shouts of "I Love You!" from the first row.
Gil Scott-Heron

Music should be at least marginally weird or infinitely classic, but Tom Morello's band, Street Sweeper Social Club, brings nothing new to either category and so seems a waste of great musicians. Get weird or the future will never arrive. That being said, the musicians Coachella digs up from history often present the most exciting moments. Rock steady ska pioneers The Specials sent a crispy, warm message to Rudy that every witness appreciated immensely, but it was outrageous that barely any photographers showed up for Gil Scott-Heron's smooth, soulful set [editor's note: ours did!]. The man is partly responsible for getting Martin Luther King, Jr. a holiday, godfathered hip hop, and that doesn't merit attention? A large crowd attended his every word, but the photos won't show it. Later on, James Murphy screamed Gil Scott-Heron's name during "Losing My Edge" as if it were the name of God. Glad he gets it. LCD Soundsystem's first single in 2002, "Losing My Edge" is a historical document worth preserving for the ages, an essence that speaks to what Coachella seems bent on capturing and rewriting every year. Echo & The Bunnymen rode the high-hat zealously-as many have copied since-giving chapped lips sugar kisses. Public Image, Ltd., could not take Jay-Z's audience away from him nor unglue Fever Ray fans from Karin Dreijer Andersson's encompassing fog spell, but I'll be damned if PiL wasn't the best show all day. John Lydon's hair stood on edge and he rolled his rrrr's heroically. His gang of old men put the good junk in post-punk.
As this first 12 hour music summary comes to a close, a few acts remain worth giving a hoot about. Grizzly Bear's hypnotic power hardly needs mentioning and Vampire Weekend knows you love "Horchata." New cool La Roux magnetizes with a disco flavor that Anita Ward might approve. As hoped, Little Dragon's gentle fire breathing soul pop fronted by Yukimi's sexy voice and adorable stage presence comes in as Friday's second favorite. The music's weird enough, bent on discovering surprises. One-woman band Imogen Heap, as well, is the queen of surprises. She moves around her instruments, looping this and dubbing that as if casually mixing a magic potion or prepping a sandwich. Jay-Z's "On To The Next One" is an appropriate theme song for the attention span needed to get your money's worth at Coachella. And then Beyonce came out. We all bowed down before her short shorts.
BARONESS signing records (in conjunction w/ record store day)

Deer Tick (photo by Daiana Feuer)
"Members of the Specials, an almost complete reunion of the group (minus Jerry Dammers) that infused England's ska revival with punk and politics, were constantly bounding across the stage as they played their old songs -- so earnest about ending racism, so bouncy -- with undiminished fervor. Terry Hall looked out at the audience and commented, with an English eye for the drab, "Most of you are beautiful," then went on to single out some ugly faces." [NY Times]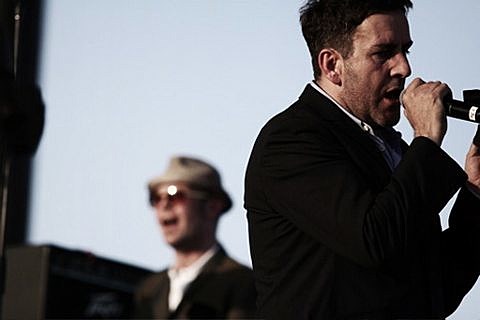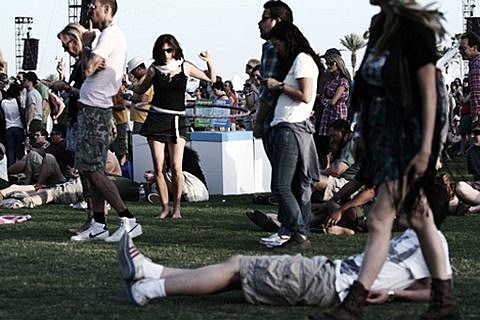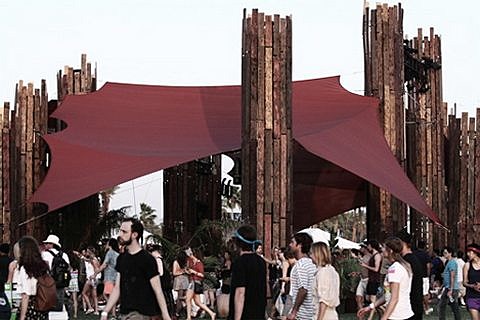 [editor's note: Ra Ra Riot mentioned they were playing new songs from a soon TBA new album]
Perry Farrell Interview - Coachella 2010

Imogen Heap (photo by Daiana Feuer)
Little Dragon (photo by Daiana Feuer)
[editor's note: I watched LCD on the stream, and it was weird to see them close with New York I Love You somewhere other in NY. P.S. James, being the vegan dish doesn't mean you're lesser than the steak or chicken!]
[James said it felt good to be the "fish" at the festival this year, playing before Jay-Z. In the past he felt like a bag of mixed nuts. He then called Them Crooked Vultures the chicken and Jay-Z the steak. Then he changed "fish" to "vegan dish" which was still good to him, and okay with him, but still lesser than the chicken and steak... which he also implied was right where he belonged - he seemed humbled to be opening for Jay-Z and that Them Crooked Vultures gave LCD a shout out during their performance]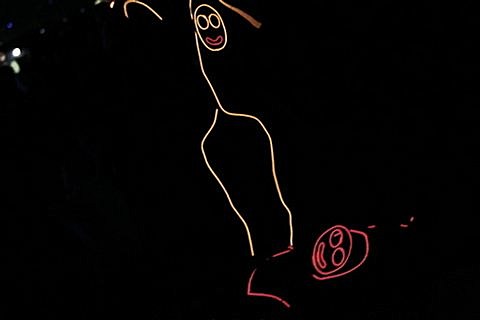 [editor's note: I couldn't agree more with the PiL praise in the above review. Forget everything you saw on Kimmel]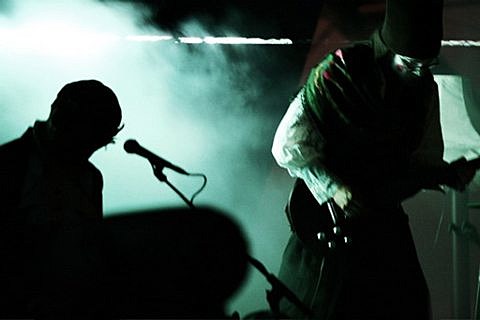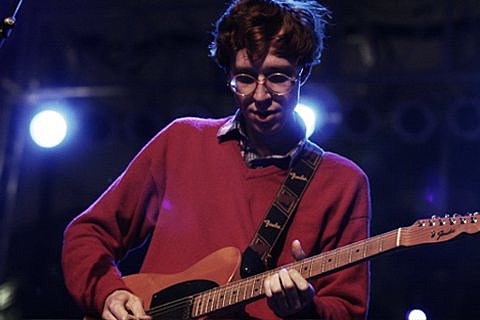 The Whitest Boy Alive - Coachella 2010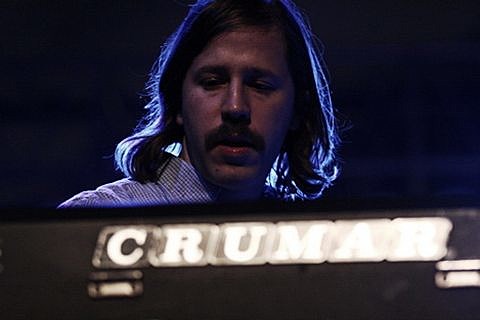 Vampire Weekend crash the 91X Flophouse - Coachella 2010

Ra Ra Riot Interview - Coachella 2010