Coachella 2012 Week 2 – Day 3 pics (Modeselektor, Hives, Wild Flag, At the Drive-In, Le Butcherettes, Gotye, Beirut, more)
photos by David Andrako
Wild Flag's Carrie Brownstein & the Hives @ Coachella Sunday - 4/22/2012

"The second weekend brought record heat. Festival-goers jockeyed for patches of grass around the shaded perimeters. They pounded frozen lemonade at $6 a cup.
"It feels like a different world from last weekend," The Shins frontman James Mercer said. "It was Iceland last week."
While the weather forced some practical fashion choices, Coachella's sartorial influence was noted well beyond Indio. Joan Rivers and Kelly Osbourne debated Coachella-inspired fashion trends, and the wider cultural significance of the festival, on the E! Channel program, "The Fashion Police."
Osbourne, a Coachella regular, proclaimed, "When you go to Coachella, all the girls are half-naked and 22." Rivers, who joked that she goes to Coachella, too, quipped, "If David Hasselhoff was there, this means officially Coachella is no longer cool."" [MYDesert.com]
How was your Coachella?
After DJing a party on Friday night and headlining with his band Radiohead on Saturday, Thom Yorke kept busy on Sunday by DJing a Rolling Stone pool party with Nigel Godrich, and then showing up as a not-so-surprise, special guest during Modeselektor's Sunday night set in the Mojave tent while Dr. Dre and Snoop Dogg headlined the main Coachella stage.
Modeselektor (pre-Thom) @ Coachella Sunday - 4/22/2012

You saw pictures from Friday and Saturday, all of last week, and of Dre & Snoop from yesterday (Sunday, 4/22/12). Here are the rest from yesterday, Coachella 2012's final day. More below...

-
Le Butcherettes
Greg Ginn and the Roal We
Wild Beasts
The Growlers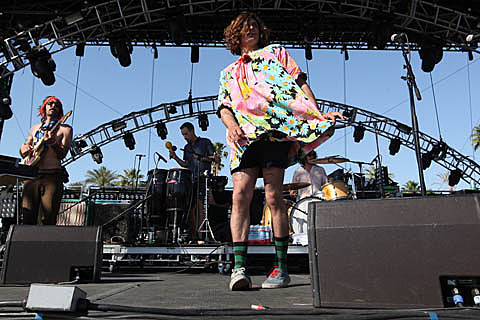 Fitz and the Tantrums
Wild Flag
The Hives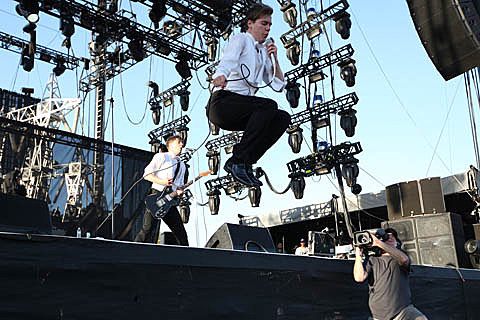 Gotye
Beirut
At the Drive-In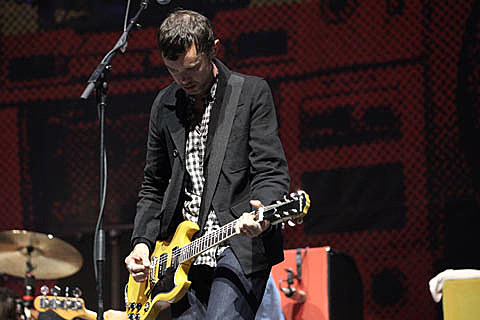 AVICII
Modeselektor
Thom Yorke on stage with Modeselektor (via)
Snoop & Dre pics HERE.