Coachella Day 3 Photos (Wu-Tang Clan, Vampire Weekend, Father John Misty, Grimes, Kurt Vile, James Blake ++ more)
photos by Dana (distortion) Yavin
Wu-Tang Clan / Father John Misty / Grimes / the crowd @ Coachella, 4/14/2013

As the wind whipped through the final day of Coachella's first weekend, it became clear to those at the front of the stage that the techs getting the stage set up for the Red Hot Chili Peppers' festival-closing headlining set had a choice: take down the video screens that clearly were a part of the Peppers' production, or leave them up, risking them blowing uncontrollably around the stage. So they chose the former, leaving behind grandiose production elements in favor of solid -- but not-quite-revelatory -- musicianship.
It's a sort of metaphor for this year's edition of the festival, which never quite hit the watercooler moment. On the final day of the first weekend (the lineup repeats next week), there were no superstar surprises, no Daft Punk appearance and, during the Chili Peppers' set, not even a new song: just a major band, playing through their major hits, for a major audience.
It's been the story of this Coachella from the start, when the two-weekend blowout nearly sold out before the lineup was even announced, but on the field it became immediately obvious: This festival, at least this year, no longer was about "music fans" but about "Coachella fans" -- that is to say, the tens of thousands of revelers who packed the field had no specific allegiance to a band, a genre or an affiliation. - [Hollywood Reporter]
The first weekend of Coachella wrapped up last night (4/14). with sets from The Red Hot Chili Peppers, Dead Can Dance, Nick Cave & the Bad Seeds, and Staten Island hiphop legends the Wu-Tang Clan who performed much of their classic 1993 album, Enter The 36 Chambers, as well as solo hits from the different members. Earlier Sunday also saw Grimes' energetic set, noisemakers JEFF the Brotherhood and Dinosaur Jr,  the mellow gold of Kurt Vile, Australian psych purveyors Tame Impala, crowd-pleasers Vampire Weekend, Gaslight Anthem, and Father John Misty. Pictures of those acts' sets are in this post.
Other acts that played Sunday: Cloud Nothings as a three-piece, Ghost BC (who played too early for our photographer to catch), Jessie Ware (who also made an appearance during Disclosure's set) and San Francisco psych-garage kings Thee Oh Sees, who we also missed but were joined on sleigh bells by fellow Bay Area resident Ty Segall.
Pictures from day 1 are HERE and HERE, pictures from day 2 are HERE. More day 3 Coachella pictures below...

---
Jeff the Brotherhood
The Gaslight Anthem
Kurt Vile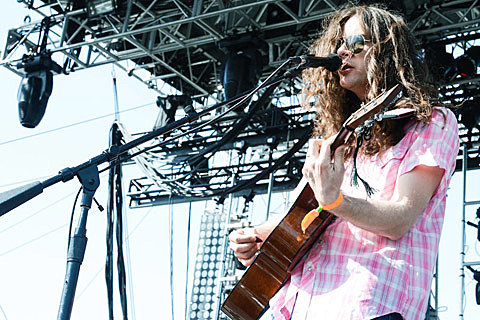 Grimes
Dinosaur Jr
James Blake
Tame Impala
Vampire Weekend
Father John Misty
Nick Cave & The Bad Seeds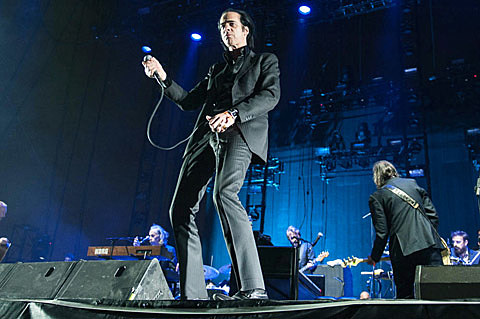 Wu-Tang Clan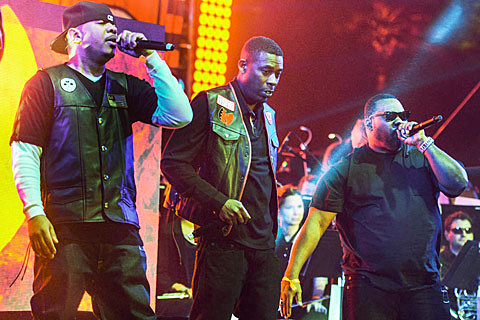 Red Hot Chili Peppers
Dead Can Dance