Coachella underway, but Bad Lieutenant have canceled too! Deer Tick playing in a dress (you can stream it later)
Deer Tick on stage @ Coachella now (BlurtMagazine)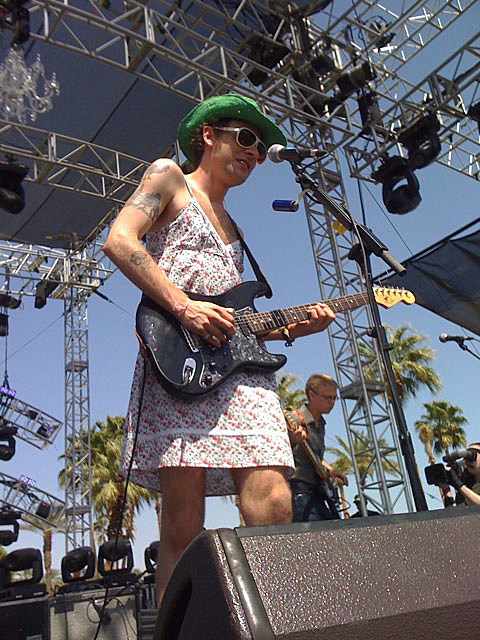 Coachella 2010 is underway, and Deer Tick have the honor of being one of the first bands to play the fest this year. In fact they're playing the Outdoor Theatre stage as I type this, complete with frontman John McCauley in a sun dress (see above). You'll be able to watch the performance later on the not-live stream. Hopefully they cover a Sex Pistols song in tribute to Malcolm Mclaren, and to Johnny Rotten who plays with Public Image Ltd on the same nine hours later (p.s. tickets went on sale today for the recently added PiL show at Terminal 5).
After Deer Tick (who went on after Alana Grace) comes The Avett Brothers and then not The Cribs, though the website still has them listed there.
Speaking of not playing, Frightened Rabbit won't be there on Saturday, and now CNN confirms that Bad Lieutenant, who already cancelled tonight's San Francisco show, won't make it to Coachella on Saturday either. "Bad Lieutenant will not be able to play Coachella tomorrow," a spokesperson for the band told CNN. "They are stuck in the UK and unable to get a flight out. Everyone is very bummed about it." Damn volcano. It remains to be seen if the band will still come to the U.S. just for Chicago and NYC (if they even have the choice).
Coachella headliners tonight/Friday also include Jay-Z, LCD Soundsystem, Them Crooked Vultures, and The Specials. Fever Ray, Echo & The Bunnymen, Gil Scott-Heron, Grizzly Bear, Lucero, Dillinger Escape Plan, and Yeasayer are other highlights on today's schedule. Full reviews and picture sets coming later.
UPDATE: The stream is happening now.