Coffinworm, Yakuza, Dark Castle, Hatred Surge, Salome, Endless Blockade & White Mice @ Headhunters (SXSW) – pics
Coffinworm (by BBG)

If there was a single SXSW show that intrigued from top to bottom, it'd have to be the Profound Lore/20 Buck Spin official showcase at minuscule Headhunters on 3/19 (we were proud to be a sponsor). With an estimated capacity of no more than 100 people (and probably considerably less), the show was packed from top to bottom with a wide palette of heavy music that dabbled in doom, noise, powerviolence, and everything in between. All my favorites were present and delivered predictably blistering sets (Salome, Dark Castle, White Mice, Liturgy, others), and there were other bands on the lineup that delivered to the fullest (Yakuza, Coffinworm).
By the time their set rolled around at Headhunters, I had already seen Coffinworm once (one day earlier) at the BV show at Hoeks Death Metal Pizza. Promises offered on their demo were delivered, and the band played a punishing set that realized all of the bite of their recorded output. The theme of focused and taught blackened doom continues on their new album, When All Became None, which is a contender for one of my favorite debuts of the year. Must.
Another band that I hadn't caught in the flesh, Yakuza, is a bit of a peculiar character. This Chicago band's progressive metal is punishing live, with seriously heavy and catchy riffage that, in itself, would be very distinctive.... and in comes the saxophone! Frontman Bruce Lamont's replaces guitar leads/solos with a saxophone that, despite what you are thinking, sounds nothing like a metal Dave Matthews Band. Though it was admittedly off-putting the first time I heard it, I have come to find the sax to be a crucial part of their sound, with all of the parts tailored around it compelling and awesome. Yakuza ripped it at Headhunters.
More pics from the show (except The Atlas Moth and Liturgy ones which are forthcoming) are below, as well as a few videos of Coffinworm, White Mice, Hatred Surge, and Salome...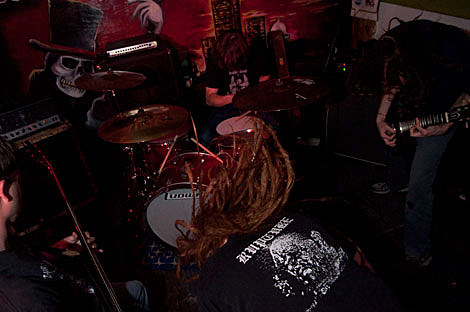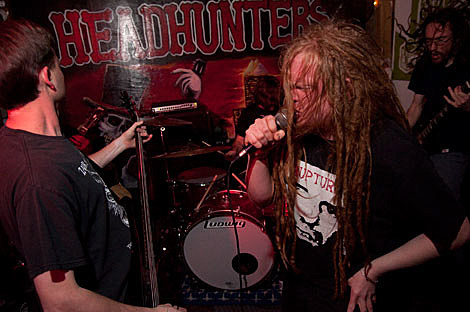 Hatred Surge (by Samantha Marble)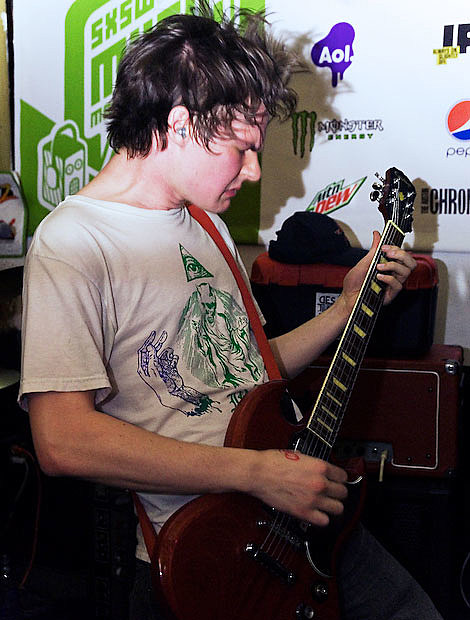 The Endless Blockade (by Samantha Marble)
Salome (by Samantha Marble)
White Mice (by Samantha Marble)
Yakuza (by Samantha Marble)
Coffinworm @ Hoeks Death Metal Pizza (3/18/10)

White Mice @ Headhunters 3/19/10

Salome at Headhunters on 3/19/10 during SXSW

Hatred Surge @ Headhunters 3/19/10