Cold Cave played T5 w/ the Entrance Band & Kills (pics), announced a video & more dates (some w/ Cult of Youth)
www.distortionfilms.com
photos by Dana (distortion) Yavin
Like The Kills (who headlined the show), Cold Cave and The Entrance band played Terminal 5 on Friday night (4/29) as part of an ongoing tour for the three bands. Pictures from the opening sets are in this post.
And like the Kills, Cold Cave have already announced more upcoming shows including another two in NYC: Knitting Factory in Brooklyn on July 12th and Bowery Ballroom on August 6th. KF tickets go on sale 5/6 at noon, and Bowery tickets probably will do something similar. All tour dates are listed below.
The Knitting Factory show is with Cult of Youth who just finished a tour with Zola Jesus at Bowery Ballroom, and whose other upcoming gigs include opening for Steve Ignorant and playing as part of the Northside Festival at Public Assembly on June 17th with Iceage, The Men, Lost Tribe... and DJ Wes from Cold Cave. Tickets are on sale for that one.
With new Cold Cave tour dates also came a new Cold Cave video for "Villains Of The Moon." Watch that with more pictures from Terminal 5 (Kills pics HERE), below...

-
The Entrance Band
BP Fallon
Cold Cave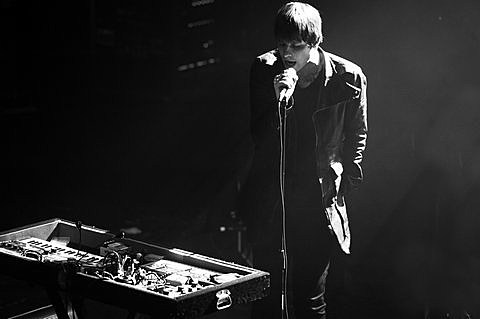 Kills pics HERE
Cold Cave - Villains Of The Moon

COLD CAVE - 2011 TOUR DATES
Tuesday May 03 - Detroit, MI - Majestic Cafe w/The Kills
Wednesday May 04 - Chicago, IL - Vic Theater w/The Kills
Thursday May 05 - Minneapolis, MN - First Ave w/The Kills
Sunday May 08 - Vancouver, BC - Commodore Ballroom w/The Kills
Monday May 09 - Seattle, WA Showbox Sodo w/The Kills
Tuesday May 10 - Portland, OR - Wonder Ballroom w/The Kills
Wednesday May 11 - San Francisco, CA - The Fillmore w/The Kills
Friday May 13 - Los Angeles, CA - The Music Box At The Fonda w/The Kills
Saturday May 14 - Pomona, CA - The Fox Theater w/The Kills
Monday May 16 - El Paso, TX - Bombardiers
Wednesday May 18 - Kansas City, MO - The Record Bar
Thursday May 19 - St Louis, MO - The Luminary Center for the Arts
Friday May 20 - Cincinnati, OH - MOTR Pub
Saturday May 21 - Columbus, OH - Wexner Center for the Arts
Sunday May 22 - Pittsburgh, PA - Brillobox
Tuesday July 12 - Brooklyn NY - Knitting Factory *
Thursday July 14 - Toronto ON - Legendary Horseshoe Tavern - *
Monday July 18 - Fargo, ND - The Aquarium
Tuesday July 26 - San Diego, CA - The Casbah
Friday, July 29 - Salt Lake City, UT - Urban Lounge
Saturday, July 30 - Denver, CO - Bluebird Theater
Sunday July 31 - Omaha, NE - The Waiting Room
Monday August 01 - Saint Louis, MO - Firebird
Tuesday August 02 - Cleveland Heights, OH - Grog Shop
Thursday August 04 - Washington DC - Rock N Roll Hotel
Friday August 05 - Philadelphia PA - Voyeur
Saturday August 06 - New York NY - Bowery Ballroom
Friday, August 26 - Reading, UK - Reading Festival
Saturday, August 27 - Leeds, UK - Leeds Festival
* w/Cult Of Youth