Cold Cave played Bowery w/ Austra & Cult of Youth (pics), playing House of Vans w/ Converge (on a new date)
Cold Cave @ Bowery Ballroom

Oh, and if you do RSVP, you might notice that the confirmation email spits out the following lineup: "Converge, **** **** (SPECIAL GUEST), ***** (SPECIAL GUEST) and All Pigs Must Die". Is there one more five letter band still to be announced? .
RSVP is also still open for the previously discussed Tokyo Police Club / Against Me! / Big Freedia / Japanther / Team Robespierre show happening at House of Vans on 8/18.
Before Cold Cave was ready to melt faces, Canadian new wavers Austra opened the show, pleasing the crowd with their stellar chops. Led by singer songwriter Katie Stelmanis, the band's sound could be described as beautifully haunting and catchy. We stood in awe as Stelmanis began to belt out the lyrics to "Lose It," the song that will end up being their break out hit....

When the clock struck the witching hour, Cold Cave took the stage to a massive roar of applause. The show started with Eisold tossing sunflowers into the crowd to the pleasure of fans of both sexes...

The capacity crowd hung on each note and each hardcore synth beat. The front of the house was literally shaking, as concert goers jumped in unison. The tight three piece, all dressed in black, flawlessly recreated songs like "Love Comes Close" and "Confetti" for a live audience, while at the same time extending them into danceable jams. Our only complaint about the show, was the duration of the set as it only clocked in at a touch over an hour. The next time the band returns, we need a two plus hour blistering set. -[Local Bozo]
Pictures are on this post.
More pictures from Bowery Ballroom and the Cold Cave set list, below...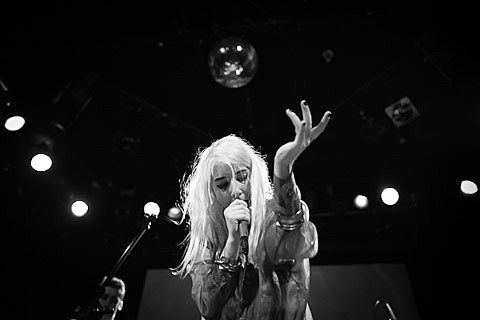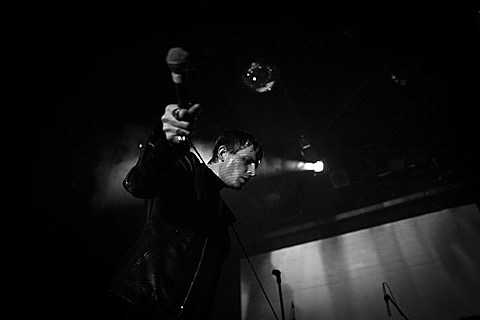 Cold Cave at Bowery Ballroom, 8/6/11 SETLISt
Icons of Summer
Youth and Lust
Confetti
Love Comes Close
Theme From Tomorrowland
Villains of the Moon
I've Seen the Future and It's No Place for Me
Burning Sage
==========
The Laurels of Erotomania
Catacombs
--