Coldplay @ Madison Square Garden, NYC – pics
photos by Ryan Muir
Christy Turlington (and opener Ed Burns) enjoying Chris Martin @ MSG

Actresses Charlize Theron and Kirsten Dunst joined supermodel Helena Christensen in the 10,000-strong audience.
The New York event was the band's third free show, following gigs in London and Barcelona, to promote new album Viva La Vida or Death And All His Friends.
They gave away thousands of tickets through their website - although some were said to be changing hands for up to $800 a pair on eBay. The title track, Viva La Vida, has given the band their first ever number one single in both the US and the UK. Its popularity has been boosted by its use as the soundtrack to an iTunes advert. [Telegraph]
Coldplay played a free show at Madison Square Garden in NYC last night (June 23, 2008). More pictures and stuff below...


"the video setup and lighting was great. i was surprised they had such an elaborate rig for a free show. they played 2 acoustic songs right in front of my section which was very cool." [jkov]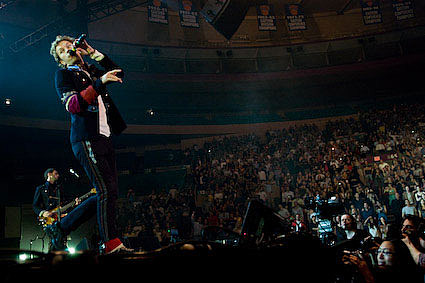 "This was a great show! Coldplay came out a bit late and played for about 70-75 minutes, no encores. They even played some of their songs from directly within the crowd! A bit risky I'd say." [Anonymous]
"I went and I'm bitching! I know it was free, but 1 hour and no encore, really?! Also, there was no need for Chris Martin to constantly remind the crowd that it was free. What an asshole!" [Anonymous]
"the show had its moments. the fact that they didnt play an encore was absurd, though. what a bunch of pussies. they have such a huge catalog." [Anonymous]
"place wasn't full capacity - the 400s were empty and they didn't put anyone behind the stage." [anon]