Coliseum, Burning Love, Tournament, Elks & Fight Amp played Europa (pics)
Coliseum bassist Mike Pascal, in flight

Coliseum headlined Europa on July 8th (Thursday), alongside ex-Cursed project Burning Love, Tournament, Elks, and the great Fight Amp as part of a larger tour in celebration of A House With A Curse, their new album out NOW on Temporary Residence Limited.
The new LP shows the band venturing into new territory (as discussed in our recent interview) with similarly compelling results as the old material, though guitarist/vocalist Ryan Patterson remarked:
"We got called Prog Metal today."
Huh-what? Regardless of what tag you put on it, their new material sounded fantastic live, and made me go home and take the LP for another spin. For the straight and narrow hardcore folk, the new LP might take some getting used to, but the returns are worth the investment.
Burning Love supported, and Chris Colohan's new band absolutely smokes! Though they have more in common with Doomriders than Colohan's former band, the band ripped through their set and brought to life some of the material that I was so-so on in their recorded output. Tons of live energy, these dudes rule.
More pics from the show are below....

--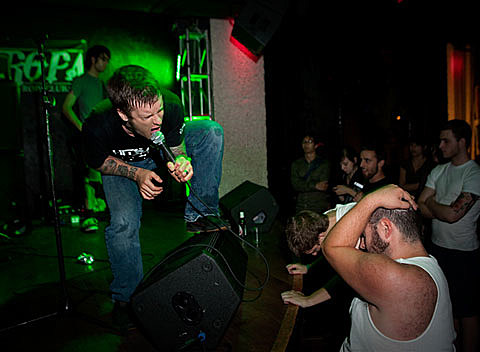 BURNING LOVE - 2010 TOUR DATES
Jul 12 2010 Parts & Labour w/ Coliseum Toronto, Ontario, CA
Jul 13 2010 Westcott Community w/ Coliseum Syracuse, New York, US
Jul 14 2010 Grop Shop w/ Coliseum Cleveland, Ohio, US
Jul 15 2010 Smalls w/ Coliseum Detroit, Michigan, US
Jul 16 2010 Blind Bob's w/ Coliseum Dayton, Ohio, US
Nov 17 2010 Zoro Leipzig, GERMANY
Nov 18 2010 AK 44 w/ Lords Gießen, GERMANY
Nov 19 2010 KTS Freiburg, GERMANY
Nov 20 2010 TBA Geneva, SWITZERLAND
Nov 21 2010 Lazzaretto Bologna, ITALY
Nov 22 2010 TBA Vienna, AUSTRIA
Nov 23 2010 Yacht Club Brno, CZECH REPUBLIC
Nov 24 2010 Klub 007 Prague, CZECH REPUBLIC
Nov 25 2010 Black Fleck Potsdam, GERMANY
Nov 26 2010 Lades Kaelder Copenhagen, DENMARK
Nov 27 2010 1000 Fryd Aalborg, DENMARK
Nov 28 2010 Hafenklang Hamburg, GERMANY
Nov 30 2010 El Camino Caen, FRANCE
Dec 1 2010 TBA Nottingham, UNITED KINGDOM
Dec 2 2010 Adelphi Hull, UNITED KINGDOM
Dec 3 2010 TBA Manchester, UNITED KINGDOM
Dec 4 2010 1 IN 12 Clube Bradford, UNITED KINGDOM
Dec 5 2010 TBA Cardiff, UNITED KINGDOM
Dec 6 2010 TBA London, UNITED KINGDOM
Dec 7 2010 Queen's Bar Laval (Rennes), FRANCE
Dec 8 2010 The Pits Kortrijk, BELGIUM
Dec 9 2010 TBA Antwerpen, BELGIUM
Dec 10 2010 Cafe Nova w/ Municipal Waste ESSEN, GERMANY
Dec 11 2010 Shokoladen Berlin, GERMANY
Dec 12 2010 Az Conni DRESDEN, GERMANY
Dec 13 2010 Immerhin Wuerzburg, GERMANY
Dec 14 2010 Juz w/ Planks Mannheim, GERMANY
Dec 16 2010 DNA Brussels, BELGIUM
Dec 17 2010 Cafe Babouche Horst, NETHERLANDS
Dec 18 2010 Little Devil Tilburg, NETHERLANDS
Dec 19 2010 Winston Amsterdam, NETHERLANDS